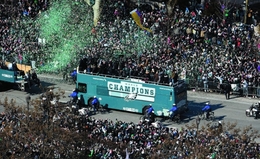 Feeling Super
We celebrate the Eagles' unforgettable Super Bowl victory.
It's been weeks since the Philadelphia Eagles won their first-ever Super Bowl championship and we're not sure the totality of the victory has fully sunken in just yet. Whether you saw your first game at Lincoln Financial Field or Franklin Field, the shared frustration of having never witnessed your team hoist the Lombardi Trophy has been bubbling over for decades. But for those of us who bleed green; our loyalty has never wavered. We teach our children the Eagles fight song. We skip family functions if they interfere with watching the game. If the Birds lose, Sunday dinner doesn't taste as good and it takes us until Wednesday to recover.
We had long hoped for a day like this, but as year after year passed by, the agony only intensified. But finally, at 10:17 p.m. on Feb. 4, our prayers were answered. We hugged family, high-fived strangers and took time to reflect on those fellow fans who were no longer here to witness the joy after so much pain.
"For years I used to say being an Eagles fan is like asking your dream girl to marry you, then on your wedding day she does not show up at the church because she ran off with your worst enemy," says Todd Powers of Washington Township, a season ticket holder since 1998. "On Feb. 4, 2018, the dream girl said yes."
"The next morning when some of the adrenaline had worn off I honestly didn't know what to do," says Lillian Horvitz, originally of Cherry Hill and now living in Kansas City. "The entire game was a blur of emotions and when it was over I called a few of my friends insisting that as soon as they announced the parade they had to tell me as I was coming home!"
Horvitz did make it home and joined the millions of elated fans who lined the streets from South Philadelphia to the Art Museum for the chance to thank the players, coaches and front office personnel who gave us the ultimate reason to celebrate.
We did it. We won. Fly, Eagles Fly.
See fan photos and more in our digital edition here.
Photo courtesy of Philadelphia Eagles
Published (and copyrighted) in South Jersey Magazine, Volume 14, Issue 12 (March 2018).
For more info on South Jersey Magazine, click here.
To subscribe to South Jersey Magazine, click here.
To advertise in South Jersey Magazine, click here.