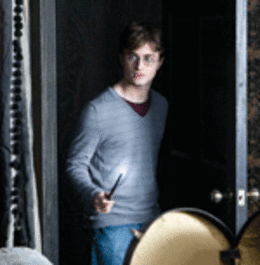 Coming Soon
Like turkey on Thanksgiving or family infighting at Christmas, the holiday movie season is a time-honored American tradition. So KYW film critic and Cherry Hill native Bill Wine previews the films sure to be on your wish list this holiday season.
NOVEMBER
Harry Potter and the Deathly Hallows, Part 1 The seventh and final Harry Potter novel by J.K. Rowling, published in 2007, was the fastest-selling book ever. But at 759 pages long, it was, the producers decided, too much to contain with a single two-and-a-half-hour epic. So, it's being released as two movies, with the second installment to follow next summer. As Part 1 begins, Harry, Ron and Hermione, (Daniel Radcliffe, Rupert Grint and Emma Watson), have left the Hogwarts School of Witchcraft and Wizardry. They're running from the villainous Voldemort, (Ralph Fiennes), who has taken over England's Ministry of Magic. The quality of the Potter films has remained admirably high throughout the first six outings, and British television veteran David Yates, who directs each Deathly Hallows installment, was also in the director's chair for the fifth (Harry Potter and the Order of the Phoenix) and sixth (Harry Potter and the Half-Blood Prince) filmizations. That bodes well. So get ready, dear Muggles, your wizardry training is almost complete. (Nov. 19)
The Next Three Days
Russell Crowe and Elizabeth Banks play a married couple who find themselves caught up by forces beyond their control when she is accused of a gruesome murder, in an American remake of a 2008 French thriller (Anything for Her), by co-writer and director Paul Haggis. Their relationship is tested during her incarceration, as the ordinary husband/professor hatches an extraordinarily elaborate scheme to break her out of prison. (Nov. 19)
Love and Other Drugs
Jake Gyllenhaal and Anne Hathaway co-star in this romantic drama, (whose original working title was Pharma), from writer-director Edward Zwick, (Glory, The Last Samurai). Gyllenhaal plays Jamie Randall, a pharmaceuticals salesman competing in the cutthroat market for male performance-enhancement drugs in the 1990s. He pursues an intimate relationship with Hathaway's Maggie Murdock, an elusive romantic target. The script is loosely based on the memoir, Hard Sell: The Evolution of a Viagra Salesman, by Pfizer drug rep Jamie Reidy. (Nov. 24)
Tangled
The classic, hair-raising Brothers Grimm fairytale of Rapunzel gets the CGI-animated, 3-D, musical treatment, with Mandy Moore providing the voice of the princess in this Disney version. Zachary Levi (of television's Chuck) gives voice to the dashing thief Flynn Rider, who scales the tall tower in which Rapunzel is locked away and is taken captive by the teen with 70 feet of golden tresses. (Nov. 24)
Burlesque
Christine Aguilera makes her big-screen acting debut in this contemporary musical drama as a poor, country girl who leaves her hardscrabble existence for the lights of Los Angeles, and finds herself working in the decaying Burlesque Lounge. Oscar winner Cher, appearing in her first film in seven years, is the club's proprietor and its former headliner. Kristen Bell plays one of the burlesque's diva performers, while Stanley Tucci and Alan Cumming are also on staff, as stage manager and host, respectively. Debuting director Steven Antin includes a dozen musical numbers that combine dance with both old and new songs. (Nov. 24)
Faster
Dwayne Johnson, no longer The Rock, returns to the action genre after a number of family comedies. He plays Driver, a vengeance-seeking ex-con fresh off a decade in prison, thanks to an accomplice's betrayal during a failed heist that cost his brother his life. Billy Bob Thornton plays a cop on his trail. George Tillman Jr. directed this thriller, written by brothers Tony and Joe Gayton, and featuring Carla Gugino, Tom Berenger and Maggie Grace in support. (Nov. 24)
DECEMBER
Black Swan
A psychological noir thriller from director Darren Aronovsky (The Wrestler, Requiem for a Dream) set in the darkly competitive world of professional ballet in New York City, features Natalie Portman, Mila Kunis, Vincent Cassel, Barbara Hershey and Winona Ryder. The plot revolves around an intense rivalry among ballerinas to dance the lead in a production of Swan Lake. (Dec. 1)
The Fighter
The Other Guys' other guy, Mark Wahlberg, stars as "Irish" Mickey Ward, a welterweight boxer in Massachusetts who came out of retirement in the 1990s. Christian Bale provides support as Ward's older half-brother Dickie, a boxer—and a crack addict—who helped him train for his improbable comeback. The true-life boxing drama comes from director David O. Russell (Three Kings), and also features Oscar nominees Amy Adams and Melissa Leo in support. (Dec. 10)
The Chronicles of Narnia: The Voyage of the Dawn Treader
The third installment in the Chronicles of Narnia franchise of family films—following 2005's The Lion, The Witch and the Wardrobe and 2008's Prince Caspian—is based on the third book in the series by C.S. Lewis and is directed by veteran Michael Apted. It finds the Pevensie sibs, Lucy and Edmund, and their cousin Eustace returning to the magical realm. There, they reunite with Caspian for a trip across the sea on a ship called the Dawn Treader, encountering supernatural creatures galore along the way. (Dec. 10)
The Tourist
Johnny Depp plays the title character, a hapless American who travels Italy after a painful breakup. When a mysterious British woman, (Angelina Jolie), singles him out as a patsy, he finds himself at the center of an international manhunt. This English-language dramatic thriller comes from German director Florian Henckel von Donnersmarck, whose terrific suspense thriller, The Lives of Others, won the 2007 Oscar for Best Foreign Language Film, and is now being remade in English. (Dec. 10)
The Tempest
Oscar winner Helen Mirren follows through on her own gender-bending idea, to star as Prospera—a twist on the traditionally male role of Prospero—in this adaptation by writer-director Julie Taymor (Across the Universe) of Shakespeare's fantastical drama about love and forgiveness. After Prospera's throne is usurped, she and her daughter are sent overseas, to be left on an island where she becomes entangled in a new power struggle. The accomplished supporting cast includes Alfred Molina, Russell Brand, Chris Cooper, Djimon Hounsou, Alan Cumming, Tom Conti and Felicity Jones. (Dec. 10)
Yogi Bear
Dan Aykroyd provides the lead voice in this 3-D family adventure that mixes live action and CGI animation. The classic characters are framed in a documentary, by a filmmaker who visits Jellystone Park and finds the title character, along with sidekick Boo-Boo Bear (voiced by Justin Timberlake), Cindy Bear (Christine Taylor), and Ranger Smith (Tom Cavanagh). A TV staple, the catchphrase-spout­ing, pic-a-nic basket-stealing Yogi was inspired by the Ed Norton character that Art Carney played on The Honeymooners, opposite Jackie Gleason. The film centers on a more modern dramatic dilemma: the battle to prevent the park from shutting down, resulting in the bears' eviction from the only home they've ever known. (Dec. 17)
Tron: Legacy
The 3-D sequel to the 1982 science fiction thriller and cult classic, Tron, which introduced us to virtual reality, brings back Jeff Bridges as computer programmer Kevin Flynn. Flynn had been the world's leading video game developer—until his digital alter ego (also played by Bridges) pulled him into a server. Twenty years later, his son Sam (Garrett Hedlund) is drawn inside in the same way. Father and son then embark on a life-or-death journey to conquer the cyber universe. (Dec. 17)
How Do You Know
Writer-director James L. Brooks (Terms of Endearment, Broadcast News, As Good As It Gets) explores a universal question: How do we know when we're in love? Oscar winners Reese Witherspoon and Jack Nicholson, as well as Paul Rudd and Owen Wilson, co-star in the romantic comedy, shot in Philadelphia but set mostly in Washington, D.C. Witherspoon plays a professional softball player, while Rudd is a businessman accused of financial improprieties because of shaky bookkeeping by his father, Nicholson. The two connect on a blind date so dreadful that it's the worst night of their respective lives. "Meeting cute" this isn't. (Dec. 17)
Gulliver's Travels
Jonathan Swift's classic fantasy is updated as a contemporary comedy, with Jack Black starring as an underachieving mailroom clerk and wannabe travel writer for a newspaper. He's assigned a piece on the Bermuda Triangle and, compliments of a storm-tossed voyage, ends up in Lilliput, where the residents are not only tiny (six inches in height) but also totally ignorant of the outside world—so this new giant in town can basically convince them of whatever he wants. Director Rob Letterman (Monsters vs. Aliens, Shark Tale) delivers his first live-action film, and his big little supporting cast includes Emily Blunt, Jason Segel, Amanda Peet and Billy Connolly. (Dec. 22)
Somewhere
Sofia Coppola came out from under father Francis' shadow when she was nominated for an Academy Award as Best Director for 2003's Lost in Translation and won the Best Screenplay Oscar for her script. But her relationship with her director dad undoubtedly fed into her idea for her new movie, a comedy-drama set in Los Angeles' Chateau Marmont, a famous Hollywood hangout. Stephen Dorff plays a fast-lane, bad-boy celebrity whose 11-year-old daughter, played by Elle Fanning (Dakota's little sister), shows up seeking a closer relationship with dad, and inspires him to reevaluate his lifestyle. (Dec. 22)
Little Fockers
This second sequel to 2000's hilarious comedy Meet the Parents, which was followed by 2002's nearly-as-funny Meet the Fockers, reunites Ben Stiller, Robert De Niro, Blythe Danner, Teri Polo, Barbra Streisand, Dustin Hoffman and Owen Wilson, and adds Jessica Alba, Harvey Keitel and Laura Dern to the merry mix. A new director, Paul Weitz (About a Boy), comes aboard for this update, in time for a birthday party for Focker's 5-year-old twins. The plot centers on male nurse Focker's struggle with parenthood, as well as his tightly wound, cash-strapped father-in-law's wrestling match with retirement from the CIA, and other late-in-life issues. (Dec. 22)
Country Strong
Gwyneth Paltrow sings and plays the guitar in her lead role as a rehabbed country singer named Kelly Canter, in writer-director Shana Feste's drama about Canter's comeback tour. The success of last year's similarly themed Crazy Heart, and the out-of-nowhere Oscar for Jeff Bridges as a washed-up country crooner, certainly didn't hurt this film's chances for seeing the light of day. Tim McGraw plays Canter's husband and manager. Leighton Meester appears as a beauty queen also on the tour, and Garrett Hedlund is a rising singer-songwriter with whom Canter becomes romantically involved. (Dec. 22)
True Grit
Moviemaking brothers Joel and Ethan Coen, who just love to confound expectations, surprised lots of their followers by announcing this makeover for the classic 1969 western. Fresh off his Oscar victory, Jeff Bridges, (so memorable and iconic as the star of the Coens' Big Lebowski), inherits the lead role of over-the-hill, drunken, one-eyed U.S. Marshal Rooster Cogburn, the part that brought John Wayne his only Academy Award. The lawman is hired by 14-year-old Mattie Ross, (played by newcomer Hailee Stanfield, who beat out thousands in a casting call), to find the man who killed her father. The supporting cast includes Matt Damon, on horseback as a Texas Ranger with his own opinions about what constitute justice, and Josh Brolin, as the murderous villain they pursue. Coen-heads everywhere await the auteurs' fresh take on Rooster. (Dec. 25)
Published (and copyrighted) in South Jersey Magazine, Volume 7, Issue 8 (November, 2010).
For more info on South Jersey Magazine, click here.
To subscribe to South Jersey Magazine, click here.
To advertise in South Jersey Magazine, click here.