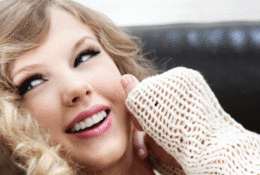 Taylor Takeover
She started out competing in Stone Harbor karaoke contests, but these days Taylor Swift is one of the biggest acts in music and a pop culture icon. We asked the superstar about her local roots, her experience growing up in the public eye, her brand new album and why the Jersey Shore will always have a special place in her heart. And, yes, we let her finish.
Taylor Swift turns 21 next month.
One can only imagine the difficulty of selecting the perfect birthday gift for someone who is already a multi-platinum selling recording artist and arguably the biggest star in popular music today. Somehow, even a thoughtful Kanye West voodoo doll just couldn't compete with the four Grammys decorating her mantelpiece. Today, however, rather than overzealously anticipating this milestone, a nostalgic Swift is reflecting back on childhood days gone by.
Swift hails from Wyomissing, Pa., a fairly wealthy Berks County suburb near Reading, where she grew up on a large Christmas tree farm with her younger brother, Austin, and parents, Andrea and Scott. Being raised in the shadows of acres of evergreens made her unlike other kids, but the musical talent she displayed as a youth rightfully drew the spotlight to her. While most of her peers were fantasizing about what they wanted to be when they grew up, Swift already knew. By age 10, she was crafting original songs—dozens of them—and performing at every fair or talent contest in town, impressing crowds at every turn. And when summertime rolled around, she took her show on the road—to the Jersey Shore. From the time Swift began taking baby steps through her mid-teens, when the warm weather broke her family made the trek to Stone Harbor, where they kept a house on the bay.
Having a house down the Shore is every area kid's dream come true, but just like at home, Swift had a tendency to stand out. During the day she would splash in the surf, but by nightfall, when other children were asleep in sandy sheets, she was entering karaoke contests at Henny's and showcasing her singing ability against competition more than twice her age. Today, Swift recalls her time spent along the coast with great fondness.
"I loved growing up with sand in between my toes and tangled saltwater hair," Swift says. "I loved running around Stone Harbor with my little brother, walking up and down 96th Street exploring. We used to go out in the inlet on our boat and find islands to spend the day on. I look back on my childhood in Stone Harbor, and not only do I smile, I burst out laughing." When the adventurous Swift wasn't creating "imaginary worlds" in her head, she had another way to enjoy the sun-kissed days: "[I] sang to strangers on the beach." Little did they know fans would one day buy tickets for such performances, by the thousands.
Endless as they seemed, summers at the Shore couldn't last forever. As Swift got older, she grew increasingly focused, practicing for four hours each day. When her talents became more refined, her family urged her to pursue her dream of music stardom. It would be a tough road, made even tougher by the fact that she wasn't interested in just any kind of music: it was country or nothing. That wasn't exactly the ordinary path for a young Pennsylvania girl with visions of singing to sold-out crowds on stages nationwide. But the youthful Swift had long gravitated to the distinct sounds of artists like LeAnn Rimes and Faith Hill (Her first single, in 2006, was titled "Tim McGraw," after Hill's husband.) So she stuck to her guns, booked recording time at area studios and began constructing her earliest songs, looking to make her dream a reality.
Knowing there was only one place to shop her demo, a barely teenage Swift packed her bags for Nashville in search of a record deal. The trip, however, was unsuccessful. No label was willing to sign a girl who was still years away from getting her driver's license. This was, after all, the capital of country music. With so many artists reaching for the same dream, why blow the budget on a kid? A talented kid, sure, but a kid nonetheless. Swift returned to Pennsylvania feeling rejected, but not dejected.
Swift didn't give up, and neither did her family, which decided to leave their hometown and move south to Music City in hopes of jumpstarting her career. With Swift at center stage in the hub of country music, it wasn't long before doors that had been slammed shut were showing cracks of light. An upstart independent label, Big Machine Records, took the leap and signed Swift to her first recording contract in 2005.
Scott Borchetta, president and chief executive of the label, recognized in Swift not only talent, but also a unique star quality. "The first thing that got me about Taylor was her songwriting," Borchetta says. "On top of that, she was extremely mature, very smart and a good listener. And even though she was 14, she didn't look like she was 14. That was important, because when an artist looks very young, that first impression can be difficult to shake off later in an artist's career." Today, she is the five-year-old label's signature artist, with three critically acclaimed smash albums, including the brand new Speak Now.
Swift's 2006 self-titled debut album established her as a legitimate country artist, even earning the fresh-faced teen a Grammy nomination, but 2008's Fearless took her career to another level. Radio stations that don't play country music started playing Taylor Swift. People who say they don't like country music went out and bought her CDs. That year, at the 52nd Grammys, she took home four awards, including Album of the Year. People began to look at her differently. No longer was she just a viable country star, she was a mega pop-star who transcends genres. She became America's sweetheart.
"I really feel lucky because I've been able to write songs about my life and produce them the way I hear them in my head, and somehow that's worked out on many different formats of radio. I love hearing people say that they listen to country music now, and that they never did before. It makes me really happy to see the genre embraced by new people," Swift says.
When some people attain a certain level of fame, a funny thing happens: they fall out of public favor. Certain celebrities begin to believe their own hype and, as a result, end up alienating the fan base that helped make them so successful. With Swift, however, the more chart-topping singles she released and the more accolades she received, the more people pulled for her. Girls and boys. Men and women. Everyone is on Team Taylor.
When highly publicized break-ups with notable boyfriends (see Joe Jonas and Taylor Lautner) made headlines, the support overwhelmingly swayed with Swift. When Kanye West stormed the stage at the 2009 MTV Video Music Awards, and caused a national stir by interrupting her acceptance speech for Best Female Video of the Year because he felt nominee Beyoncé should have taken home the prize, the world gasped. Cameras directed at the crowd showed even Beyoncé herself looking rather shell-shocked. People felt as if their little sister had been disrespected during one of her biggest moments.
When this year's VMAs rolled around, Swift displayed a bit of showmanship by performing a song, "Still an Innocent," that was very much directed at West. One of the lyrics, "Thirty-two and still growing up now," is among the not-so-subtle jabs directed his way. If nothing else, Swift proved she is no pushover: the girl who grew up before our eyes is now a woman unafraid to stand her own ground.
Swift spent two years making Speak Now, and by all accounts it wasn't an easy process. Creating a follow-up record is always hard, but trying to follow one that went platinum six times over is a whole different ballgame. Rather than shy away from the challenge, Swift stepped out of her comfort zone and, for the first time in her career, penned all the songs by herself, showing maturity and confidence in her songwriting ability.
Swift's creative genius is clearly more than the standard 1 percent inspiration; that's evident from her unusual approach to songwriting. Her process was simple: She was inspired by an idea at a random moment, and dropped everything she was doing to create and finish the song on the spot. Once her compositions were complete, she took the rough cuts to her co-producer Nathan Chapman's house to record demos in his basement studio. "If [the song] was great with minimal production, I could tell it was good enough to go on the album," she says. Narrowing down the songs was challenging thanks to Swift's perfectionist tendencies. If her fans' expectations are high, the expectations and demands Swift puts on herself scrape the sky.
"I definitely put a lot of pressure on myself creatively," says Swift. "I think about the risks I want to take, new concepts, new melodic structures.… I constantly edit and change things around and work with a song until I have a gut feeling and I know it's right. I was relentless about this [album]. I would never put this down until I knew in my heart it was done. I took even more ownership of every detail of every song [on this record]. I needed every lyric to be something I was undeniably proud of."
One thing that has never changed on Swift's albums is the personal nature of her songs, each serving as a chapter in the open book that is her very public life. It's something she is keenly aware of, but for a 20-year-old with natural insecurities, it can also be a little unnerving knowing that listeners are dissecting every word. "I am always trying to write songs that are more and more personal than the last," she says, but then cautions, "I don't ever feel comfortable sharing my raw emotions with millions of people. I think it's because I don't really think about all the people who will hear the song when I'm writing it. I'm only thinking about the person the song is about in those moments. My perspective is very one-on-one when I'm writing. It's just about me and the person who inspired the song." The approach has allowed her to create a unique bond with her fans. Of course, there is great responsibility that comes with being so forthcoming, and it's something that weighs heavily on her decisions. Despite having fans that span generations, Swift knows that the youngsters who hang on her every word are very impressionable, and that the way she conducts herself under the spotlight is important. While many of today's young talents are constantly accumulating negative publicity, Swift carries herself in a much more dignified manner. That's partly because it wasn't that long ago that she was a bright-eyed kid with her own idols.
"I remember being 10 years old and Faith Hill was my role model. Everything she did, I wanted to do. Everything she wore, I wanted to wear. Everything she did mattered to me," Swift recalls. "It's a big deal to have all these eyes on your every move, and I don't take it for granted for one second. I think about the young girls who listen to my music every time I make a choice in my life. They're out there, forming their opinions and thoughts and dreams and wishes. I don't ever want to let them down if I matter to them."
Not many celebrities can rise that high, and still stay that grounded. Swift says getting her start in the industry at a young age has given her a level of knowledge and that helps her to avoid the pitfalls that cause so many other careers to fizzle. She's grown not only musically, but also personally. "I've learned more lessons, more words and more ways to convey a thought," she says. "I've felt different kinds of pain and different kinds of joy."
The next year is likely to bring another sold-out tour and more award acceptance speeches—and who knows what else? After all, Swift is already branching out, thanks to her feature film debut as part of the ensemble cast in this year's romantic comedy Valentine's Day. One thing is clear, she's enjoying all of it, and ready for whatever's next.
"I like the way I've gotten to grow up, publishing and documenting my thoughts and revelations as time goes by," Swift says. "My outlook on love and life and growing up has changed and morphed a thousand times since I was 16."
For the girl who once serenaded the Jersey Shore, sharing her story with the world has been worth every minute.
Published (and copyrighted) in South Jersey Magazine, Volume 7, Issue 8 (November, 2010).
For more info on South Jersey Magazine, click here.
To subscribe to South Jersey Magazine, click here.
To advertise in South Jersey Magazine, click here.