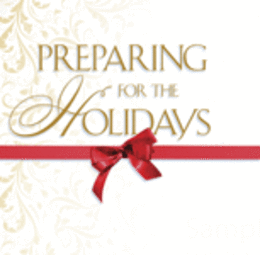 Preparing for the Holidays
Special Advertising Section from the pages of South Jersey Magazine
Let's face it: the holiday season can be a stressful time. This is why it's never too early to start preparing. From tips on what type of event to plan, to gift-giving ideas and the latest trends in fashion, our local experts have got you covered. Read on for ideas on how to make your holiday as memorable and stress-free as ever.
Where and How to Feed the Crowd Whether you're hosting a company party or a family get-together, searching for that perfect venue may be the toughest, yet the most important decision you'll have to make. Wherever you choose to host your event, make sure it suits your audience.
Deciding between a formal catered affair or an after work happy hour? Evelyn Bails, owner of Adelphia Restaurant in Deptford suggests choosing a venue that offers many options and works hard to make sure your needs are met. "If you're having a casual happy hour after work, reserve space in the bar area. Or you can try something new and host a Sunday Brunch. Regardless of the type of party you are planning, make sure you choose a venue that will accommodate all of your needs to make your event memorable and fun," says Bails.
"Atmosphere is an important part to making a great holiday party," says Kenneth Sze, Chef at Yokohama Japanese Restaurant in Maple Shade. Sze suggests reserving a hibachi table, which allows guests to let loose and get involved with the preparation and cooking. "What's better than seeing the chef cook your meal right in front of your eyes? Our experienced cooks, skilled sushi chefs and friendly waitresses bring out the love and passion of our food. All that's left is for you to experience it," says Sze.
According to Debbie Orel, Director of Membership and Marketing at the Katz JCC in Cherry Hill, "Sometimes it is hard finding a venue that fits the needs of all ages, especially kids." Orel suggests picking a venue that offers entertaining activities for the children, while the parents have a chance to socialize and mingle. "The JCC offers multiple locations within one site, so parents can enjoy a serene cocktail party with jazz music, while the kids can enjoy mock-tails and DJ entertainment in their own separate space," says Orel.
If you're looking to host your party at home this year, Nancy McDevitt, owner of High Street Grill in Mount Holly, notes that there are many different types of catering to choose from. "You may opt for a delivery of stationary items, chafing trays that can be re-heated in your oven, or have a Chef and servers take care of it all. Whichever option you decide, High Street Grill can handle your holiday party needs. Either way, it is a good idea to pace your selections over the course of the party, rather than have it all out at one time," says McDevitt.
On the other hand, if you're having a lot of family in for the holidays, don't stress about hosting at home. Paul Villari, owner of Villari's Restaurant in Palmyra suggests "selecting a restaurant where they do it all: from cocktails to appetizers, and unique dinner specials. At Villari's, we offer private banquet rooms, which is a great way to keep the warm family feeling while being away from home," says Villari.
Teresa Nymick at the Aloft Hotel in Mount Laurel suggests that if you want to go even bigger than a private banquet room, host your company holiday party or festive social event in a luxurious grande ballroom. Choose a venue such as the Aloft Hotel that can offer a large enough ballroom to hold your guests for your chic event. Complete your night with a champagne toast and signature drinks in a space that will get your guests mixing and mingling.
How can you get away from the same old office dinner/luncheon for this year's holiday party? "Go out and try something new," says Perdeep Thind, owner of Monsoon Fine Indian Cuisine in Mount Laurel. "Get away from the same old meals you go out for every year. Try an Indian restaurant for example, this type of dining works great for groups. Everything is served family style, so it is easy to share. A reputable Indian restaurant will have knowledgeable service staff to help you put a sure shot meal together," says Thind.
Another new idea for this holiday season is "having a progressive dinner in your neighborhood," says Jai Avichal, manager/event coordinator at The Chophouse in Gibbsboro. "How it works is that each home is responsible for one course. So you could start at your own house for cocktails and hors d'oeuvres. Then, visit the next neighbor's house for another course and keep going to each neighbor's house until you get all the way through dessert! It's a great way to get to know your neighbors better and wish them happy holidays! If you want to host a holiday party at home but don't want to deal with the cooking, cleaning, and shopping, try calling your favorite restaurant or local chef," says Avichal.
According to Jon Barone, general manager/sommelier of RiverWinds Restaurant in West Deptford, "A great tip is to stay away from the usual sit down boring dinner for 4 hours." Barone suggests livening up the function and host or book a 2 hour cocktail and hors d'oeuvres party instead. "Perhaps a wine dinner menu might be the answer. A nice wine which complements the dish is paired with each course, including dessert. Ask for a Sommelier at your restaurant to help you with the choices," advises Barone.
Booking early is the key, according to Nunzio Patruno, owner/chef of Nunzio Ristorante Rustico in Collingswood. "Start early and book quickly since the good restaurants are reserved well ahead of the holidays," says Patruno. "Some restaurants will even give you a discount for larger parties if you reserve by a certain date, so ask when you call for a reservation."
Does the restaurant you have in mind have a chef's table? "Nunzio's offers groups of 6-12 diners a five course savoring menu," says Patruno. "It's a great way to have an intimate dining experience, get an education in food, all while taking your party to the next level, and most important, not having to do any of the work."
"The most fabulous parties this holiday season will recreate a glittering fashion palette of glamorous metallic that will adorn the décor for special spaces set for your grand celebrations," says Jessica Connor, Director of Catering and Sales for Café Madison in Riverside. "Deep gold, warm bronze, sparkling copper and a myriad of tiny lights and tapered candles will create a memorable and elegant holiday atmosphere."
Connor reminds you to "Enjoy your special holiday time together with family, friends and coworkers by mixing traditional and adventurous selections to surprise and delight your guests."
What to Wear…
Leave it up to our local fashion experts to tell you what's in this holiday season. "This holiday, I envision a great pair of olive green military skinny pants, with a black glitzy tank top and a signature black wrap. Pair this with a black riding boot and you have the perfect casual holiday outfit," says Dana DiAntonio, owner of Joey's Unique Boutique in Marlton.
For those who like getting decked out, DiAntonio suggests "wearing a pair of black skinnys with the same glitzy top and wrap. Add in a patent peep-toe and you've got your complete sexy-chic look. Animal prints are ringing in the New Year so don't be afraid to celebrate in a leopard print tunic and leggings!"
"Gray is shaping up to be one of the hottest new trends for the season," says Loretta Liberi, owner of Fashion Rocks Boutique in Cherry Hill. "A comfortable sweater dress can be a relaxing, yet feminine and sassy look if you're home for the holidays. For a fun and flirty look for those evening holiday parties, choose a dramatic off the shoulder dress with sparkle, a great way to look as festive as you feel!"
What to Give…
Although you may be all wrapped up in planning your event and deciding what to wear, don't forget about gift giving! "Instead of the obligatory bottle of wine, why not treat your favorite hostess to a unique more personalized gift," says Phoebe Dennis, owner of La Di Da in Moorestown. "How about a fashionable scarf, artistically painted shopping bag, or perhaps a holiday Pandora charm? We can help you pick out a gift that will be warmly regarded and remembered long after the last bite of dessert."
We know this time of year can get pretty hectic, says Phil Sargent, owner of Maid Pro® in Cherry Hill. "To relieve stress for you or someone you know, how about a gift certificate for a cleaning service? They can provide many services for your home including offering complete cleaning of your oven and refrigerator interiors," says Sargent. He also adds that "If you or someone you know just doesn't have time to squeeze in that desperately needed house cleaning, call for a one time cleaning service."
Decorating the Home
Besides planning your company or family holiday party, you've probably got Christmas tree shopping on your mind.
Ralph Olson, owner of Indian Acres Tree Farm in Medford suggests going somewhere that sells everything you need in one place. "You want to be able to buy your fresh cut trees, wreaths, roping, greenery, tree stands, and ornaments all in one visit. Our tree farm allows you to make your visit quick and easy by offering everything you need for your holiday preparation. And remember; never settle until you found the perfect tree that fits your needs."
Sprucing It Up
Now that the tree is picked out and put in place, it's time to make sure your clothes are fresh, your house is clean, and you're all set for the holiday.
"A great and affordable way to go green this holiday season is to have your garments and linens cleaned using an eco-friendly dry cleaning service," says Tom Ro, owner of Cherry Hill 70 Cleaners. "We use cleaning solvents that are proven to be both effective for cleaning and safe for you and the environment. Some of the greatest benefits of using this service are the extended life of your garments, while keeping harmful toxins away from your home and family."
Let's face it: you want your home to look its best. So, in order to spruce up your home and make it look perfect for the holiday season, Louis Levine, store owner of Ethan Allen in Maple Shade suggests "choosing a company that has an entire staff of interior design experts at the customer's disposal to help you grow your own home style. Knowledgeable staff will assess your budget, hear out your concerns, and help you make a decision on an item—at no cost to you, the customer. As the time for gift giving approaches, our design service can assist you in your holiday shopping or redecorating," says Levine.
"Start now to get your home spruced up to make it even more inviting to your guests and family," says Igor Szczerba, owner of Home Trimwork. "Dramatic changes can be made without incurring a lot of time and expense."
He also adds that "When it comes to floors, walls, and ceilings, custom changes can be done to almost any room in your home including the dining room, which may not have been used all year. Your guests will be dazzled by subtle changes that can make a dramatic impact."
"Dining rooms and foyers can give your guests that great first impression. Coffered ceilings, wainscot, crown molding and doorways are just a few ways to make dramatic changes. Coffered ceilings add a luxurious touch especially when it is a two story room. Your ceiling can have a tremendous impact on the look and feel of space and they give the expression of luxury without a luxuriously sized price tag. Some may also provide a great acoustical solution for large spaces. Wainscoting can also add some interest to your dining room," notes Szczerba.
"New flooring can be a quick easy fix for a new look for the holidays," says Steve Matteo, owner of Matteo Family Kitchens and Flooring in Woodstown. "Hardwood flooring in the kitchen is a red flag with busy households because of the wear a busy home can have. With today's hand scraped finishes and delustered gloss level, your floor will look better and last longer without the worry of scratches or refinishing. Ceramic is the largest growing segment of the Matteo Family flooring department. Put it on the floor, on the walls and even on the ceiling. There is no place not suitable for tile."
How can you simply update your bathroom without a full remodel in time for your holiday guests? Michael Frey, owner of Specialty Shower and Closet in Mount Laurel has the answer. "Dressing up your home with an updated look for your bathroom is easy," says Frey. "By replacing your old shower with a new frameless enclosure, your bathroom will have that rich, contemporary look you desire, without the expense of a remodel, adding both value and beauty to your home."
Worried that your closets are so jammed with stuff that there will be no room to store all of your holiday gifts? Frey suggests "custom laminate shelving systems, which will utilize all of your space efficiently. No matter how large or small your closet, we can custom design a system that is specifically tailored to your space, budget, and lifestyle."
The holidays may be that one time of year when your loved ones are close. Your children may now be off on their own and you have the opportunity to make your home the dream house you always wanted. It's not too late to update your home for the holidays.
Whether it is a bath, kitchen, or full house renovation, Brindisi Builders has the experience and craftsmanship to help you design and create a welcomed new addition to your home, a gourmet kitchen, a lavish bathroom, or any need that you may have to make your home that perfect place to "come home to."
Now that you've got all of the advice in the world about to how to prepare for the holidays, go ahead and get started. Hopefully this year, your holiday party, gifts and fashion will be the best ever. No pressure.
Holiday Prep Directory
Christmas Tree Shopping
Indian Acres Tree Farm
Medford
(609) 953-0087
indianacrestreefarm.com
Cleaning Services
Cherry Hill 70 Cleaners
Cherry Hill
(856) 283-7121
cherryhill70cleaners.com
MaidPro®
Cherry Hill
(856) 427-7880
maidpro.com
Custom Builders
Brindisi Builders
Marlton
(877) 284-5353
brindisibuilders.com
Fashion
Fashion Rocks Boutique
Cherry Hill
(856) 751-7533
fashionrocksboutique.com
La Di Da
Moorestown
(856) 222-1778
ladidaladida.com
Joey's Unique Boutique
Marlton
(856) 810-3496
Holiday Lighting
Eaise Design and Landscaping
Serving South Jersey
(856) 358-6365
eaise.com
Home Improvement
Home Trimwork
Serving South Jersey
(609) 206-8621
hometrimwork.com
Matteo Family Kitchens & Flooring
Woodstown
(856) 769-2490
matteokitchens.com
Specialty Shower and Closet
Mount Laurel
(856) 235-9915
specialtyshowerandcloset.com
Interior Design
Ethan Allen
Maple Shade
(856) 667-7333
ethanallen.com
Kitchens & Baths
Weinstein's Bath & Kitchen Showroom
Collingswood
(856) 833-1576
weinsteinsupply.com
Venues/Catering
Adelphia Restaurant
Deptford
(856) 845-8200
adelphiarestaurant.com
Aloft Hotel
Mount Laurel
(856) 234-1880
starwoodhotels.com/alofthotels
Braddock's
Medford
(609) 654-1604
braddocks.com
Caffé Aldo Lamberti
Cherry Hill
(856) 663-1747
caffelamberti.com
Café Madison
Riverside
(856) 764-4444
cafemadison.com
High Street Grill
Mount Holly
(609) 265-9199
highstreetgrill.net
Illiano Cucina
Medford
(888) 748-4765
illianocucina.com
Kabuki Japanese Restaurant
Cherry Hill
(856) 661-9599
kabukicherryhill.com
Katz JCC
Cherry Hill
(856) 424-4444
katzjcc.org
Monsoon Fine Indian Cuisine
Mount Laurel
(856) 234-0080
monsoonindiancuisine.com
Nunzio Ristorante Rustico
Collingswood
(856) 858-9840
nunzios.net
Palace of Asia
Cherry Hill
(856) 773-1200
palace-of-asia.com
Rexy's
West Collingswood Heights
(856) 456-7911
rexys.com
RiverWinds Restaurant
West Deptford
(856) 579-7900
theriverwindsrestaurant.com
Scaturro's Restaurant
Marlton
(856) 985-4560
scaturros.com
The Chophouse
Gibbsboro
(856) 566-7300
thechophouse.us
The Merion
Cinnaminson
(856) 829-2111
themerion.com
Villari's Restaurant
Palmyra
(856) 829-7373
villarisrestaurant.com
Yokohama Japanese Restaurant
Maple Shade
(856) 608-8812
sushiandhibachi.com
Published (and copyrighted) in South Jersey Magazine, Volume 7, Issue 7 (October, 2010).
For more info on South Jersey Magazine, click here.
To subscribe to South Jersey Magazine, click here.
To advertise in South Jersey Magazine, click here.