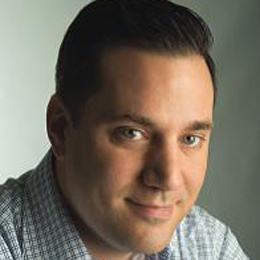 The Time Is Right
Editor's Note
The holiday get-togethers have wound down, the cookies have all been eaten and the decorations have been stowed away neatly. OK, maybe we are still working on that last one, but the fact is another new year has arrived and with it comes great promise and hope for what lies ahead in our lives. Call it a fresh start, a new beginning or just the chance to hit the reset button; January's arrival often causes us to take inventory of our lives and set goals, some loftier than others, to become better parents, family members, friends and neighbors.
Of course, aside from individual growth, we here at the magazine are also looking for big things from this publication in 2018. As we continually strive to get better in everything that we do, we began planning long ago for some exciting new changes this year and we think our loyal readers will be pleased.
Over the several years since I've taken over as the Editor-in-Chief of South Jersey Magazine, I've met many great local people from all walks of life. I could be at a charity function, on location at a photo shoot or even in line at the store. Inevitably, I hear them tell me how much they love the magazine. That is great, I love hearing that, and it never gets old. It lets me know that we are on the right track and all the hard work my team puts in is paying off. However, I also like hearing from those who aren't shy about offering their critiques. It gives me pause and truly helps us consider ways to improve what otherwise maybe wouldn't have been on our radar when our faces are pressed so close to the glass.
As we prepare to put things in motion for what we hope is our best year yet, we are taking our annual trip back in time with our Year in Review. Starting on page 20, you'll find a handy roundup to all of our best of lists from 2017 as well as a look at some of our most memorable interviews from the likes of Oscar-winning actress Emma Stone and celebrity chef Michael Symon to Matthew McConaughey and Anne Heche.
We thank you for your continued support and look forward to showing you what we have in store. Happy New Year!
Kind Regards,
Peter J. Proko
Editor-in-Chief
Published (and copyrighted) in South Jersey Magazine, Volume 14, Issue 10 (January, 2018).
For more info on South Jersey Magazine, click here.
To subscribe to South Jersey Magazine, click here.
To advertise in South Jersey Magazine, click here.