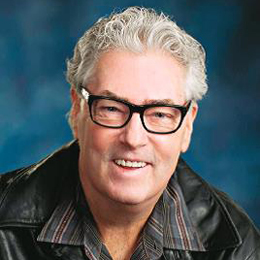 Christmas at the Movies
Big Words
Ah, Christmas. I love it. There are so many wonderful holiday traditions and I have written about them all for this magazine. I have listed my favorite holiday songs, cards, food and decorated homes in South Jersey. But what I have not written about at all is Christmas movies.
And I love Christmas movies. Who doesn't? They generally leave you with a real feel-good vibe as you walk out of the theater or shut off your TV. Geez, the Hallmark Channel is advertising that they're showing 34 newholiday movies this season. And they started showing them before Halloween. South Jersey's own Jay Black has written a few of them.
But it seems like it's the usual suspects when scribes like myself announce their Top 10, and when I started writing that article, I didn't feel like I was bringing anything new to the table.
(For the record, my Top Five, in alphabetical order, are A Christmas Story, Elf, It's A Wonderful Life, Love Actually and The Muppet Christmas Carol.)
So here's something a little different. I'm going to discuss some of my favorite holiday scenes that take place in non- Christmas movies. Because I love when Christmas sneaks up on you, and I don't mean Dec. 25 creeping up on you. I dig it when you're watching a movie in April and suddenly there's a Christmas scene. It immediately puts me in a good mood.
I love walking on the Ocean City Boardwalk and seeing a Christmas knick-knack shop pop up. I always go in. It's the little kid in me that still considers Dec. 25 to be the most important date on the calendar. Even if I walk in such a store in mid-August, it brings back the incredible anticipation of Christmas. Because when you are a kid (which I proudly still am), every other day in the year is just a date that gets in the way.
And away we go.
Catch Me If You Can
This just might be the finest "non-Christmas" Christmas movie ever. Most of the important action occurs on various Christmas days throughout the lives of Tom Hanks and Leonardo DiCaprio. The finale is a killer. DiCaprio, looking in through a picture window on a family that could have been his. It's heartbreaking. I just wrote a show titled A Rowhome Christmas that tells the story of a middle-aged man driving throughout his old neighborhood, seeing that his old home is empty and up for sale, decides to break in to sit in his old home one more time. Catch Me If You Canwas even released on Christmas Day back in 2002.
Trading Places
A drunk Dan Aykroyd sitting on a Septa bus pulls some smoked salmon out of his filthy fake Santa beard and starts chewing away. What a scene.
The Godfather
There are Christmas wreaths and lights and cards everywhere you glance in this classic. And it wasn't done by accident. Here's a story of a bunch of stone-cold mob killers and the use of Christmas helps to give the Corleone family warmth. And it works.
But the scene of the falling-in-love Al Pacino and Diane Keaton walking in the snow outside Radio City Music Hall talking about what to get each other for Christmas is both romantic and tragic. Because we all know how it's going to end.
Harry Potter and the Order of the Phoenix
Christmas pops up in all the Potter books and films, but will someone please write me and tell me exactly what is Santa flying around on in this particular film? I thought it was a broom, and I think it is, but I'm just not positive. I know I would love to get around this way. It would surely beat stewing in bumper-to-bumper traffic on 295.
Lethal Weapon
"Lethal Weapon?!" Yes, the very first Lethal Weapon has a scene where a cocaine deal goes wrong in a lot that sells Christmas trees. And the scene infuriates me every time I see it because the Christmas tree lot is in Los Angeles. And Christmas and L.A. just don't work together. It's the least "Christmasy" city in the United States. The scene is shot in broad daylight with an L.A. freeway sign in the background, for crying out loud.
When Harry Met Sally
With Los Angeles out of the way, let's travel up the Jersey Turnpike to New York City, the greatest Christmas city in the world. Type in "When Harry Met Sally Christmas" on YouTube and you'll be rewarded with 43 seconds of the most amazing NYC Christmas vistas—all set to Ray Charles' take on the song "Winter Wonderland." It's magical, as is the movie, which I consider to be one of the top five romantic comedies of all-time. And it ends on New Year's Eve on top of it all.
Jaws: The Revenge
Seriously, I'm not kidding. Another moment that you can YouTube if you don't believe me. It involves a Christmas choir, Chief Brody's widow, Ellen, and her deputy son who is about to become a late-night snack for our favorite shark buddy.
I love it when you are leaving a movie and you overhear someone exclaim, "Well, they are leaving it open for a sequel." They blew up the shark in a million pieces in the first Jaws and they still managed to make three more movies. If a movie makes money, believe me, they'll make another. Plot be damned.
Die Hard
All of the action takes place on Christmas Eve and stars our very own New Jerseyan, Bruce Willis.
There are plenty of others, including Rocky, Grumpy Old Men, Goodfellas, Forrest Gump and Gremlins. (As a major fan of Santa Claus, that last flick should be banned!)
See what you've noticed over the years and write me.
It's fun!
Published (and copyrighted) in South Jersey Magazine, Volume 14, Issue 9 (December, 2017).

For more info on South Jersey Magazine, click here.
To subscribe to South Jersey Magazine, click here.
To advertise in South Jersey Magazine, click here.