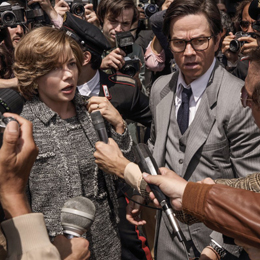 Sneak Preview
Entertainment
On the calendar page, December brings things to a close. But in the movie industry, it's seen as that dependable month when, while the weather turns cold, the movies turn hot.
It's when the Oscar races warm up and box office returns for must-see attractions to make up for the commercial disappointments that have preceded them throughout the year.
That's especially true this year.
"They" hope.
They also hope that even casual, infrequent moviegoers venture out to theaters to see compelling, high-profile, big-screen entertainment, especially between Christmas and New Year's, when the A-list marquees shout out to one and all.
So here is the 2017 lineup of December's top movies, collectively providing a climax for the movie year that, if the folks in charge get their way, will pick us up and pack us in and prevent us from wishing it were already 2018.
STAR WARS: THE LAST JEDI
(Dec. 15)
GENRE AND PLOTLINE: In the next chapter of the ultimate scifi saga, Rey continues the epic journey into a larger world that she began in Star Wars: The Force Awakens.
MAJOR PLAYERS: Daisy Ridley, Mark Hamill, Adam Driver, Laura Dern, Oscar Isaac, Andy Serkis, John Boyega, Carrie Fisher, Benicio del Toro, Warwick Davis, Domhnall Gleeson
BEHIND THE CAMERA: Rian Johnson (Looper, The Brothers Bloom, Brick) wrote and directed.
OSCAR PROSPECTS: This is the Star Wars universe, not the Academy Awards universe. There's little overlap.
COMMERCIAL PROSPECTS: To repeat, this is the Star Wars universe. They're already lining up at the multiplex.
REASON TO SEE IT: For completists, this is the ninth theatrical movie in the series— and the eighth was reasonably satisfying—but it has a lot to live up to. Expectations should probably be held in check.
THE DISASTER ARTIST
(Dec. 8)
GENRE AND PLOTLINE: A biographical comedy about the critically derided 2003 film that became a cult movie, The Room, sometimes described as the Citizen Kane of inferior flicks.
MAJOR PLAYERS: James Franco, Dave Franco, Seth Rogen, Alison Brie, Zac Efron, Jacki Weaver, Josh Hutcherson, Ari Graynor, Hannibal Buress
BEHIND THE CAMERA: Hyphenate James Franco produces and directs as well as stars.
OSCAR PROSPECTS: Two: slim and none.
COMMERCIAL PROSPECTS: Sounds a bit too "Inside Baseball" for all but devoted film buffs.
THE SHAPE OF WATER
(Dec. 15)
GENRE AND PLOTLINE: A fantasy drama set against the backdrop of the Cold War in 1962, when a lonely, mute janitor and her colleague discover the existence of a secret classified experiment involving an amphibious creature.
MAJOR PLAYERS: Sally Hawkins, Michael Shannon, Doug Jones, Michael Stuhlbarg, Octavia Spencer, Richard Jenkins
BEHIND THE CAMERA: Writerdirector Guillermo del Toro, a fantasy maestro and Oscar nominee for his screenplay for Pan's Labyrinth, who also directed Mimic, Hellboy, Pacific Rim, The Devil's Backbone and Crimson Peak.
OSCAR PROSPECTS: Del Toro's previous Oscar nomination may help to keep this one on the radar, and Hawkins is receiving plenty of buzz for her performance. But this kind of fantasy chasing down an Oscar for Best Picture is usually a fantasy itself.
COMMERCIAL PROSPECTS: For a period-piece creature feature, blockbuster status is severely doubtful. But you never know.
REASON TO SEE IT: An inventive director in charge of an interesting cast. Plus, you'll undoubtedly be able to get a seat.
FERDINAND
(Dec. 15)
GENRE AND PLOTLINE: An animated comedy about a non-violent bull, mistaken for a beast, who is captured. But he remains dedicated to returning to his family with the help of a group of misfits.
MAJOR PLAYERS: The voices of John Cena, Kate McKinnon, David Tennant, Miguel Ángel Silvestre, Bobby Cannavale, Gina Rodriguez, Anthony Anderson, Gabriel Iglesias
BEHIND THE CAMERA: Brazilian animation director Carlos Saldanha previously directed three movies in the Ice Age franchise and two in the Rio franchise.
OSCAR PROSPECTS: The cartoon category is intensely competitive during this golden age of animation—and that's no bull—so it will have to dazzle, which it might.
COMMERCIAL PROSPECTS: The animation-embracing family audience will probably be all in. They usually are— and that's no bull either.
REASON TO SEE IT: Because your kids want to, which is more than enough of a reason. And that's no—well, you know.
GOTTI
(Dec. 15)
GENRE AND PLOTLINE: Originally titled The Life and Death of John Gotti, this biographical crime drama chronicles the story of the infamous, titular crime boss.
MAJOR PLAYERS: John Travolta, Kelly Preston, Stacy Keach, Pruitt Taylor Vince, Megan Leonard, Ella Bleu Travolta, Leo Rossi
BEHIND THE CAMERA: Director Kevin Connolly (Gardener of Eden, Dear Eleanor) is best known as an actor on the television series Entourage and the subsequent feature film.
OSCAR PROSPECTS: This wouldn't appear to be an awards contender, and Connolly doesn't have enough of a track record to be taken all that seriously.
COMMERCIAL PROSPECTS: With the casting of Travolta as Gotti, who remains a figure of fascination, this one ought to at least scare up an opening- weekend audience, but then not stick around for long.
REASON TO SEE IT: Unless you're a card-carrying Travolta fan or a Gotti devotee, you'll let this one disappear under the avalanche of holiday releases.
JUMANJI: WELCOME TO THE JUNGLE
(Dec. 20)
GENRE AND PLOTLINE: A reboot of the 1995 Robin Williams vehicle, this action-adventure thriller involves four teens who come upon an old video game console and are then sucked into the game's jungle setting via their chosen avatars.
MAJOR PLAYERS: Dwayne Johnson, Kevin Hart, Jack Black, Missi Pyle, Bobby Cannavale, Karen Gillan, Alex Wolff, Tim Matheson, Nick Jonas
BEHIND THE CAMERA: At the helm is Jake Kasdan, whose directorial résumé includes Orange County, The TV Set, Walk Hard: The Dewey Cox Story, Bad Teacher and Sex Tape.
OSCAR PROSPECTS: It's a jungle out there and this is the wrong kind of animal.
COMMERCIAL PROSPECTS: Strong, given the bankability of Johnson and Hart both individually and together, and the promise of state-of-the-art special effects in a movie that yells for them.
REASON TO SEE IT: The marquee names may be the loud draw, but Kasdan's interesting directorial record is the quiet but promising one.
THE GREATEST SHOWMAN
(Dec. 20)
GENRE AND PLOTLINE: The story of how P. T. Barnum started the Ringling Bros. and Barnum & Bailey Circus is the focus of this biographical— and original—musical drama.
MAJOR PLAYERS: Hugh Jackman, Zac Efron, Michelle Williams, Rebecca Ferguson, Zendaya, Gayle Rankin, Paul Sparks, Diahann Carroll
BEHIND THE CAMERA: Visual effects artist Michael Gracey tries on a director's hat and megaphone in his directing debut.
OSCAR PROSPECTS: The director may be new at this, but the last time Jackman starred in a musical— Les Misérables in 2012—he was Oscar-nominated. Just sayin'.
COMMERCIAL PROSPECTS: Given La La Land's landing last year, the audience may be very ready for a musical drama at this time of year. Or they may not.
REASON TO SEE IT: As lovers of movie musicals know, they don't come around very often these days. The reviews will have a lot to do with whether this one catches on.
FATHER FIGURES
(Dec. 22)
GENRE AND PLOTLINE: A comedy about grown-up frater nal twins who learn that their mother has been lying to them their whole lives about their allegedly deceased dad, whom they intend to track down as they take to the road.
MAJOR PLAYERS: Owen Wilson, Ed Helms, Glenn Close, J.K. Simmons, Ving Rhames, June Squibb, Bill Irwin, Terry Bradshaw, Harry Shearer, Katt Williams
BEHIND THE CAMERA: Cinematographer Lawrence Sher—who served as director of photography on such films as Dan in Real Life, The Promotion, I Love You, Man and the three Hangover flicks—debuts as a director.
OSCAR PROSPECTS: Not so fast. This is a flick that's chasing laughs, not awards.
COMMERCIAL PROSPECTS: In outline, it recalls Step Brothers. If it can deliver belly laughs with similar success, it could draw a crowd—especially at a time when we don't get truckloads of winning comedies.
REASON TO SEE IT: If you swear by The Hangovermovies—on which Helms and Sher collaborated—this one could be right up your alley.
PITCH PERFECT 3
(Dec. 22)
GENRE AND PLOTLINE: The third and final installment in the musical comedy franchise about a female a cappella group finds The Bellas, having won a world championship, reuniting for one final singing competition at a USO overseas tour.
MAJOR PLAYERS: Anna Kendrick, Rebel Wilson, Brittany Snow, Anna Camp, Hailee Steinfeld, John Michael Higgins, Elizabeth Banks, John Lithgow
BEHIND THE CAMERA: Relative newcomer Trish Sie (Step Up All In) takes on another musical sequel.
OSCAR PROSPECTS: Nah, that's a different pitch. This one exists to extend the franchise.
COMMERCIAL PROSPECTS: Which it will most likely do. Again. And then that's it. Maybe.
REASON TO SEE IT: All together now: If you enjoyed the first two, why wouldn't you get in line for the completion of the trilogy?
DOWNSIZING
(Dec. 22)
GENRE AND PLOTLINE: No, not that kind of downsizing. In this sci-fi social satire about overpopulation, Norwegians realize that they could have a better life if only they could shrink down to a fraction of their size. Scientists agree and make it happen.
MAJOR PLAYERS: Matt Damon, Christoph Waltz, Kristen Wiig, Hong Chau, Udo Kier, Jason Sudeikis, James Van Der Beek, Maribeth Monroe
BEHIND THE CAMERA: Six-time Academy Award-nominated writerdirector Alexander Payne co-won two Oscars for Best Adapted Screenplay for The Descendants and Nebraska, and was nominated as Best Director for Sideways and Nebraska.
OSCAR PROSPECTS: Hey, Payne is an Oscar favorite—keep your eye on this one.
COMMERCIAL PROSPECTS: Awards notwithstanding, this one has an intriguing, come-hither premise, and Damon usually delivers. The line forms to the left.
REASON TO SEE IT: Damon, Payne, Waltz, Wiig and a special effectsembracing premise. I smell a hit.
ALL THE MONEY IN THE WORLD
(Dec. 22)
GENRE AND PLOTLINE: A crime drama about a left-wing paramilitary organization in Italy in the 1970s that concocts a large-scale plot, it's based on the real-life kidnapping of John Paul Getty III.
MAJOR PLAYERS: Mark Wahlberg, Christopher Plummer, Michelle Williams, Timothy Hutton
BEHIND THE CAMERA: Veteran director Ridley Scott, a four-time Oscar nominee for Thelma & Louise, Gladiator, Black Hawk Down and The Martian.
OSCAR PROSPECTS: It sounds like a genre item rather than Oscar bait, but director Scott has a way of being invited to the party at Academy Award time. And he's got two-time nominee Wahlberg (The Departed and The Fighter) and Oscar winner Plummer (Beginners) in the lead lineup.
COMMERCIAL PROSPECTS: Not especially strong, although the name cast can't hurt.
REASON TO SEE IT: Scott does reliably strong work, and his two leads are characteristically watchable.
Published (and copyrighted) in South Jersey Magazine, Volume 14, Issue 9 (December, 2017).

For more info on South Jersey Magazine, click here.
To subscribe to South Jersey Magazine, click here.
To advertise in South Jersey Magazine, click here.