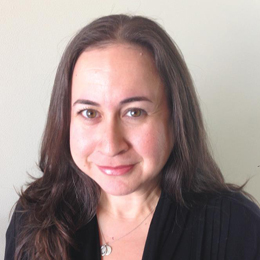 The Write Words
Laura Gutin Peterson
When Laura Gutin Peterson was growing up in Cherry Hill, her favorite things to do were to go strawberry picking at Springdale Farms and lining up for ice cream at Richman's. During the summer, you would undoubtedly find her at JCC camp in Medford; a long way from cheesing it up on the red carpet of the Emmy Awards.
Today, Gutin Peterson is an established network television writer/producer with a string of shows to her credit, most notably ABC's hit sitcom Black-ish, for which she received an Emmy nod this past year as co-executive producer in an Outstanding Comedy Series. Though she ultimately didn't win the golden statuette, she was honored days later with a Sentinel Award for her work on last season's finale. The awards recognize shows for telling exemplary storylines about health, safety and security and she was presented the honor by one of her idols, legendary TV writer and producer Norman Lear.
Humbly, Gutin Peterson has taken all the recent recognition in stride, if only because reality has begun to set in for the married mother of two young children. "I had a very exciting two weeks. [And] now I'm going back to the normal stuff like making my kids' lunches and feeding the cats," she quips.
During a break from filming the current season of Black-ish, Gutin Peterson filled us in on the ups and downs of finding her way in the entertainment industry and why, after nearly two decades in Hollywood, she still considers herself a Cherry Hill girl at heart.
Does coming from the East Coast help ground you a bit in the all the craziness that takes place in and around L.A.?
I think it definitely helps. A lot of my friends I made when I first moved out here were all from the East Coast. I still consider myself a Jersey girl, but the truth is that I've lived in Los Angeles now [longer] than I lived in Jersey.
It's hard to get used to not pumping your own gas.
That took a while to get used to.
So, how did you get into working in television, was it on NewsRadio?
I moved out here right after college and I finagled my way into this job as a stage production assistant on NewsRadiofor the final season. I had this vague idea to go to L.A. because I wanted to work in television. I was sort of shocked that I actually did it. When I was a junior in college studying abroad, someone said, 'You have an English degree, you can write for television.' Growing up in Jersey, it was so far from the world I grew up in. I moved out here and got that NewsRadiojob. And being on a TV set, working on scripts, I just fell in love with it. That's when I knew I made the right decision.
Lots of folks move to L.A. to chase their dreams in the entertainment world and inevitably find it hard to break through. What was your one moment when you felt like you had arrived?
It's an interesting question; I think I knew I was in the right place, especially when I finally got an agent and became a writer. I felt like I had chosen the right thing. You are going to be up one day, down another, there's always a sense that I'm here now but this could all go away. Another thing I learned is you have to be humble about it. You could be on a hit show and a year later it's canceled and you don't have a job. I've been lucky to cobble together a career, and I don't take it for granted.
You write and produce, do you prefer one over the other? I would imagine both fuel creative tendencies, but in different ways.
They're kind of the same thing in a way in TV. Most of the producers on the show are also the writers. You produce your own episode, but you're also in the writers' room taking in concerns, if we do XYZ what would it mean? At the end of the day, I'm always going to be a comedy writer. It's like a drug, that's one of my favorite things about it. Working on Black-ish, it is not shot in front of an audience. But I've worked in multi-camera shows and you get to hear the audience reactions to the jokes. When you hear the laughs, it's intoxicating.
You worked on A to Z with another Cherry Hill native, Cristin Milioti. Did you two instantly bond over conversations about the mall and missing Wawa?
She's a bit younger than me, so I thought I would try and pretend that we are the same age. We got along really well and part of it is she is such a cool, down-toearth person and we have this shared place [to call home].
You were nominated for an Emmy this year, what was that experience like? I know the cliché is it's just an honor to be nominated, but it had to be great to be recognized.
I've been in the business 20 years next year, and never been nominated for anything. I've never been to the Emmys. To go through that whole process and go to the awards and the parties and see how glamorous it is—which is not what it's like to work in TV. It felt very Cinderella.
And you took your parents, how did they enjoy the night?
I think they had a great time. You watched it on TV your whole life and you get to be there on the red carpet and see how the sausage is made. It was such a special thing and I felt so lucky that they could be a part of it.
Does an Emmy nomination change you; are you expecting to be back every year now?
No, I've learned through 20 years to enjoy it when you get it, but don't expect anything. That is how I survived. Run your own race, don't look at other people and just keep plugging along. If I ever feel like I deserved something, then I walk around the house in the dark and step in cat vomit or have to wake up to make my kids' lunches. You know, your life doesn't change that much just because you get nominated for an award.
Published (and copyrighted) in South Jersey Magazine, Volume 14, Issue 9 (December, 2017).
For more info on South Jersey Magazine, click here.
To subscribe to South Jersey Magazine, click here.
To advertise in South Jersey Magazine, click here.