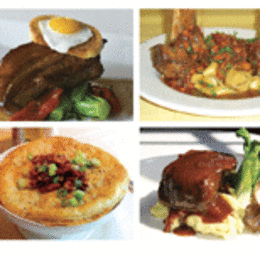 Top Chef: Reinventing the Classics
We began with 16 chefs, and now we're down to the final four. What a worthy four they are. This month, the remaining chefs created dishes with the upcoming fall season in mind. As the weather breaks, many gourmets turn to the comfort foods they have been eating their entire lives. Here, our chefs take those traditional dishes and put their own culinary twists on them, implementing new techniques or adding unexpected flavor profiles. Only two will survive this penultimate cook-off and earn the chance to compete for the title of South Jersey's Top Chef. It's heating up in the kitchen, so turn the page to see this month's dishes. Be sure to stop by the participating restaurants for a taste before visiting SouthJersey.com to get the recipes and vote for your favorite.
Round Five: Comfort Food with a Twist
Chef: Mark Berenato
Restaurant: Tre Famiglia
Dish: Braised Beef Short Ribs "Osso Bucco-Style" over Housemade Pumpkin Pappardelle
First, the short rib is Frenched and tied to resemble a cut of osso bucco. Then, the traditional osso bucco accompaniment, risotto Milanese, is replaced with a seasonal pumpkin pappardelle. The hearty mix of vegetables and red wine used in cooking give this dish a fragrance appropriate for the fall weather. The secret? After cooking the ingredients on the stove, transport them into a 250-degree oven for five hours, so that the meat is tender enough to slide right off the bone.
Chef: Markese Beverly
Restaurant: The Chophouse
Dish: Hoisin-Glazed Kobe Short Ribs
Chef Beverly channels Asian influences in this creation, which uses high-quality Kobe beef as its base. Using a Dutch oven, he braises the ribs for two hours in a blend of celery, carrots, onions, hoisin sauce, red wine, beef stock, and bay leaves. He serves it over mashed potatoes, which are kicked up with a squirt of wasabi paste. He garnishes the dish with maitake mushrooms, bok choy and more hoisin sauce.
Chef: Jack Connor
Restaurant: Café Madison
Dish: "Bacon and Eggs"
Connor goes outside the box with this traditional breakfast dish by using pork belly and a quail egg for the main ingredients. After searing the pork belly, he adds shallots, garlic and ginger to caramelize the meat. They key to this dish is cooking the quail egg properly, as it cooks differently from a chicken egg. The two main components are brought together on the plate with a blend of yu choy—a type of Asian greens—and roasted peppers. Connor sauces the dish with honey- and arrowroot-infused braising liquid.
Chef: Dave Levecchia
Restaurant: Scaturro's
Dish: Smoked Chicken and Wild Mushroom Pot Pie
The first step in this dish is smoking the chicken on the barbecue, preferably using hickory wood. From there, Chef Levecchia cuts and blanches red bliss potatoes and sautees onions, celery, carrots and a mix of shiitake and cremini mushrooms. Next, flour, pumpkin pie mix and cream are added to thicken the base of the dish. After putting all the ingredients into a pie pan, Levecchia covers the dish with pie crust and bakes it at 350 degrees until golden brown.
Published (and copyrighted) in South Jersey Magazine, Volume 7, Issue 7 (October, 2010).
For more info on South Jersey Magazine, click here.
To subscribe to South Jersey Magazine, click here.
To advertise in South Jersey Magazine, click here.