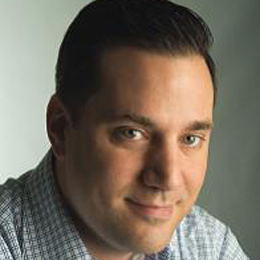 A Twist of Fate
Editor's Note
I was stuck in traffic along Route 322 one late summer afternoon when I flipped on satellite radio and came across an interesting interview with actress Anne Heche. I was familiar with Heche from her various TV and film roles, but otherwise didn't know much about her. But, as my car crawled through Mullica Hill I found myself riveted by the conversation. She was funny, introspective and, at times, a bit shocking with regard to how much of her personal life she was willing to divulge. You don't often hear Hollywood celebrities so forthcoming with what goes on in their lives when the cameras aren't rolling. If nothing else, I found her terribly interesting.
Fast forward a couple weeks later and I get a call from one of my writers. She wanted to know if we would like a story on a young actor from the Philly suburbs who was going to be starring in a new NBC drama. The network had invited us out to the set in New Mexico to get a behind-the-scenes look at the show. It was tremendous access to say the least, and we were excited for the opportunity.
As I began to research the show, I discovered the lead character was being played by none other than Heche. Immediately, I recalled the radio interview and began to not only research the show, but also Heche herself. As I read up on the actress, I discovered she had grown up down the Shore. It was as if the stars had aligned.
We quickly reached back out to NBC to say that we'd also like to interview Heche and they were more than happy to accommodate. And this wasn't some hurried affair where the handlers rush the star off after 10 minutes. Heche spoke to us at length about her New Jersey roots, including how she first fell in love with performing while working on the Boardwalk, and what it's like to balance family life— she is the mother to two young boys—with a busy career. You can read about this and her new show, The Brave, on page 40.
In addition to Heche, we have some other great ladies appearing in this issue as well by way of our annual Super Women feature. On page 44, we introduce you to 18 area women who are helping make the South Jersey community better through nonprofit work, philanthropic endeavors and more.
There are plenty more exciting stories in this issue too, from our spotlight on rising high school athletes, a look at the growing world of esports, and one-on-ones with funnyman Frank Caliendo and Real Housewives of New Jersey star and Cherry Hill native Siggy Flicker.
As always, thanks for reading, and if you think this issue is jampacked, we can't wait to show you what we have in store next month.
Published (and copyrighted) in South Jersey Magazine, Volume 14, Issue 7 (October, 2017).
For more info on South Jersey Magazine, click here.
To subscribe to South Jersey Magazine, click here.
To advertise in South Jersey Magazine, click here.