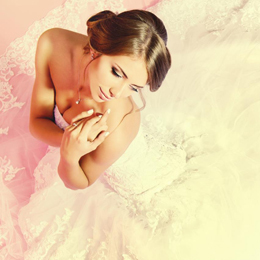 The Perfect Wedding
October 2017
It's no secret that planning a wedding involves numerous details, from finding the ideal venue and perfect wedding dress to choosing the most delectable food and drink, and entertainment to dance the night away. The list is endless and the trends change year-to-year—some season-toseason. In addition to keeping with the current trends, personal touches will not only help your wedding stand out among the rest, but will truly make it an unforgettable day for the bride and groom.
"Everyone wants something that will stand out and be memorable," says Katlyn Mogavero, director of catering sales at The Grand Hotel of Cape May. "Whenever I meet with brides, I always tell them to do something that means something to them as a couple."
"While it's easy to want to replicate the wedding trends you see on Pinterest and Instagram, the details that matter most on your wedding day are the ones that are heartfelt, genuine and uniquely yours," says Jaclyn Fisher of Two Little Birds Planning. "Couples want their wedding to reflect their personality and relationship, and adding fresh and unique details is the perfect way to do that. For example, if you had your first date at a food truck or it's where you two go for lunch every Saturday, it makes sense to incorporate a food truck into your wedding day. Having a food truck at the end of the night is a fun final surprise for guests."
Additionally, Fisher says instead of having an elaborate wedding cake, more couples are opting for unique dessert options, such as an ice cream bar with all the fixings and fun treats that are associated with that particular season.
"Mini pies are perfect for a fall wedding, and a popsicle station keeps guests cool at your summer soirée," she says. "The newest dessert to join the trend is doughnuts. A fun and popular way to showcase them is on a doughnut wall, which is a hit with guests any time of year."
The newest bar trend for libations is beverages on tap, such as a self-serve beer wall or a draft cocktail bar that serves unique cocktails on tap, including a signature cocktail created by the bride and groom, Fisher adds. "Cocktail culture has made its way to weddings. Craft beers and quality cocktails with fresh ingredients are increasingly popular, which is why more and more couples are including them at their wedding bar.
"Having different entertainment options throughout the wedding is another emerging trend. For example, a classic string quartet for the ceremony, a lively Latin band for cocktails and a fun DJ for the reception. It makes each part of the day feel different and special. Couples can also mix in live music with their DJ by having a vocalist or musician sing or play along."
Instead of a bouquet, a floral hoop—a miniature wreath decorated with greenery and flowers—is a fun and versatile detail, and there are a plethora of options for brides who opt to skip flowers altogether.
"Real flowers will never go out of style, but there are quite a few floral alternatives for brides looking for something a little different, such as adorable puppies, pretty parasols, functional fans, romantic lanterns, playful pinwheels and heirloom vintage jewelry to name a few," Fisher says.
Capturing moments in photo booths is still popular at weddings, but Fisher says couples as of recent are taking it up a notch. "A new take on this trend is having a live artist, such as a fashion illustrator or silhouette artist, create one-of-a-kind favors for guests," Fisher says. "A fun DIY-version of the ever-popular photo booth is a Polaroid station, which can double as a guest book."
Mogavero has also seen many new favor ideas over the past year, and says couples are getting more creative than ever. "People are getting away from the traditional key chains. For example, I had a wedding put together miniature olive oil bottles from a local olive oil company and a few weeks ago I had a bride create candy sea glass mason jars which was very cute and creative."
Melissa McCourt, buyer/manager at Jay West Bridal in Haddonfield, says more brides are going for a softer, less frills look and buying dresses that are anything but strapless. "We are seeing more brides that want a Bohemian, rustic and romantic look," she says. "They don't want anything too formal or stuffy looking. They want lot of softer fabrics—chiffon, organza and laces, and dresses with straps or sleeves. Strapless is on its way out for a little while."
The simplicity continues to the hair and accessories, where McCourt has seen fewer updos and more brides wearing their hair down and complementing it with a head band or flower crown. Brides are also giving their bridesmaids more say when deciding what dresses they will wear. "Brides are letting their bridesmaids pick their own style and a lot of them are doing more than one color, too," McCourt says. "Metallic, silver, platinum, blushes and rose gold seem to be really popular right now, and brides are having the bridal party in different styles, that way every girl picks what they feel they are more comfortable in."
"Brides spend a lot time planning their wedding, so it's only natural that they want everything to be perfect on their special day. … At the end of the day, the most important part of a wedding is the celebration of your love and beginning of your life together," Fisher says.
Published (and copyrighted) in South Jersey Magazine, Volume 14, Issue 7 (October, 2017).
For more info on South Jersey Magazine, click here.
To subscribe to South Jersey Magazine, click here.
To advertise in South Jersey Magazine, click here.