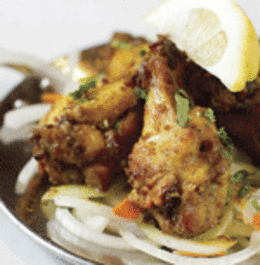 Cravings
5 SPOT: Wicked Wings
5 SPOT: Wicked Wings
Buffalo. Barbecue. Teriyaki. Chowhounds have been ordering up these chicken wing varieties for decades. But in recent years, the standard bar snack has been elevated to new heights as chefs, professional and aspiring alike, bring new flavors to the humble wing. While Buffalo can lay claim to popularizing the dish, South Jersey has made that spicy, saucy variety its own, with an award-winning version at the Jughandle Inn in Cinnaminson and a gluttonous weekly all-you-can-eat night at the Pic-A-Lilli Inn in Shamong. But, for those looking to venture beyond the traditional, we present some worthy alternatives. 1.
Monsoon
Tandoori Wings. Transported from Buffalo by way of India, these wings are sauced in a traditional Indian marinade consisting of green chiles, ginger, garlic and a blend of 15 spices. Then, they are speared with a metal skewer and lowered into the tandoor oven. 4180 Dearborn Circle, Mount Laurel, (856) 234-0080 2.
The Pour House
Smoked Porter Wings. Beer and wings are a classic pairing, but The Pour House steps it up by incorporating the brew into the cooking. Here, the smokiness of the porter perfectly complements the smokiness of the wings. 124 Haddon Ave., Westmont, (856) 869-4600 3.
Carolina Blue Smokehouse and Taproom
House Smoked Wings. The wings here get their signature flavor thanks to in-house smoking using peachwood from Maccherone Farms in Sewell. That makes them smoky, sustainable and simply delicious. 692 Lambs Road, Pitman, (856) 582-8586 4.
The Pop Shop
Buffalo "Tofu" Wings. Some loyalists may consider these veggie versions blasphemy, but we feel there's a place for everyone at the table. While certainly not chicken, these tofu chunks swimming in buffalo sauce are too unique to overlook. 729 Haddon Ave., Collingswood, (856) 869-0111 5.
Penang
Ayam Pandan. In Southeast Asia, pandan leaves lend a unique taste and aroma to Thai food. In South Jersey they turn chicken wings on their head. The chicken is first fried and then wrapped in the leaves from the tropical plant. 480 Route 38 E., Maple Shade, (856) 755-0188
"There are a lot of fantastic places to go for chicken wings in South Jersey, but my favorite has to be the Pic-a-Lilli Inn. They serve a double wing, perfectly fried, with some of the best Buffalo sauce I've ever had."
—Jonathan Squibb, Winslow Township resident and two-time defending Wing Bowl champion
CHEF TALK
Q: If you were stranded on a desert island, what five foods would you want with you?
A: Bread, cannellini beans, broccoli rabe, tomatoes and salt.
—Chef Aldo Lamberti, founder and chief executive of Lamberti's Family of Restaurants
Game Day Grub
It's football season, which can mean only one thing: Lazy Saturday and Sunday afternoons lounging on the couch, with plenty of pizza and beer to go around. Next time you're called on to bring the goods over to a friend's house, stop by Iron Hill Brewery in Maple Shade to take advantage of their special takeout offer of two pizzas and a 64-oz. growler of their handcrafted beer for $25. 124 E. Kings Highway, Maple Shade, (856) 273-0300
Any Given Sunday
Sunday brunch is a time-honored tradition, and the folks over at the three-month-old Lillian's Café in Audubon know this full well. They also aren't afraid to put their own twist on things. In addition to the buffet offerings ($14.95 includes coffee and juice), diners can order a la carte items such as made-to-order omelets, crepes and gourmet sandwiches. The popular filet mignon sandwich boasts 3 oz. of sliced meat on a Kaiser roll with caramelized onions, cheese, lettuce and tomato. Sundays, 10 a.m. to 2 p.m., reservations recommended, 34 W. Merchant St., Audubon, (856) 547-1902
Reason to Drink
Washington Post spirits columnist, Drexel professor and Haddonfield native Jason Wilson has just released his new book Boozehound: On the Trail of the Rare, the Obscure and the Overrated in Spirits (Ten Speed Press). In the book, Wilson explores what we drink and why we drink it. From top-shelf tipples to lesser known libations, Wilson uncovers what makes a boozehound tick. Add to that more than 50 drink recipes, and you have yourself an early holiday gift lying in wait. JasonWilson.com. Published (and copyrighted) in
South Jersey Magazine
, Volume 7, Issue 7 (October, 2010).
For more info on South Jersey Magazine, click
here
.
To subscribe to South Jersey Magazine, click
here
.
To advertise in South Jersey Magazine, click
here
.