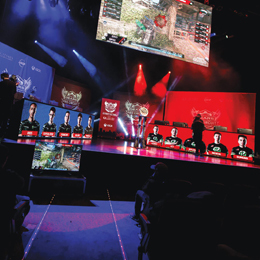 Game On
Leisure
The schedule of a professional athlete is grinding: hours of practice, a demanding fitness and nutrition regime, reviewing game tape and practicing communication skills for optimal team success—all of which prepares athletes to play at the highest level and compete for championship titles. Yet some of these professionals won't ever walk onto a field or court. Instead, they'll put on their uniform and sit in front of a computer in a dimly lit arena, taking on opponents in a video game competition with thousands of dollars on the line.
This is the world of esports and the stakes—both real and virtual—are high.
Short for electronic sports, esports are organized multiplayer video game competitions. It's not just a few teenagers getting together on weekends, but a global industry that's selling out arenas, garnering wellknown brand sponsorships and revenues pushing $700 million in 2017. Franchises like Dota, League of Legends, Counter Strike, Gears of War and Overwatch are some of the most popular games on Twitch, a livestreaming video platform with 10 million daily active users. Fans follow their favorite players, just like any other sport, watching hours of their game play, cheering their victories, mourning losses.
These numbers—and the fact that the audience of esports fans falls into the coveted millennial marketing bracket—have caught the attention of some recognizable organizations who are trying to figure out how to capitalize on the opportunities of this quickly growing genre. One year ago the Philadelphia 76ers became not just the first NBA team to officially invest in an esports franchise, but the first U.S. sports team to do so, taking a leap of faith that has others following suit. For instance, The Walt Disney Company is hinting at interest in hosting esports events at the ESPN Wide World of Sports complex in Orlando; this past summer, NBC Sports livestreamed and broadcasted tournament finals for Rocket League, a vehicular soccer game; and the International Olympic Committee is reportedly considering adding esports to the 2024 Games. And closer to home, just last month Comcast acquired the Philadelphia-based Overwatch team.
According to Akshay Khanna, Philadelphia 76ers vice president of strategy, being the first came as no surprise to those who know the franchise. "Our owners are incredibly innovative and they look to invest in properties in the sports and entertainment landscape that show great promise," he says. "We saw a real opportunity to help monetize this industry that is growing faster than any sport in the world."
The team in which they invested, Team Dignitas, is one of esports' oldest and most prestigious, says Khanna.
And surprisingly—or not—are the striking similarities between esports and a typical sports organization on both the gaming and business side. "Esports presents brands with a unique opportunity to reach an audience that is incredibly desirable and one that is relatively unique," says Khanna. The team has signed on traditional esports supporters like Dell or HyperX now joined by companies such as Mountain Dew and Buffalo Wild Wings, thought to be associated with more traditional sports, as sponsors. The Sixers are a "portal," Khanna says, to connect these brands with the esports space.
On the gaming side, the Sixers' experience managing players makes a difference. Team Dignitas' women's Counter Strike: Global Offensive (CS:GO) team recently completed boot camp at the Sixers training facility in Camden where the lineup of seminars and meetings seemed more fitting for Joel Embiid or Ben Simmons. Topics on their agenda included a sports science discussion with the Sixers' head of performance development, nutrition for brain health, a lecture on sleeping habits and performance and even a demonstration on stressrelief techniques. There are also physical aspects to consider, such as wrist injuries or neck and back pain due to long hours spent in the chair, and through collaboration with the Sixers, these athletes have access to trainers and massage therapists to work out any issues that could impact their gameplay.
It may seem odd to worry about the mental and physical fitness of a player who basically stays seated for the duration of a match, but for the Sixers, the idea is not to dismiss the players as simply "gamers" but true athletes preparing for high-pressure situations. "There is significant mental strength required to succeed under extreme pressure, and they are competing for significant prize money in front of millions of people [watching the broadcast]," Khanna says. "The right coaching in the moment can be incredibly useful to making those split-second decisions."
Team Dignitas' women's CS:GO team ranks No. 1 in North America and No. 2 worldwide. They've competed internationally in Paris, Poland, Copenhagen and the 2015 and 2016 Esports World Cup. Heather Garozzo, whose gamer tag is "sapphiRe," is a former esports world champion with 17 years of experience. The Los Angeles resident is director of fan marketing for Team Dignitas and attended the boot camp in Camden. She says having the backing of the NBA and the Sixers has helped to validate esports to a non-endemic audience.
"Those of us who play always knew the industry was special," she says. "To have their backing validates us to a larger audience and this will give our team opportunities we've never had before."
As someone who has been playing games all her life, Garozzo has seen the full evolution of the esports industry. In 1999 she started playing Counter Strike, competing in small regional tournaments, winning a few hundred dollars here and there. When she attended— as a spectator—a tournament between the U.S. CS team and Sweden she saw thousands of people cheering them on and was hooked on the energy. "I knew I wanted to pursue this full time," she says. "Esports started out being played in hotel ballrooms and now it's selling out Madison Square Garden."
Much like a football or basketball game, esports tournaments have play-by-play announcers, providing commentary on every move the players are making—and freely commenting when they make the wrong move. The action is shown on big screens for the audience to watch and their reactions are just as palpable as sitting in the stands at a Phillies or Eagles game. Garozzo says fans are die-hard.
"Tournaments can be as long as 14 hours and fans will stay for the whole thing, cheering us on, wearing our team jerseys, holding signs," she says. "Fans feel a personal connection from watching us stream on Twitch and interacting on social media. They are invested in their teams."
Atco resident Alex Shendock, 21, started following esports more than four years ago. He has attended esports tournaments at MSG, as well as The Boston Major where the first-place prize was $1 million.
"I'm not personally much a fan of traditional sports although having attended both kinds of events they have a very similar feeling," Shendock says. "The fans can get very into the matches as often the games are very close and anyone could come out on top."
Shendock is representative of the larger demographic that esports appeals to, and venues across the nation recognize the opportunity, Caesars Entertainment in Atlantic City being one of them. The casino hosted Atlantic City's first-ever esports championship event last March. The Gears Pro Circuit drew dozens of teams from all over the globe, with 525 players and more than 350 spectators, according to Noel Stevenson, spokesperson for Caesars Entertainment Atlantic City.
"For a millennial gamer, these esports championship events are as big a sport as professional football," says Stevenson. "For the next-gen gamer who grew up on video games, this is one way we can introduce them to what we have to offer in Atlantic City and continue to be at the forefront of gaming innovation."
For those on the outside though, it's still hard to understand how a video game tournament can be entertaining, and it's nothing someone like Shendock hasn't heard before. "I've spoken to a number of people who don't particularly understand the appeal of competitive gaming," he says. "Most of the time the type of person who doesn't understand it also doesn't really enjoy games in general. As the current generation who does enjoy esports continues to grow its appeal, I hope more and more people will come to enjoy them."
The Sixers hope so too, after all, they had to attend their share of events before investing in the industry. "We had an opportunity to attend a number of these events, one being at the Staples Center in L.A.," says Khanna. "The atmosphere is incredible and I highly recommend people go and watch one. These fans are every bit as passionate as traditional sports rivalries. It's a unique and incredible experience regardless if you play or not."
As the line between traditional sports and esports blurs, there is also the risk of alienating fans who have been on the bandwagon from the beginning. "I don't think too many organizations will allow themselves to be bought out by established sports teams as a lot of the appeal of esports is watching a barely known underdog win," says Shendock. "Unlike established sports like baseball, in esports it's completely possible for a group of friends to put a team together and compete at the top if they're good enough."
It's impossible to predict if esports will turn into something with No. 1 draft picks or fantasy leagues, but one thing is certain: This industry is changing how we define athletes.
Gamers in Demand
Parents often nag their kids to stop playing video games, urging them to play outside instead, but they may want to rethink that. Once dismissed as lazy or disinterested, gamers are actually some of the most in-demand talent, being wooed by the likes of colleges and the military.
Competitive video game playing is now a varsity level sport at 50 colleges in the U.S. and many of them are offering partial scholarships to students who join the team. Some campuses have embraced esports to the hilt, such as the University of California – Irvine, which opened an on-campus esports arena with financial backing from sponsors. The NCAA has reportedly taken notice of the rapid growth and is rumored to have the topic on its agenda for this month's board of governors meeting.
Those with experience playing esports may be the game builders, marketers or even team coaches of the future, potentially setting them up on the ground floor of an industry showing no signs of slowing down. Yet those aren't the only career paths up for consideration. Tech-savvy recruits are also of interest to the U.S. military, and it's not unusual to see recruiters at some of the esports tournaments happening nationwide.
"People who are gamers are good with their hands and have excellent hand-eye coordination," says Staff Sgt. Christopher Sekora from the 314th Recruiting Squadron at JB MDL. A selfproclaimed gamer himself, Sekora says he had every gaming system growing up and even learned how to build computers from scratch. He turned those skills into a career with the Air Force, where he has served for 10 years and recruits out of the Haddonfield office.
Schools are the first place the military will look for tech-savvy talent, Sekora says, mentioning high school computer classes or after-school robotics clubs. Some of the skills can particularly translate into a position as a UAV operator, more commonly referred to as drones. "This is the up-and-coming technology and a person's skills as a gamer could translate into a unique career field," Sekora says. —L.H.
Published (and copyrighted) in South Jersey Magazine, Volume 14, Issue 7 (October, 2017).
For more info on South Jersey Magazine, click here.
To subscribe to South Jersey Magazine, click here.
To advertise in South Jersey Magazine, click here.