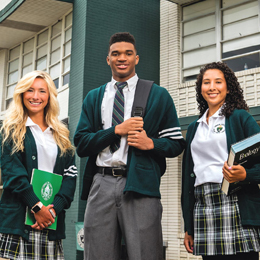 Academic Achievement
THe 2017 Private High School Report Card
For our annual private high school report card we took a look at some of the area's leading institutions to find out how their academic approach is benefiting their students. We worked with each school directly to obtain accurate data in several key areas like tuition cost, SAT scores, the percentage of students going on to attend four-year colleges and more. Additionally, we found out what exciting new things are taking shape around campus this year.
TUITION, PER YEAR
Moorestown Friends $29,750
Doane Academy $18,950
St. Augustine $17,525
Bishop Eustace $17,100
Holy Cross Academy $11,600
Our Lady of Mercy Academy $11,200
Paul VI $9,645
Camden Catholic $9,575
Gloucester Catholic $9,375
SAT: TOTAL SCORE
Moorestown Friends 1268
St. Augustine 1194
Bishop Eustace 1180
Holy Cross Academy 1168
Paul VI 1090
Our Lady of Mercy Academy 1072
Camden Catholic N/A
Doane Academy N/A
Gloucester Catholic N/A
SAT BREAKDOWN (Math-Reading/Writing)
Bishop Eustace 580 600
Camden Catholic N/A N/A
Doane Academy N/A N/A
Gloucester Catholic N/A N/A
Holy Cross Academy 581 587
Moorestown Friends 631 637
Our Lady of Mercy Academy 506 566
Paul VI 530 560
St. Augustine 610 584
PERCENTAGE OF STUDENTS ATTENDING 4-YEAR COLLEGES
Doane Academy 100%
Our Lady of Mercy Academy 99%
St. Augustine 99%
Bishop Eustace 98%
Moorestown Friends 97%
Paul VI 85%
Holy Cross Academy 81%
Camden Catholic 80%
Gloucester Catholic 56%
STUDENT-TO-TEACHER RATIO
Moorestown Friends 7:1
Our Lady of Mercy Academy 7:1
Doane Academy 8:1
Bishop Eustace 11:1
Camden Catholic 12:1
Gloucester Catholic 14:1
Holy Cross Academy 14:1
St. Augustine 14:1
Paul VI 15:1

NUMBER OF AP CLASSES OFFERED
Bishop Eustace 18
Moorestown Friends 18
Paul VI 18
St. Augustine 14
Camden Catholic 11
Holy Cross Academy 11
Doane Academy 10
Gloucester Catholic 9
Our Lady of Mercy Academy 4

PERCENTAGE OF STUDENTS RECEIVING FINANCIAL AID
Doane Academy 47%
Bishop Eustace 40%
St. Augustine 38%
Holy Cross Academy 37%
Camden Catholic 33%
Moorestown Friends 29%
Our Lady of Mercy Academy 25%
Paul VI 25%
Gloucester Catholic N/A
NUMBER OF HONORS CLASSES OFFERED
Moorestown Friends 32
St. Augustine 29
Camden Catholic 26
Holy Cross Academy 25
Our Lady of Mercy Academy 18
Paul VI 18
Bishop Eustace 17
Gloucester Catholic 12
Doane Academy 10

STUDENT ENROLLMENT
Paul VI 1,060
Camden Catholic 803
St. Augustine 685
Bishop Eustace 583
Gloucester Catholic 511
Holy Cross Academy 400
Moorestown Friends 304
Doane Academy 234
Our Lady of Mercy Academy 140
What's New Around Campus
Bishop Eustace
Angelo Milicia has been appointed as Bishop Eustace Prep's first lay Head of School. Additionally, this past summer, Eustace unveiled their newly renovated college-style lecture hall, in order to offer students a larger and more diverse educational atmosphere.
Camden Catholic
Camden Catholic's newest addition is the Hocker Information Commons which features collaborative learning areas, enhanced technology, a new CCTV studio and a private learning center with a computer lab and presentation area.
Gloucester Catholic
The school offers several online, advanced computer courses including PC Pro, Network Pro and Security Pro as well as full-year classes taught in HTML and web design and advanced computer programming with an AP option.
Holy Cross Academy
Celebrating its 60th year, Holy Cross Academy has added a robotics club in partnership with Drexel University. Additionally, the school is adapting their classrooms to allow students to work in a more collaborative and project-based environment, including the creation of a new STEM lab.
Moorestown Friends
Meredith Godley has joined Moores - town Friends as the new director of the Upper School.
Our Lady of Mercy Academy
Jennifer Valore joins the school as the new Dean of Academics and Leadership along with health sciences instructor Nicole Donovan. The school also added a job shadow program for juniors and mini-mesters—week-long experimental learning courses that range from the culinary arts to exploring the rainforests of Costa Rica—for students of all levels.
Paul VI
The Paul VI communications program will be hosting a full schedule of live stream sports. Through May, Paul VI will live stream a home game for nearly every major sport that is played on campus— 16 events in all. The student-anchored broadcasts will feature player and coach interviews, instant replay, player profiles and more.
St. Augustine
Fr. Robert J. Murray is St. Augustine's new Head of School. Fr. Murray comes from Villanova University where he was a tenured professor and director of the graduate program in education and counseling.
Published (and copyrighted) in South Jersey Magazine, Volume 14, Issue 7 (October, 2017).
For more info on South Jersey Magazine, click here.
To subscribe to South Jersey Magazine, click here.
To advertise in South Jersey Magazine, click here.