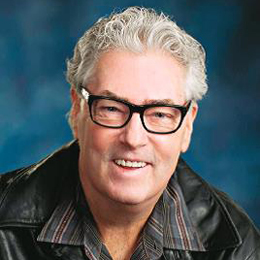 Big Words
Twins!
On Aug. 9, my daughter Keely gave birth to twins Jameson and Lucy. Jameson was one minute older and nine ounces heavier. That weight was at birth and the way this boy eats, it seems like he has gained 20 pounds in his eight days on Earth (at the writing of this article). And Lucy is so cute, their father Matt is already fending off the boys ringing their doorbell. It's been a joyous time.
Both mom and dad are Clearview High grads and grew up in Mullica Hill. Like any first-time grandparents (just call me "Big Granddaddy Graham"), my wife and I wonder what the world will be like as the twins grow up. Now, while I understand there are serious issues that these two are going to face in this dangerous world, I'd like to think we humans still have a lot going for us.
So I started to think about things I love about South Jersey and whether or not they will be around when the twins get older. We've lost some icons over the recent years like Olga's Diner, and the circle it sat on. Here are some South Jersey landmarks and institutions that I hope Jameson and Lucy get to enjoy.
The Delsea Drive-In in Vineland
I'm a movie buff. So much so, I have surround sound connected to my big screen in my bedroom. When you see a flick at a drive-in, I can't tell you that you are seeing it under optimum conditions that the filmmakers want you to see it under. It's a drive-in. You listen to it out of a tiny speaker and watch a screen through your dirty car window. But drive-ins are pure Americana and it's important that they still exist. I took my daughters to the Delsea Drive- In as should you, even if it's only once. In a bizarre way it's important.
The Harrison House Diner
I love diners. When I was a kid growing up in Southwest Philly, there was one diner in our area. Where I live now there are three diners within a 12 minute ride of each other and I bet you could say the same about the town you live in. I could have picked the Hollywood or the Colonial because I love both, but I'm giving a shoutout to the Harrison House because it's so non-flashy and quiet for a diner; just awesome, properly priced food. Simple as that. Rumor has it diners are an endangered species and I hope that's not true.
Cowtown
"Cowtown" is unique in a way that it doesn't make you harken back to a different point in time (even though it's been open since 1929), it allows you to imagine what it would be like to grow up in, say, Texas. Seriously, it's the only weekly rodeo in New Jersey, and when you're dancing it up at Adelphia, it's hard to imagine that you're only a half hour away from bulls and cowgirls. Like the Delsea Drive-In, you simply must go to it once. Plus kids are only 10 bucks. You can't beat that with a stick (whatever that saying means.)
The Scottish Rite Auditorium & Broadway Theatre
The "Rite" is in Collingswood and the Broadway in is Pitman and I am honored to have performed in both. I am in pretty good company as legends like Bing Crosby, Jerry Lee Lewis, George Carlin, The Temptations, George Burns, Abbott & Costello, as well as current hot acts have performed on both their hallowed stages. Both are close to 100 years old and they couldn't be more different. The Broadway is your classic movie theater style house with old school neon, while the Scottish Rite is, well, I can't think of a South Jersey venue to even remotely compare it to. (Think University of Pennsylvania's Irvine Auditorium.) Seriously, join their email mailing list and go to a show there, you won't regret it.
The Ocean City Boardwalk
The Wildwood Boardwalk had superior thrill rides and I guess you could say the Atlantic City Boardwalk has more history (I particularly love Boardwalk Hall), but the OC Boardwalk is the real deal for me. Manco & Manco's (or whatever they're calling it these days), Johnson's caramel corn, Wonderland, Shriver's, enough T-shirt joints to dress a third world country, the Ocean City Music Pier, geez, I get the same kick walking down its boards that I ever did.
The Cherry Hill Mall
I don't even like malls. I never did. I was raised where you got on a trolley and went downtown and walked from department store to department store. Some of them were connected by subway tunnels, but for the most part when you wanted to go from store to store, you had to walk outside. Maybe it's not a big deal, but I thought it did allow for more individuality and uniqueness in your shopping options.
But the Cherry Hill Mall is different for me. It's the original mall. The mall I heard about as a kid that you had to see to believe. I know for many reading this it's just another mall, but I love places with real history. It's not only the first mall in South Jersey, it's the first mall this side of the Mississippi. And with online shopping, the future of malls does not look bright, unlike the…
Berlin Farmers Market
Which, if the entire planet underwent nuclear annihilation, would still stand and be open for business.
So thanks to everyone who has reached out to me via social media since Lucy and Jameson have entered the world. It's been an exciting time. By the way, with a name like Jameson Boyle, I started calling the boy "Whiskey" and—surprise!—my entire family loves the moniker. I'm sure they will have their own favorite foods and haunts, but it would be cool if the above hung around as well.
Published (and copyrighted) in South Jersey Magazine, Volume 14, Issue 6 (September, 2017).
For more info on South Jersey Magazine, click here.
To subscribe to South Jersey Magazine, click here.
To advertise in South Jersey Magazine, click here.