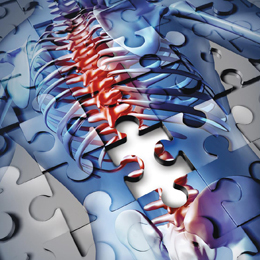 Health
Learning to Live with Pain
Whether it's from a motor vehicle accident, from a fall or maybe even from a disease, it can be debilitating to live with chronic pain. Studies show it can lead to isolation and depression. Unfortunately, there's not one simple solution to dealing with chronic pain. What works for some patients might not work for others. But the good news is there are options—and those options are growing.
One of the most important things to remember about pain management is that there is no "one-size-fits-all approach," says Joseph P. Valenza, M.D., director of pain management for Kessler Institute for Rehabilitation. At Kessler, Valenza sees patients after they've already been stabilized and received treatment at an acute care hospital. Among other types of patients, Valenza says he has seen patients who have been through horrific motor vehicle accidents that hardly seemed survivable. But now they are trying to get back on their feet—literally— learning to walk again and often living with chronic pain.
Valenza says the goal with these patients—and others who deal with chronic pain—is not always to get rid of it (that's not always possible), but instead to manage it. The object is to help get the patient to a point where they can move on with their lives. What will get them to that point can really differ.
The Stigma of Pain Management
Of course, you can't talk about pain management without also talking about opioids—and that's a tough conversation. With so many talking about the "opioid epidemic" there's a lot of fear surrounding the use of drugs in pain management.
Matthew Lesneski, M.D., anesthesiologist and Fellowship-trained pain physician with RA Pain Services, says that what patients often hear about opioids has given pain management a stigma—and that can cause some patients to go on living with pain rather than seek help.
"There is a stigma that all pain management specialists do is write prescriptions and that patients end up addicted or overdosing," says Lesneski. "Patients hear a story on the news and it's frightening. But what people need to realize is that opioids are the last line. We will try many other things first."
For some, that might even mean medical marijuana. Also controversial, medical marijuana has become legal in some states— including New Jersey—and may be an option. Lesneski has his medical marijuana license and says that for some patients (who have qualifying conditions) it has actually been a solution that has helped them to take less opioids and to better manage their pain.
It's also a fact of life that patients living with chronic pain are sometimes steered in the wrong direction. "It's not a proven science on where to go or what the best place to start is," says Frank Pileggi, Ph.D, RHP, dean of the Lourdes Institute of Wholistic Studies. "It needs to be done on a case-by-case basis. We, as practitioners, need to try to spend time figuring out what the root cause of the pain is; to understand why it hurts. I often get patients who have been sent to a lot of different places but haven't found a solution that works for them. Our goal is to try to direct them to the right place."
Alternative Therapies
There are a lot of treatment modalities out there and trying various options could be the key to success. For some, the "right place," might be trying corrective muscle therapy, which is what Pileggi practices. Corrective muscle therapy—or CMT—includes a variety of established, manipulative techniques that target stiffness and pain resulting from a joint dislocation or other musculoskeletal injury.
"The easiest way to explain it, is to think of a chiropractor who adjusts bone—in CMT I'm adjusting muscle fibers," Pileggi says. "For some individuals, we can isolate the problem to a muscular issue and actually make readjustments."
Chiropractic care is another option. Dr. Michael J. O'Keefe of O'Keefe Chiropractic Center, is having a tremendous amount of success with spinal decompression therapy. This new, innovative technique uses a computer- controlled traction device that is programmed to deliver a gentle stretching force to the spinal vertebra. By creating this negative pressure, it allows O'Keefe to pull a disc back into its proper position.
"According to C. Norman Shealy, M.D., Ph.D, and published in the American Journal of Pain Management, 86 percent of herniated disc patients achieved good— 50 to 80 percent improvement—to excellent— 90 to 100 percent improvement— with spinal decompression therapy," says O'Keefe. "Sciatica and back pain were relieved and for those with disc degeneration, 75 percent obtained good to excellent results with spinal decompression therapy. For this reason, when a patient is seeking relief for back and neck pain problems, spinal decompression therapy is a good place to start."
Don't Lose Hope
While living in pain can be overwhelming and challenging, the doctors we spoke with would advise patients not to lose hope. There are constantly new advances happening that change the way doctors treat pain.
"There's no reason to go on living in pain and feeling hopeless about it," says Pileggi. "There are ways to manage it. You just need to keep looking if you haven't found the solution for you. Surgery may be the option, but many times it is not. Knowledge is the key to well-being. Educate yourself on the options and don't give up hope."
Published (and copyrighted) in South Jersey Magazine, Volume 14, Issue 6 (September, 2017).
For more info on South Jersey Magazine, click here.
To subscribe to South Jersey Magazine, click here.
To advertise in South Jersey Magazine, click here.