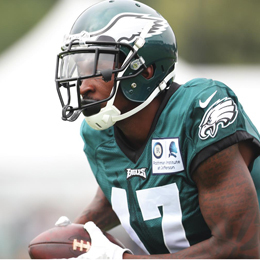 Ready to Soar
September 2017
Alshon Jeffery sits at his locker stall and scrolls through his phone while chaos surrounds him. The Philadelphia Eagles have just finished another summer practice and the media have invaded the players' private space. The locker room is noisy and littered with cameras and microphones. Some players hustle off to position meetings or the showers or cafeteria. Others talk to reporters or joke around with each other. Then there's Jeffery sitting alone, head down, quietly checking messages and minding his own business. He's in no rush to go anywhere.
"Time goes by too fast," he says. "I try to enjoy these moments and be appreciative of everything.
After five seasons with the Chicago Bears, Jeffery has adjusted nicely to a new team in a football-crazed city that welcomed him with open arms.
Eagles fans desperately wanted the team to add a playmaker at wide receiver so franchise quarterback Carson Wentz would have a No. 1 target. They got their wish when personnel boss Howie Roseman signed the top free agent available at the position, giving Jeffery a one-year contract worth $9.5 million.
"Everyone's been like family here," Jeffery says. "Everyone loves each other. It's a great atmosphere. I'm happy to be here and blessed to receive the support from everyone who sees me."
Jeffery is quiet and soft-spoken, an unassuming star player who would rather blend in with his teammates than seek the spotlight. If he plays the way he did with the Bears in 2013 and 2014, he'll become a hero in Philly.
"The fans have been great already," he says. "People who recognize me when I'm out let me chill. They're passionate fans. It's gonna be fun playing in front of them."

Jeffery loved Chicago and playing for the Bears. They gave him an opportunity to fulfill his dream by drafting him in the second round of the 2012 NFL draft. That made the decision to say goodbye to the Windy City a difficult one.
"Bears fans welcomed me and made me feel at home," Jeffery says. "Because of them, Chicago will always hold a special place in my heart."
Jeffery also had a childhood connection to Chicago. Bears Hall of Fame running back Walter Payton was his dad's favorite player.
"He would always say to me: 'I wish you could have seen Sweetness play. He was the best ever.'"
The one thing Jeffery won't miss about Chicago is the weather.
"I know Philly is cold, but it can't be worse than Chicago," he says. "That was the biggest adjustment for me going from South Carolina to the NFL. I used to stay in the house all the time because it was so cold. I remember one game against the Cowboys it was negative 10 degrees. I woke up at 5 in the morning and it was zero degrees."
Playing in Chicago also prepared Jeffery for the intense media scrutiny he'll receive in the City of Brotherly Love. "I just do my job. The transition has been smooth. Both cities are great. Both cities are great sports towns."
Growing Up in tiny St. Matthews, South Carolina in the 1990s, Jeffery wanted to be the next Michael Jordan.
Basketball was his first love and Jordan and the Chicago Bulls dominated the decade. Jeffery used to imagine hitting the winning shot in the NBA Finals like Jordan did against the Utah Jazz in 1998.
"I think any kid who even knew what basketball was back then wanted to be Michael Jordan," Jeffery says.
Though he was a two-way star on the football team at Calhoun County High School and was named all-state as a defensive back his senior year, Jeffery also was a standout basketball player as a shooting guard. He helped lead the team to four state titles.
But Jeffery chose to pursue football in college because he figured it was his best shot to make the pros. It turned out to be the right decision.
Once the NBA season tips off, Jeffery will get his basketball fix by going to the Wells Fargo Center to watch Markelle Fultz, Ben Simmons, Joel Embiid and the rest of the 76ers.
"I'm a big hoops fan," he explains. "I'm a diehard Bulls fan, but I'll definitely be out there supporting the Sixers. I'm excited to see what they're gonna do with Fultz, Ben Simmons, Robert Covington, Embiid."
When he's not watching basketball in his free time, Jeffery enjoys playing video games and catching up on his favorite shows: Power, Snowfall and Game of Thrones.
"I'll just sit back and let the episodes go," he says of his binge-watching preference. "I haven't had much time lately, though."
In July, Jeffery returned to his beloved hometown to host what he plans to be an annual charity event. More than 500 kids ages 6 to 14 came out for the inaugural Alshon Jeffery Youth Football Camp and Back to School Community Fun Day at his Calhoun County High School.
Some of Jeffery's former teammates joined him to give the kids free football instruction and important advice.
"Calhoun County is me," Jeffery reflects. "It means a lot to me because I was one of those kids growing up. It's not too much we can do so it was just bringing people together, bringing families together. It's a great opportunity to give back to kids. There's a lot more going on in the world, so I try to encourage them to study hard. It's not all about sports. Everyone isn't gonna be a professional athlete. It's all about the education and giving them a life lesson, letting them know the values in life and making sure the same amount of time they put into sports they should put in 100 times more into school because sports is only a short period of time. I try to preach to kids the value of education, respecting your parents and teachers."
Jeffery hopes the success of this initial camp will draw an even larger crowd of kids next year.
Jeffery averaged 87 catches and 1,277 yards receiving in 2013-14 while catching 17 touchdown passes. He missed 11 games over the past two years but still had 106 receptions for 1,628 yards and 10 TDs. The Eagles are counting on him to return to Pro Bowl form and give the offense a significant boost. They had the 24th ranked passing offense in 2016 and haven't had a player with 1,000 receiving yards since Jeremy Maclin in 2014.
Coach Doug Pederson was impressed with Jeffery's attitude from the minute he put on a midnight green No. 17 jersey for the team's first practice.
"He has come in here and really just embraced it and has done everything we've asked him to do," Pederson says. "He's competed at a high level. He's wanting to get better. He's taking the coaching and he's showing the veteran experience and presence out there on the field. He's exciting to watch."
Jeffery, who is 6-foot-3, is known for making spectacular catches. He has outstanding leaping ability, so Wentz knows he can throw the ball up for grabs and Jeffery will come down with it most of the time.
"It's really nice having a guy like Alshon," Wentz says. "Not only his catch radius, but he has some of the strongest hands I've ever seen. It's kind of a different animal throwing the ball to him. He covers some ground."
The franchise QB and his new heralded weapon hit it off right away and continued working on their chemistry during a visit to Wentz's home in North Dakota during the offseason for some offensive team bonding and workouts.
"Carson is a baller," Jeffery says. "He's a leader and a great guy who always does the right things."
Wentz also enjoyed the time he was able to spend with Jeffery during the trip.
"He's very soft-spoken, but he's a quiet competitor. He gets ticked off when he doesn't make the play. I kind of knew all those things going into it; what I've liked is just getting to know him on [and off] the field."
The knock against Jeffery is that he can't stay healthy, but that's not entirely accurate.
Jeffery has not missed a game because of injury in three of the past four seasons. He played in all 16 games in 2013 and 2014 and sat out four games last year because of a suspension for violating the NFL policy on performanceenhancing substances. In 2015, he battled some injuries and was sidelined seven games by hamstring, calf and groin issues that season.
The Eagles weren't concerned about his injury history and several staff members are quite familiar with Jeffery. New wide receivers coach Mike Groh was his position coach in Chicago. Executives Joe Douglas and Dwayne Joseph were with the Bears during Jeffery's tenure there. Running backs coach Duce Staley went to South Carolina and connected with Jeffery several years ago.
"He's somebody that you certainly can count on to win his matchup," Groh says. "He's been a very productive player in this league over the course of his five-year career, somebody that I think Carson will find very easy to throw to. We're excited about all of the attributes that he brings to the offense."
Giving Jeffery only a one-year contract, though, protects the team in case he has trouble staying on the field. He has to prove himself this season to earn that long-term, lucrative contract other elite receivers have received.
Jeffery had better offers for more money but chose Philadelphia because he wanted to play with Wentz and feels the Eagles are taking the positive steps toward becoming a championship contender.
"I think it's the perfect fit for me and my family," Jeffery says. "Diehard fans [and] they're passionate about their city. This city needs a championship, wants a championship. It's a must."
If things go well this season, the Eagles would like to keep Jeffery around for a few more years so he can help them capture that elusive Vince Lombardi Trophy.
"It was a win-win situation for us," Roseman says. "We got a player who is extremely talented and has something to prove and wanted to be here. We feel confident this will be a place he'll want to be for a long time."
If he wasn't playing in the NFL, Jeffery says he would be a filmmaker. He's fascinated by various cultures and enjoys finding compelling stories to share.
"There's always interesting stories in everyday life that you can tell and give to the world to see," he says. "Just look at this locker room. There are so many different people from different backgrounds and there's always a good story to tell."
Perhaps one day they'll be telling a story about a star wide receiver who came to Philadelphia and helped the Eagles win their first championship since 1960.
Published (and copyrighted) in South Jersey Magazine, Volume 14, Issue 6 (September, 2017).
For more info on South Jersey Magazine, click here.
To subscribe to South Jersey Magazine, click here.
To advertise in South Jersey Magazine, click here.