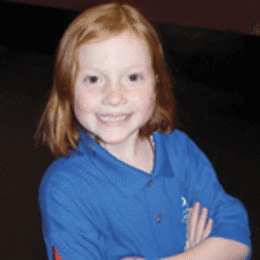 A Shot of Hope
After a frightening diagnosis, the Juvenile Diabetes Research Foundation gave one local family a crucial support system.
"I'm a crazy person." It's the fourth time in an hour Donna Bell, the mother of a 7-year-old Type 1 diabetic named Evey, has said that. But maybe this "crazy" thing is working for Bell, a Cherry Hill resident.
Crazy was good when Evey was first diagnosed at age 3 with celiac disease, a disruption of the immune system caused by glutens and other proteins found in most common grains. Says Bell: "I went crazy and read everything I could get my hands on about celiac disease. I noticed how often the books made the connection between celiac and Type 1 diabetes. I learned the symptoms."
Which was handy the night Evey, still age 3 at the time, couldn't stop a cycle of urinating, then craving water. "She was like a crack addict," recalls Bell describing how her daughter guzzled water and then threw her cup at the wall, screaming that she had to have more. She'd drink more, and eventually have to pee so badly, she'd just wet the floor where she stood.
"That night, I couldn't sleep. I stayed up reading everything I could find on the Internet about Type 1. I knew in my gut she had it," says Bell. The next morning, when Evey woke up as her "normal, sweet self, I hesitated about calling the doctor, but my husband said I would drive myself crazy if I didn't at least have Evey tested. So, I did."
Crazy was good. "The doctor called back as soon as the blood tests were in. It was like, 'pack your bags, you're going to CHOP [Children's Hospital of Philadelphia].'" says Bell.
Life or Death
According to the Juvenile Diabetes Research Foundation (JDRF), nearly 18 million Americans have been diagnosed with either Type 1 or Type 2 diabetes, an imbalance of insulin, which is essential to the body's ability to regulate blood sugar levels and receive a steady stream of energy from food.
Some 15,000 children each year are diagnosed with Type 1. But that first night at CHOP, lying awake, listening to the cries of the newly diagnosed children as the nurse woke them to prick their fingers to test their blood sugar, Bell felt altogether alone. "It was awful," she says.
But her isolation was short-lived. Bell discovered JDRF, a global organization that funds and advocates for research on Type 1 diabetes. She called the South Jersey chapter right away. Soon, JDRF bestowed what they call A Bag of Hope upon Bell and her family. Inside the bag were books about the disease, a teddy bear named Rufus for Evey and, most precious, a list of names of other families in the area who had diabetic children Evey's age. "They really did give us hope," Bell says. Soon, Bell was befriended by many of the parents on the list. "Nothing I say shocks them. We know what the other is going through. My phone is filled with the numbers of people I can call at any time of the day or night, about anything," says Bell.
Bell's life changed forever during that visit to CHOP. She stayed there with her daughter for five days, sleeping on a couch in the waiting room or sharing Evey's bed. "I had to learn how to take care of her. The hospital shows you what you need to do," says Bell. Some of her new duties included testing her daughter's blood sugar every few hours, including throughout the night.
Whereas it is possible to prevent Type 2 diabetes through healthy lifestyle choices, for the nearly three million Americans who suffer from Type 1, despite advancements in treatment, there is no cure. The illness usually manifests in childhood and lasts a lifetime. Type 1 is an autoimmune disease, which means the immune system attacks the body's own cells, in this case the ones that make insulin. To survive, people with the disease must be injected with insulin several times a day, or receive insulin through a pump.
Bell says dealing with Type 1 diabetes sometimes makes her feel like she and her family live in a parallel universe. "To look at my daughter, you'd never know she is different. She's a happy, normal little girl," she says. But the truth remains. "I hate this disease," says Bell. "How dare this disease do this to my family." There is an edge in her voice.
Spreading the Message
Bell went on to join the board of JDRF's South Jersey chapter and has become very active in the organization's annual Walk to Cure Diabetes. The fundraising goal for this year's walk, which takes place Oct. 24 from Campbell's Field on the Camden Waterfront, is $1 million. That money will go toward JDRF's research grants, which have totaled $1.4 billion since 1970.
What Bell calls being "a crazy person" has made her an asset to the foundation. "Raising money helps me feel empowered," Bell says. "Every year around this time, when our annual walk approaches, I am a crazy person. I have to get the message out." The walks not only raise funds; they provide comfort and a kind of healing. Bell, for one, says that whenever she sees the large number of people who come to support people like Evey, her anger at the disease "just slips away. It's like a family reunion. People are there to care and support us."
It's possible to manage both Type 1 and Type 2 diabetes, but each can, when unchecked, have serious consequences. Complications, even with insulin treatments, can include kidney failure, blindness, pregnancy complications and comas. "Every parent with a diabetic child makes life and death decisions every day," says Bell.
That's what drives her to keep working for a cure. "I don't do things halfway. You gotta do what you gotta do. Maybe I'm not crazy—I'm passionate. I am passionate about finding a cure for this disease."
How to Help
Get information or make a donation to the Juvenile Diabetes Research Foundation at JDRF.org. You can register for the walk or pledge your support for local teams at JDRF.org/SouthJersey, or call (856) 429-1101 to find out more. Published (and copyrighted) in South Jersey Magazine, Volume 7, Issue 7 (October, 2010).
For more info on South Jersey Magazine, click here.
To subscribe to South Jersey Magazine, click here.
To advertise in South Jersey Magazine, click here.