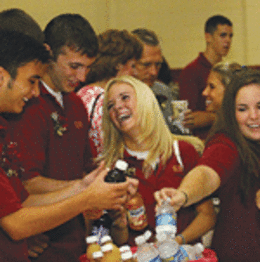 Getting Prepped
South Jersey's 2010 private school report card helps you make sense of the statistics.
Students and their parents have a vast array of reasons for selecting private schools: commitment to academics, a specific set of shared values and beliefs, a standout sports program, small class sizes where a given child can get personal attention, and many more unique and personal motivations. If you're considering such an option, this year's annual survey of area private schools is a must-read. We compare elite local and regional prep and parochial schools by key statistics, like student-to-teacher ratio and SAT score, to help you make your selection. And, we examine whether recent cuts to public education are driving more students to tuition-based schools.
Private High School Data
SAT scores (average math, critical reading, essay) Moorestown Friends
Math: 627
Critical reading: 616
Essay: 631
Total: 1874
Baptist Regional
Math: 604
Critical reading: 618
Essay: 603
Total: 1825
Bishop Eustace
Math: 572
Critical reading: 576
Essay: 573
Total: 1721
St. Augustine's
Math: 581
Critical reading: 545
Essay: 552
Total: 1678
Paul VI
Math: 544
Critical reading: 561
Essay: 558
Total: 1663
Doane Academy
Math: 535
Critical reading: 568
Essay: 543
Total: 1646
The King's Christian School
Math: 515
Critical reading: 540
Essay: 522
Total: 1577
Gloucester Catholic
Math: 501
Critical reading: 501
Essay: 506
Total: 1508
Holy Cross
Math: 496
Critical reading: 505
Essay: 503
Total: 1504
Camden Catholic
Math: not reported
Critical reading: not reported
Essay: not reported
Total: not reported
Percentage of Students Taking the SAT
Moorestown Friends 100%
Bishop Eustace 100%
St. Augustine's 100%
Paul VI 100%
Doane Academy 100%
Camden Catholic 98%
Holy Cross 98%
The King's Christian School 98%
Baptist Regional 90%
Gloucester Catholic 83%
Student-to-Teacher Ratio
Baptist Regional 8:1
Moorestown Friends 9:1
Doane Academy 10:1
The King's Christian School 10:1
St. Augustine's 12:1
Bishop Eustace 13:1
Camden Catholic 16:1
Holy Cross 17:1
Gloucester Catholic 19:1
Paul VI 20:1
Average Teacher Length of Service
Camden Catholic 20 years
Holy Cross 20 years
Gloucester Catholic 18 years
Paul VI 14 years
Baptist Regional 11 years
Bishop Eustace 11 years
Doane Academy 10 years
Moorestown Friends 9 years
St. Augustine's 7 years
The King's Christian School 6 years
Percentage of Graduates That Attend Four-Year Colleges
Doane Academy 100%
Moorestown Friends 100%
St. Augustine's 100%
Bishop Eustace 100%
The King's Christian School 86%
Holy Cross 78%
Camden Catholic 74%
Paul VI 72%
Baptist Regional 67%
Gloucester Catholic 64%
Percentage of Graduates That Attend Two-Year Colleges
Baptist Regional 33%
Gloucester Catholic 31%
Paul VI 25%
Camden Catholic 23%
Holy Cross 21%
The King's Christian School 14%
Bishop Eustace 2%
St. Augustine's 2%
Doane Academy n/a
Moorestown Friends n/a
Total College Scholarships Awarded to Class of 2010
Bishop Eustace $31 million
St. Augustine's $22 million
Paul VI $21 million
Camden Catholic $15 million
Holy Cross $13 million
Gloucester Catholic $10 million
Doane Academy $3 million
Baptist Regional n/a
The King's Christian n/a
Moorestown Friends n/a
Number of AP Classes Offered
Moorestown Friends 16
Baptist Regional 15
Bishop Eustace 15
Paul VI 15
The King's Christian School 15
Camden Catholic 14
St. Augustine's 14
Doane Academy 11
Gloucester Catholic 8
Holy Cross 8
Number of Honors Classes Offered
Camden Catholic 25
Holy Cross 25
St. Augustine's 24
Moorestown Friends 23
Doane Academy 20
Paul VI 18
Bishop Eustace 17
The King's Christian School 17
Baptist Regional 15
Gloucester Catholic 12
Dual-Credit Class Partnerships with Colleges
Baptist Regional: Burlington County College
Bishop Eustace: Camden County College
Camden Catholic: Camden County College
Doane Academy: Burlington County College
Gloucester Catholic: n/a
Holy Cross: Burlington County College, Seton Hall University
The King's Christian School: Camden County College, Davis College, Indiana Wesleyan University, Taylor University
Moorestown Friends: n/a
Paul VI: Camden County College
St. Augustine's: Camden County College, Cumberland County College, Seton Hall University
Tuition for 2010-2011
Moorestown Friends $23,500
Doane Academy $15,900
Bishop Eustace $14,500
St. Augustine's $12,950
Holy Cross $8,550
Baptist Regional $8,000
The King's Christian School $7,650
Camden Catholic $7,175
Paul VI $6,994
Gloucester Catholic $6,875
Percentage of Students Receiving Financial Aid
Camden Catholic 33%
Gloucester Catholic 33%
Bishop Eustace 31%
The King's Christian School 31%
St. Augustine's 30%
Moorestown Friends 29%
Doane Academy 27%
Baptist Regional 25%
Holy Cross 24%
Paul VI 20%
Graduation Rate
Baptist Regional 100%
Bishop Eustace 100%
Camden Catholic 100%
Doane Academy 100%
Holy Cross 100%
The King's Christian School 100%
Moorestown Friends 100%
Paul VI 100%
St. Augustine's 100%
Gloucester Catholic 99%
Baptist Regional School
300 Station Ave. | Haddon Heights
(856) 547-2996 | BaptistRegional.org
Student Population: 300.
Standout Program: A technology partnership with the University of Richmond and Boston University to help students develop their digital portfolios.
Founding Vision: To teach within a "conservative Biblical world view."
Extracurriculars: Think a nationally competitive a capella group and sports ranging from all-inclusive to varsity level.
Bishop Eustace Preparatory School
5552 Route 70 | Pennsauken
(856) 662-2160 | Eustace.org
Average class size: 21.
Founding vision: Co-ed college prep with a Catholic tradition and a focus on service, personal and spiritual growth.
Campus life: BE offers everything you might expect from a prep school: a fully wired, 32-acre campus on the banks of the Cooper River.
Extracurriculars: Some 30 varsity sports programs, including a baseball team led by one of the state's most decorated coaches.
Camden Catholic High School
300 Cuthbert Road | Cherry Hill
(856) 663-2247 | CamdenCatholic.org
School population: 850.
Founding vision: In 1887, the Sisters of Mercy founded this as a Catholic high School.
Extracurriculars: Athletics are a focus, and basketball and wrestling teams currently hold state titles.
Standout program: All students complete at least 80 hours of service learning to graduate.
Doane Academy
350 Riverbank | Burlington City
(609) 386-3500 | DoaneAcademy.org
Student population: Around 200 students, from pre-Kindergarten through grade 12.
Founding vision: Originally an all-girls Episcopalian boarding school, Doane now offers a co-ed college prep program.
Campus life: Think grassy quads and stately old brick buildings on the banks of the Delaware River.
Traditions: On the first day of school, seniors canoe the river to the campus, where bagpipers and younger students await.
Gloucester Catholic High School
333 Ridgeway St. | Gloucester City
(856) 456-0610 | GCHSRams.org
Student population: 751.
Founding vision: A Catholic high school with a focus on college prep, but also remedial classes.
Extracurriculars: The Star-Ledger named the girls' softball team the finest in South Jersey. The baseball program is also strong, with MLB alumni including former San Diego Padres pitcher Greg Burke and Milwaukee Brewers pitcher Zach Braddock.
Religious focus: Unlike some schools founded by religious groups, Gloucester Catholic does hold masses throughout the school year for its students.
Holy Cross High School
5035 Route 130 S. | Delran
(856) 461-5400 HolyCrossHighSchool.org
Student population: About 800.
Founding vision: Roman Catholic, overseen by the Trenton Archdiocese.
Campus life: The 100-acre campus has recently received $3.5 million in renovations and upgrades.
Standout program: The Tablet PC program offers students constant one-on-one access to digital learning materials.
Moorestown Friends School
110 E. Main St. | Moorestown
(856) 235-2900 | MFriends.org
Student population: 700 from preschool to grade 12; 289 in upper school alone.
Founding vision: Quakers created this as a college prep academy in 1785.
Diversity boosters: The Camden Scholars Program provides nearly complete high school scholarships to top-performing Camden City students.
Extracurriculars: The fencing program is very competitive, and the art, music and drama offerings are extensive.
Paul VI High School
901 Hopkins Road | Haddonfield
(856) 858-4900 | PVIHS.org
Student population: 1,200.
Founding mission: A Catholic focus with a strong campus ministry program and religious education built into each year's coursework.
Extracurriculars: Cross-country is a starring team here, with a streak of 244 straight wins over 28 years, until Camden Catholic beat them in October 2007.
On campus: In 2010, Paul VI became host of the women's semi professional soccer team the Jersey Select which will play all its home games in Paul VI's stadium.
St. Augustine's Preparatory School
611 Cedar Ave. | Richland
(856) 697-2600 | Hermits.org
Student population: More than 550.
Founding vision: Originally an Augustinian seminary, the area's only all-male Catholic preparatory school now focuses on cultivating "Christian gentlemen."
Campus life: On 125 acres in the Pinelands, there are plenty of fields for the competitive sports teams.
Standout program: Third Semester brings students to nontraditional learning environments, such as studying architecture in Italy, learning cooking in a restaurant kitchen or examining nature in the wilderness.
More in Mercer County
The Hun School
176 Edgerstoune Road
Princeton
(609) 921-7600
HunSchool.org
Student population: 595 in grades six and up, 500 in upper school only.
Campus life: The 45-acre campus boasts practice, broadcast and recording studios, a darkroom and a new 38,000-square-foot gym.
Founding vision: Princeton professor Dr. John Gale Hun designed this as a prep school to help students get into the Ivies.
Lawrenceville School
2500 Main St.
Lawrenceville
(609) 896-0400
Lawrenceville.org
Student population: 815 day and boarding students.
Founding vision: Created as an elite preparatory school.
Campus life: Students are assigned "houses" (think Harry Potter) that are overseen by faculty members who live on the premises. Many classes take place via the Socratic method, around large oblong tables.
Notre Dame High School
601 Lawrence Road
Lawrenceville
(609) 882-7900
NDNJ.org
Graduating class size: Around 300.
Founding vision: A Catholic school that's part of the Trenton Diocese.
Extracurriculars: The athletics program routinely ranks among the top in the state, and service is also a major focus here.
The Princeton Day School
650 Great Road
Princeton
(609) 924-6700
PDS.org
Student population: Nearly 1,000 students from pre-K to 12th grade.
Academics: Traditional fare shares the bill with interdisciplinary studies programs such as "Imagine the Possibilities," which brings noted creative artists to the campus.
Founding vision: Miss Fine's School and Princeton Country Day School combined to yield this school with traditions like the fourth-grade operetta and mini-course week.
Stuart Country Day School
1200 Stuart Road
Princeton
(609) 921-2330
StuartSchool.org
Student population: 505 students in pre-school through 12th grade.
Founding vision: This all-girls Catholic School is affiliated with the Sacred Heart network.
Campus life: On 55 acres, the campus was designed by Princeton University architect Jean Labutut.
Published (and copyrighted) in South Jersey Magazine, Volume 7, Issue 7 (October, 2010).
For more info on South Jersey Magazine, click here.
To subscribe to South Jersey Magazine, click here.
To advertise in South Jersey Magazine, click here.