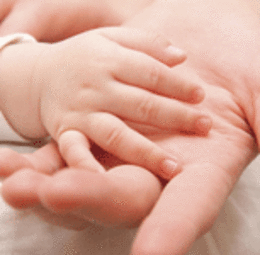 Over the Bump
Post-partum depression may feel hopeless, but it doesn't have to be.
Dana Parson* read every baby book she could get her hands on when she was expecting her first child. The Voorhees schoolteacher and her husband were counting down the days until they would finally become parents.
But soon after the couple welcomed their daughter into the world, Parson knew something was wrong. "I thought I would feel this great joy, but I felt … nothing. It shocked me," she recalls. "When you don't feel that happiness you think you should be feeling, it has a huge impact on your psyche. Added to that, I felt this sense of dread; I began worrying about [my daughter] constantly—yet, I didn't want to be with her." A near-crippling sense of anxiety gripped Parson over the first few weeks, triggering insomnia that only compounded her despair and fatigue. Parson became two different people. On the inside she felt claustrophobic; each day was "like an endless tunnel." On the outside, her newborn was perfectly healthy, happy and doted upon; not even Parson's husband suspected that she was drowning inside.
Parson felt alone, but she wasn't. There's a name for what she was experiencing—post-partum depression (PPD)—and each year it affects between 11,000 and 16,000 women in New Jersey. One in eight women experience the perinatal mood disorder within the first year after childbirth. Symptoms can include insomnia, weight loss, nervousness, a feeling of worthlessness, unexplained sadness, low sex drive and an inability to concentrate. In extreme cases, PPD-related psychosis can cause a mother to hurt herself, her child or others. Experts say hormones play a role, as does a family history of depression, but all agree more research is needed to truly understand how the affliction takes root in some women and not others. In Parson's case, she scored low enough on her screenings that no flags were raised until she hoisted one herself.
It took two months for Parson to make that decision. A breakdown at her daughter's baptism party finally forced the issue. She looked up a hotline for PPD and made a call that very likely saved her life. The next day, Parson was sitting in the Virtua Voorhees "TLC (Talking, Listening and Caring) for Moms" support group, surrounded by women who understood what she was going through.
"I felt as if this huge burden was lifted," she says. "The women around me were normal, like me, yet they were going through the same hell that I was. Knowing that I wasn't alone and that people understood the hopelessness that had been haunting me—that they were experiencing it too, and many of them recovering from it—it all made me realize that I would get better, too."
The weekly group sessions gave her the tools she needed to get through each day without feeling overwhelmed. Parson also began seeing a psychiatrist, who prescribed a sleep aid. With her daughter nearing 6 months old, the therapist also encouraged her to leave the house each day from 4 to 6 p.m. "For me, it was a revelation. It never registered that I could simply take a break, as silly as that sounds," she says. "Knowing that there was an end to my day helped alleviate a lot of my anxiety."
Experts agree that throughout history, up until the last decade, PPD has shattered women and their families off the public radar. Often dismissed as "baby blues" or an adjustment period, individuals suffering symptoms have been largely unaware of clinical resources or hesitant to step forward out of fear. Thus, when New Jersey passed an unprecedented law in 2006 making PPD screening a requirement for health-care providers, it helped kick-start a burgeoning national movement to finally address the crippling condition.
It's about time, says nurse-clinician Susan Ellis Murphy, a coordinator for Regional Postpartum Depression Support Services at the Southern New Jersey Perinatal Cooperative in Pennsauken. In the late '90s she started a PPD support program within the Kennedy University Hospital system because, she says, most doctors did not see the problem as real and most patients were unaware they could be at risk. "It was so exasperating. This is one of the few mental health disorders where I can confidently say to someone, 'You're going to get better. Once we find the recipe for you, you will get better. I know it.' This is something that is wholly treatable," Murphy explains. "But the woman in trouble has to speak up in order to get help."
Today in New Jersey, all new mothers must answer 10 questions that determine where they fall on the Edinburgh Postnatal Depression Scale. That testing serves a dual purpose of diagnosing PPD and spreading awareness. "It allows for a pre-emptive consultation. Hopefully it makes an impact, so if a mother begins to have a problem, she or a loved one speaks up," says Virtua obstetrician Thomas Kay. "The repeated screenings now required by the state put PPD in the forefront of a person's mind."
The testing requirements are duly matched by follow-up from the facilitating medical entity, which is often partnered with clinicians, such as Murphy, for outreach services. She works with multiple South Jersey health care systems, and receives any screening results that indicate risk factors for PPD. When a woman screens positive, Murphy calls her to discuss the wealth of available treatment resources. "Just hearing that what they've been feeling has a name—and a solution—well, I can't even tell you how many times I hear the person on the end of the line burst into tears upon having her problem clinically recognized," she says.
Now, this issue is gaining increased prominence on the national stage. Sen. Bob Menendez (D-N.J.), recently held a press conference at Virtua Voorhees to discuss the PPD-targeting Melanie Blocker Stokes Mothers Act, which he sponsored and successfully included in the federal health care overhaul act. Named after a young Chicago woman who committed suicide shortly after her daughter was born, it earmarks millions of federal dollars for research into PPD, education and support programs.
"New Jersey has set the standard in regard to screening, awareness, assistance and outreach," Menendez says. "It made me realize that this should be legislated nationally." The Mothers Act isn't as rigorous as New Jersey's own regulations, but it represents the first time PPD has been elevated to the federal-earmark level. According to Menendez, "that's a good place to start." Published (and copyrighted) in South Jersey Magazine, Volume 7, Issue 7 (October, 2010).
For more info on South Jersey Magazine, click here.
To subscribe to South Jersey Magazine, click here.
To advertise in South Jersey Magazine, click here.