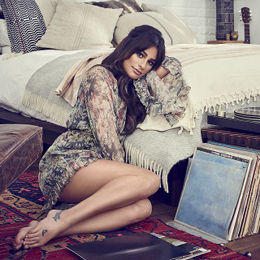 Songstress Lea Michele kicks off her Latest Tour at Philadelphia's Merriam Theater
From the moment Lea Michele impulsively auditioned for a Broadway musical at the tender age of eight, and quickly won the role, her skyrocketing career has been music to our ears.
The remarkable 30-year-old singer and actress dazzled television viewers with her performance as Rachel Berry on the award-winning Fox TV series Glee, and now she is using her pipes for her limited "Intimate Evening" North American Tour, which kicks off on Monday, May 1, at the Kimmel Center's Merriam Theater in Philadelphia.
Her new single, "Love Is Alive," was released on March 3, and her much-anticipated second album, Places was released by Columbia Records today.
Michele first performed the new music during three intimate sold out shows in January, and this tour is a result of the demand from her many devoted fans, who have followed her rich career of music, television, Broadway, and a New York Times best-selling book, Brunette Ambition.
No stranger to live audiences, Michele, who grew up in Tenafly, New Jersey, was nominated for several awards for creating the role of Wendla Bergmann in the original company of the musical of Spring Awakening, which debuted on Broadway in December 2006.
She is also starring as Hester on the dark comedy series from Fox TV, Scream Queens, and with every new endeavor shows her ambitions have few limits. The reason for her current six city tour, is that Michele said she feels most at home in front of a live audience.
"My goal is to get out there and show everyone that I'm a performer. I grew up on the stage," Michele says. "I grew up with this passion for performing. I'm a live singer and I think that's what makes me different from a lot of other entertainers."
Music lovers who attend the concert will get a cross section of her work, including some fun songs from Glee, with stories and quips about her full life as a performer.
"During the show I tell a lot of stories along the way about Glee, about recording my first album [Louder in March 2014], and about the meaning of these songs from my second album," she says. "Sometimes it gets a little personal when I start giving everyone all of my deepest and darkest secrets; but I am really loving all of it."
For more information about Lea Michele, please visit LeaMicheleMusic.com and for tickets to the Intimate Evening with Lea Michele tour at the Kimmel Center's Merriam Theater, visit KimmelCenter.org or call (215) 893-1999.
Published (and copyrighted) by South Jersey Magazine.
For more info on South Jersey Magazine, click here.
To subscribe to South Jersey Magazine, click here.
To advertise in South Jersey Magazine, click here.