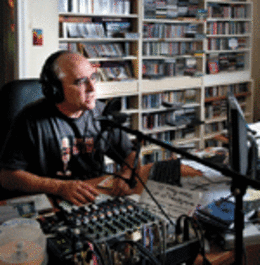 On The Air
Tuning in with radio legend and South Jersey resident Michael Tearson.
Michael Tearson is famous in Philadelphia as a radio DJ, impeccably curating and charismatically narrating the soundtrack to more than four decades of rock, blues, folk and pop. But the way the Haddon Township resident tells it, it was sheer coincidence (or perhaps fate) that first started him on that path. Back in 1966, a young Tearson was still pursuing his early dream of being a folk singer. During his freshman year at University of Pennsylvania, he returned home to his native Baltimore for a club gig, and made an unexpected acquaintance. "One of the regulars brought over a girl singer to audition. I had signed up for a prime slot, and I was asked if she could go on ahead of me. I said, 'No problem.' She did, and she killed—so thoroughly that nobody noticed I was onstage singing after her. She was the 19-year-old Emmylou Harris, completely unknown at the time." Tearson perhaps didn't have the voice of a star back then—but his discerning ear was undeniable. "I decided two things that night: One, it was time to think of a Plan B." That was radio: Tearson began his on-air career as a student in 1967 on the University of Pennsylvania's AM station, and was the first to play rock music on its FM station, WXPN. "And second," he continues, "I had to become friends with this woman [Harris] in a hurry—and I did. The following April, when I was doing Saturday mornings on WXPN, Emmy did her first interview with me." Being the first radio host to discover a 12-time Grammy winner was just the first of many accomplishments for Tearson, and radio quickly became more than just a Plan B. "I took to radio as easy as a duck to water," he says. "That was really just about the beginning of FM rock. It was a time when there was no history, and no rules. As an artist, nothing is better than to be able to start something with no history to weigh on you at all, to start from zero and make it all up. That's a rare and precious treat." Tearson became one of the Philadelphia area's pioneers in radio broadcasting and has been a fixture on local airwaves for decades. These days, he just might be the hardest-working man in radio. Once a longtime favorite on 93.3 WMMR-FM, he currently juggles gigs on 102.9 WMGK, where he hosts Saturday Morning '60s; Sirius/XM satellite radio, where his voice is heard on channels including Deep Tracks, Classic Vinyl and B.B. King's Bluesville; and on the Internet at RadioThatDoesntSuck.com. "I get to be an artist doing radio," Tearson says of the benefits of working across three disparate media. The online show in particular gives Tearson a significant amount of freedom. "One of the beauties of doing the shows on RadioThatDoesntSuck.com is that I'm not limited to 60 minutes," he says. "I do stuff that sounds and feels like nothing on radio." But working in radio today, in an era of declining audiences and fragmented media, creates challenges that Tearson, in his career spanning terrestrial, satellite and Internet radio, cannot deny. "You have a young generation which doesn't listen to radio at all, between their iPods and all the other options they have which do not involve using radio stations. That's something that radio is desperately trying to grapple over," Tearson admits. Radio might be dying. It might not. But one thing is clear: Tearson is loving every minute of his time on the air. His simultaneously upbeat and offbeat persona extends off-air as well; just take a walk through his Haddon Township home. Vintage pop culture memorabilia is in evidence, as is fitting for a DJ who savors retro sounds: A stuffed Underdog hangs from the ceiling, vintage Felix the Cat art prints adorn the walls, Betty Boop-branded objects can be found throughout, and a vintage Ms. Pac-Man arcade game is stationed in the dining room. All that's not suprising, given that Tearson has never shied away from lowbrow fun. Consider his career in the pro wrestling world, where he refereed and announced matches. He later evangelized for the sport via a weekly wrestling column, "On the Mat," for the Philadelphia Daily News. Now, at age 62, Tearson is a radio fixture and has even ventured into acting, appearing in several films, including Dressed to Kill and Philadelphia. But his affinity for singing hasn't wavered. When he's not on the air, recording a show out of his home studio or emceeing concerts, he's working on his first album—a collection of covers from his favorite songwriters. "Albums are almost obsolete," Tearson says. "I'm 62 now, so it's about damn time I did one." Published (and copyrighted) in
South Jersey Magazine
, Volume 7, Issue 7 (October, 2010).
For more info on South Jersey Magazine, click
here
.
To subscribe to South Jersey Magazine, click
here
.
To advertise in South Jersey Magazine, click
here
.