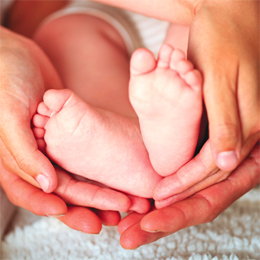 In Good Company
While suddenly realizing you are unable to get pregnant may feel like a scary and isolated time, the truth is that infertility is relatively common. Though it hasn't always been something that people have talked openly about, struggles with infertility touch many couples.
"Infertility can catch people off guard when they are faced with it and they may even feel very alone but it's something we see with a great deal of frequency," says Dr. Jason M. Franasiak, lead physician of the Reproductive Medicine Associates of New Jersey's Marlton office. "One out of eight couples struggles with it."
But the most important message that Franasiak shares is that there is hope—a lot of it, in fact. The science behind infertility treatments has come incredibly far and the results continue to improve.
"We have a lot of new technology available today that is producing wonderful outcomes," adds Franasiak. "We're able to help most people that come to us. There are many options for building families that should continue to give people hope."
The success rates for in vitro fertilization, commonly referred to as IVF, continue to improve as methodologies advance. In recent years, doctors have been able to successfully perform single embryo transfers, lowering the odds of multiples that is commonly associated with the procedure. While the old methodology of IVF typically meant transferring multiple embryos at a time in order to give patients their best shot that one would be successful, improved technology is steering science away from multiple transfers unless necessary.
One of the reasons the single embryo transfer has been so successful is the advances in genetic screening that are being performed on each embryo, explains Dr. Oumar Kuzbari, director of the diminished ovarian reserve program at South Jersey Fertility Center. With advanced genetic testing, doctors can now screen for chromosome abnormalities and select only the healthy embryos for transfer.
"By identifying the healthiest embryos, we can lower the chance of twins as well as significantly decrease the risk of a miscarriage," Kuzbari says. "Couples can even know the gender of their baby and can choose to transfer a male or female embryo based on their preference."
Delaying your family
The other area where the field of reproductive medicine has come so far is in fertility preservation. Women may choose to freeze their eggs for a variety of reasons including the extension of their childbearing years because they aren't ready for kids or for medical concerns, such as cancer treatment.
For a woman who is not undergoing cancer treatment—which has the possibility to destroy fertility—but who wants to preserve fertility for other reasons, Dr. Louis R. Manara, medical director of the Center for Reproductive Medicine and Fertility in Voorhees, says there is definitely a "sweet spot" when it comes to timing.
"I would tell women to hold off as there is cost involved and your life really hasn't fully unfolded yet in your 20s," Manara says. "But as you reach your 30s, it may be something to start considering. I would say that 35 is the sweet spot. Your eggs would still have a good potential for success."
Manara says the egg retrieval process is relatively simple and performed as an inoffice procedure. The number of eggs retrieved can vary but he says that 15 is a safe average. It's not unusual to find out that eggs which have not fully matured were retrieved and cannot be fertilized. Genetic screening may also eliminate some of those eggs.
Kuzbari adds that some couples are also taking advantage of egg freezing techniques to prepare for baby No. 2. They might be undergoing IVF now but will keep some embryos frozen for use down the road.
"It's like stopping the biological clock," Kuzbari says. "The process gives couples some freedom to plan their family on their own time line—all with a very high success rate."
Maintaining hope
While there's no question that crossing into this territory can be scary, the doctors we all spoke with urged South Jersey couples to maintain hope as there are solutions out there. And the fear of the financial burden shouldn't keep you from exploring your options. New Jersey is one out of 15 states that has an infertility insurance mandate in place. This means that insurance plans must offer or provide coverage for fertility treatment. That coverage can vary, but it's absolutely something worth looking into.
"In recent years, the cost of treatment has come down," adds Kuzbari. "We are lucky to live in a mandated state and there are also a lot of companies out there that will offer financial help to keep cost down. Sometimes our patients walk away surprised by how much is covered."
Fortunately, the conversation around infertility is becoming more vocal and people are getting the message that they don't have to be ashamed or afraid to come forward. While there used to be a stigma associated with infertility, that's all going by the wayside as people realize just how common it is.
"There was a time when nobody talked about infertility but that's really changing," stresses Franasiak. "It's a hot topic issue as people begin to open up about their experiences and help others get through it. I think the most important take home message is the fact that infertility is more common than you may realize and you are not alone."
Published (and copyrighted) in South Jersey Magazine, Volume 14, Issue 2 (May, 2017).
For more info on South Jersey Magazine, click here.
To subscribe to South Jersey Magazine, click here.
To advertise in South Jersey Magazine, click here.