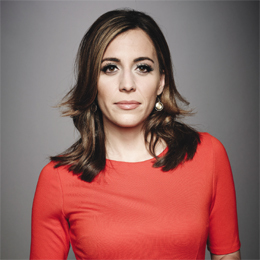 Live from the White House
Hallie Jackson is a familiar face on NBC. Since joining the network in 2014, she has earned her stripes as a dedicated political journalist. During the 2016 Republican primary campaign, she broke news and scored interviews with some of the GOP's leading candidates. She continued to cover now-President Trump and just last month was named NBC's Chief White House Correspondent. Most days you can see her reporting live on TODAY, NBC Nightly News with Lester Holt, Meet the Press or on the 10 a.m. hour on MSNBC.
Jackson lives in Washington, D.C., full time, but she's a native of Bucks County, growing up in Yardley, Pa., and graduating from Pennsbury High School. South Jersey Magazine caught up with her recently to discuss the excitement of reporting from the White House, her favorite Shore town and how she unwinds after a long week.
On growing up in the Philadelphia suburbs…
I loved growing up in Lower Makefield. We lived within walking distance of the local pool, where I worked at the snack bar during the summers. My sister and I could also ride our bikes into downtown Yardley for stops at Wawa (of course) or to cruise along the canal. My family loved Franco's, this little pizza and cheesesteak place where we got our Friday night dinners. I try to get home whenever I can, but since Jan. 20, it's been pretty busy in Washington!
Her Shore town of choice…
I went down the Shore often and grew to love LBI; Barnegat Light in particular.
Sharing Philadelphia camaraderie at NBC…
We have so much Philadelphia pride among our Washington correspondents: Kristen Welker, who works at the White House with me, is from the area, and so is Andrea Mitchell, our chief foreign affairs correspondent. Congressional correspondent Kasie Hunt grew up nearby, too. My parents remember watching Kristen on the local Philadelphia station before she moved to work for NBC. We definitely share a Pennsylvania-centric camaraderie. I also went to high school with Bob Costa, one of our NBC News political analysts who works for The Washington Post. He and I competed on the speech and debate team together.
Her most memorable moments covering the campaign…
There are a lot of "big" moments from the campaign: those spin rooms at the very first primary debates, when it's a free-for-all corralling candidates for live interviews; covering the 24-hour span when both Sen. Ted Cruz (R-Texas) and Gov. John Kasich (R-Ohio) dropped out, handing Donald Trump the Republican presidential nomination; being on the floor of the Republican National Convention when then-candidate Trump delivered his speech to the delegates; sitting on our 30 Rock set on Election Night when Lester Holt announced Donald Trump was the next president of the United States. But some of the most memorable moments were much smaller—little interactions at diners in Iowa or town halls in New Hampshire with both the candidate and the voters who came to visit. Those are the moments I miss the most when I'm not on the road.
On the grind of daily White House coverage…
Our daily coverage feels nonstop. In addition to filing stories for TODAY and Nightly News, I also do my daily MSNBC show and am on stand-by for any big breaking news for the network. Our White House team has a rotation for the press briefing, depending on who's filing what story. We spend part of our day prepping for the briefing, and when the president holds a news conference, it's all hands on deck. It's kind of a surreal experience arriving at the White House at 6 a.m. when the sun is just coming up: everything's quiet and still, and you feel the power of the history of the place.
Why POTUS keeps her on her toes…
It's the biggest story in the world, which is both exhilarating and challenging. This president has shown a pattern of unexpected interactions with the press, which means you always have to be on your toes, prepared with questions and ready for an exchange with the most powerful person in the country.
How she blows off steam…
Sauvignon Sundays.
Where you'll find her on a day off…
On a hike, or eating queso. Or both.
Published (and copyrighted) in South Jersey Magazine, Volume 14, Issue 2 (May, 2017).
For more info on South Jersey Magazine, click here.
To subscribe to South Jersey Magazine, click here.
To advertise in South Jersey Magazine, click here.