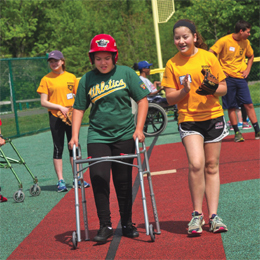 Believe in Miracles
It's a damp Saturday morning at Challenge Grove Park in Cherry Hill, but that doesn't curb the excitement of dozens of youngsters as they brave the cool temperatures at Boundless Field for their weekly baseball game.
In the second inning, a strapping 9-year-old boy named Damien steps to the plate in a Yankees jersey, a huge smile crossing his face as he relishes the chance to bat with the bases loaded. Damien drills the first pitch he sees into left field and circles the bases to loud applause from the fans in attendance.
This might sound like a typical weekend at baseball diamonds all over South Jersey, and in many ways it is. But Damien is on the autism spectrum, and instead of playing with his local Little League squad, he is part of the Camden County Miracle League, which gives children and adults with medically diagnosed disabilities the chance to be part of a team and enjoy America's favorite pastime.
"Damien is not physically disabled, but his social skills are just a little slower than everybody else's," says Beverly Ingram, Damien's grandmother and a volunteer coach with the Miracle League since it started in 2014. "So I had concerns about whether he could be part of a group, whether he could follow instructions from someone other than his mom or grandmom, and whether he would enjoy the game of baseball.
"But you can see the progress, not only for Damien, but for several of the other players. You can see physical, mental, social and emotional progress that they have made since beginning in the Miracle League. It's been a great opportunity."
The Miracle League is an offshoot of Build Jake's Place, a nonprofit dedicated to creating accessible playgrounds so children and adults of all abilities can play together. Build Jake's Place was founded in memory of Jacob Cummings-Nasto, who passed away at a young age due to a rare cardiac condition.
Jake's Place officially opened at Challenge Grove Park in 2011, and soon after that the nonprofit set its sights on another venture.
"After we fundraised and built the playground, we started to fundraise to build the accessible baseball field," says Arthur Aston, executive director of Build Jake's Place. "But the Camden County Freeholders took over the project and they built and paid for Boundless Field. So we created the Camden County Miracle League and the Camden County Freeholders are our main sponsor every year. We greatly appreciate their support."
Aston serves as the general manager of the Miracle League, which has grown in popularity every year and runs for eight weeks in the spring and six weeks in the fall. Games are played on Saturday mornings and include a Minor League for players between the ages of 5 and 12 and a Major League for those 13 and up.
"We started with 20 players and now we have over 80 who are registered," Aston says. "A lot of services for people with disabilities stop at the age of 18 or 21, so this is special and unique because it provides an opportunity for children and adults to play a sport."
Lorraine Clothier of Blackwood enrolled her autistic son Billy, who is non-verbal, in the league three years ago. She has seen him pick up different aspects of baseball through the seasons, and says he enjoys having a catch and running the bases.
"It's such a great organization and that's why we keep coming back," Clothier says. "Our family members and friends attend whenever they can, and seeing him out there having a good time is great. Every single one of the coaches and players cheers for him, and it's really a wonderful experience that probably a few years ago never existed. It's nice for the players who have challenges to still participate in a sport."
The five volunteer coaches have all been with the league since its founding, and Ingram says their responsibilities include setting up the equipment, getting the players their gloves and helmets when they need them and helping them run the bases.
Each player also has a volunteer buddy, ranging in age from teenagers to senior citizens. The buddies assist the players in hitting and fielding and ensure their safety at all times.
Joe Levin, a senior at Cherry Hill East High School, has been a buddy in the program for three years. He first heard about the league when Aston spoke at his sister's elementary school.
"So I got a few friends together and we went one Saturday when I was a sophomore," Levin says. "I loved it, because I was looking for some kind of community service to do, just to give back. But this is not like other forms of community service. When you're assisting someone with hitting or helping them in the field, you can see their smile and see the direct result of your help. That's what is so special about it."
Holly Seybold, a classmate of Levin's, is another buddy who has grown particularly close to a young player named Danny. During a recent game, Levin enlisted Danny's help to ask Seybold to the prom.
"He had some parents distract me, and then Arthur, my sister, a couple of the buddies and Danny all held up signs," says Seybold, who quickly accepted.
While getting asked to the prom on the field was unforgettable, Seybold creates lasting memories there every week. "It's my favorite thing to do," she says. "I love waking up on Saturday mornings and going to Miracle League. It's my No. 1 priority in the fall and spring and I miss some other activities that I'm involved with, like dance, to be there. I've made a lot of friendships with the players that are really special to me."
Levin and Seybold founded a Miracle League Club at Cherry Hill East that now has about 80 members, who are required to serve as buddies for at least two games a year. With Levin heading to the University of Michigan and Seybold going to Temple in the fall, the club will fall under the leadership of Seybold's sister Hope.
"Being part of the Miracle League has absolutely changed me and made me appreciate the life that I live more," Levin says. "During spring break and whenever I'm home, I'll try to go to games. And Holly will be close enough so she can go to some games too."
With so many dedicated buddies and coaches, the Miracle League shows no signs of slowing down. And players like Damien, who has his own batting gloves and wakes up bright and early on Saturdays excited for baseball, prove that there was a need for such an organization in South Jersey.
Aston, who was born with spina bifida and uses a wheelchair, doesn't remember having a baseball league he could participate in when he was growing up, but he's happy to play his role in the Miracle League.
"Just being around the games every week, I'm glad that we're moving in the right direction as far as having things available for people with disabilities," he says. "Being part of that change has been really great for me."
Published (and copyrighted) in South Jersey Magazine, Volume 14, Issue 2 (May, 2017).
For more info on South Jersey Magazine, click here.
To subscribe to South Jersey Magazine, click here.
To advertise in South Jersey Magazine, click here.