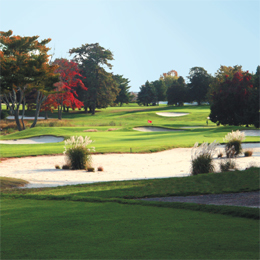 Reading the Greens
ATLANTIC CITY COUNTRY CLUB
WHAT'S NEW: Atlantic City Country Club just wrapped up a two-and-a-half-year renovation project. On the course, all greenside bunkers were renovated and six holes were completely restored. A halfway house was built as well as the all new Skydeck, an open-air elevated terrace. Nearly the entire clubhouse was refurbished including the Taproom Bar & Grille, the grand ballroom, all private dining rooms and meeting rooms, the front entrance, entryways and connecting spaces and more.

"The impeccably maintained course on the bayside of Atlantic City offers breathtaking views of the city skyline. Walking into the clubhouse is like taking a trip back in time. … [The clubhouse] is filled with charming character, memorabilia, photos and interactive video kiosks," says Liz Norton-Scanga, director of marketing.
AVALON GOLF CLUB
WHAT'S NEW: The club has added an outside deck to the clubhouse with a bar and seating. The new outdoor area will also feature live music on occasion.

"Our course is designed for people to have fun. When they get off they don't feel like they've gotten beaten up— though some will—but most leave saying, 'I shot pretty good today,'" says Ted Wenner, head pro.
BALLAMOR GOLF CLUB
"What makes Ballamor unique compared to the other public golf courses in the area is that it was built as a private golf club. There are no houses on the course and the design is carved into the tall New Jersey pine trees, giving you the feeling that you have been implanted down south," says Director of Marketing Liz Norton-Scanga.
BLUE HERON PINES GOLF CLUB
WHAT'S NEW: The club removed sod on the right side of the first hole and made it a natural area which now makes golfers favor the left-hand side of their tee shot.

"I would say the best thing about our course is it requires you to play all the shots. You can't get around this golf course playing only one shot type," says Director of Golf Chuck Filling. "It makes you think about every shot you are going to hit. That's the way [architect] Stephen Kay designed it."
GALLOWAY NATIONAL GOLF CLUB
WHAT'S NEW: The course is in the second of a three-year greens project. Also, it has just been announced that Galloway will host the 2020 Philadelphia Open.

"One of our strong suits is the golf course itself, one thing we always strive for is perfect condition all the time," says Director of Golf Jason Lamp.
GREATE BAY COUNTRY CLUB
"The thing that stands out here is that the atmosphere is a lot of fun," says head professional John Petronis. "I like to say I'm the director of fun and not the director of golf. Between the golf course conditions and the fun and professional atmosphere, everything is well received."
HARBOR PINES GOLF CLUB
"There are plenty of birdie opportunities on a course that can be very playable or extremely challenging depending on your tee box selection," says Allan Greenman, general manager.
HIDDEN CREEK GOLF CLUB
WHAT'S NEW: The club was just named one of "America's 100 Best Modern Courses" by Golfweek Magazine, ranking 79th on the list. It was one of only four N.J. golf courses to make the list.

"It is a tremendous honor to be ranked in Golfweek's Top 100. … It is a true testament to a golf course and its operation that is a members' first experience in creating a home away from home atmosphere for our members and their guests," says head pro Andrew Madsen.
LINWOOD COUNTRY CLUB
WHAT'S NEW: Next month the club is starting a program where members who join can make monthly payments. There are also new membership tiers, including one for folks under age 30 for $1,500 a year. In addition, the golf pro is now operating the golf shop, which is open to the public.

"We are the Cheers of country clubs, where everybody knows your name," says golf pro Jeff LeFevre. "The staff knows what your favorite sandwich is, your favorite drink and when you want to play, you don't wait, we have your bag ready on the cart when you pull up. We are a true country club where the members are the leaders."
McCULLOUGH'S EMERALD GOLF LINKS
WHAT'S NEW: Starting this month, the club will offer clinics on Tuesdays and Sundays with PGA pro Bob Herman. The clinics include 45 minutes of instruction and nine holes of golf for $30. Children are free with a paying adult.
The club has also welcomed a new chef (Ken Klein) and a new director of food and beverage (Dan Anderson).

"What make us unique in this area are our 100-foot elevation changes and the rolling hills; it is a true links-style golf course in that regard as each of the holes is inspired by holes in Ireland or Scotland," says Tom Sullivan, general manager.
SAND BARRENS GOLF COURSE
WHAT'S NEW: By May, Sand Barrens will unveil a stand-alone, nine-hole footgolf course.

"We have 27 holes, so typically the pace of play is good even on busier days," offers golf pro Doug Delaney.
SEA OAKS COUNTRY CLUB
WHAT'S NEW: The club has introduced The Oaks Bar & Grille featuring theme nights like an all-day happy hour on Monday, signature burger night on Tuesdays, barbecue night on Wednesdays, prime rib night on Thursdays, a seafood night on Fridays, steak night on Saturdays and pasta specials on Sundays.

"What sets Sea Oaks apart from other facilities is our simple approach to making our members and guests feel comfortable and relaxed when playing golf and enjoying some time after their round. We go out of our way to see that we can exceed the needs of our members and guests by anticipating their arrival and finding out what we can do to make their day more pleasant. You should be coming to a golf course to relax, especially at the Jersey Shore," says Jeff Bonicky, director of golf.
SHORE GATE GOLF CLUB
WHAT'S NEW: In 2017, the club has plans to build a large deck overlooking the 18th and 10th holes of the course, allowing players to further enjoy themselves after their round.

"Our course does not have any homes surrounding the course, which allows the player to enjoy the natural surroundings," says Harry Bittner, general manager and director of golf.
TWISTED DUNE GOLF CLUB
"Twisted Dune [is unique to South Jersey] due to the mounding and elevation changes. Nowhere else in our area will you experience playing through berms like the great Irish and Scottish courses," says head golf pro Jim Endres.
WILDWOOD GOLF & COUNTRY CLUB
WHAT'S NEW: The private club has undergone some renovations after a small fire in November. The grill room will now be known as MacKissick's Pub, named after the original owner of the land, Old Joe MacKissick. The club is also adding a new outdoor patio outside of the pub.

"The golf course is very traditional in nature, and although challenging, very friendly as well. And this place is an extension of members' families. You feel like you are walking into your house when you walk in the front door," Fred Riedel, director of golf and general manager says.
THE VINEYARDS
"There aren't many courses you can play through working vineyards on multiple holes," offers head golf pro Brian Compton. "I would also say in this day and age, there aren't a lot of courses where you are out there by yourself; no houses, no noises, just the way it used to be 20 years ago. To me, it's a lot more relaxing experience and the way the game is meant to be [enjoyed]."
Published (and copyrighted) in South Jersey Magazine, Volume 14, Issue 2 (May, 2017).
For more info on South Jersey Magazine, click here.
To subscribe to South Jersey Magazine, click here.
To advertise in South Jersey Magazine, click here.