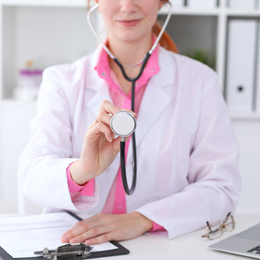 Ladies First
The relationship between a doctor and patient is paramount, and when it comes to certain areas of women's health that rings especially true. Whether you're about to deliver a newborn, are battling breast cancer or are in need of a cosmetic change, there are plenty of physicians in the tri-county region to offer their expertise, and perhaps more importantly, their compassion. In addition to the following list of local offices specializing in these issues, we also introduce some of the doctors who are helping to ensure that South Jersey remains on the forefront of women's health.
Dr. Sandra Elder
Aesthetic Dermatology
"One of the most fulfilling aspects of my job as a medical/ surgical dermatologist is diagnosing and treating malignant melanoma at a very early stage. From a cosmetic dermatology standpoint, it is also rewarding to provide minimally invasive treatment options to my patients. This makes such a positive impact in their appearance and the way they feel about themselves."
Dr. Sherrill T. Little
South Jersey Radiology
"I wish someone had told me how hard this job, and women's imaging in particular, can be. Most of the time patients do well and biopsies are benign, but there are heartbreaking patients every week for whom you wish you could change the outcome. Dealing with these patients can be devastating."
Dr. Roberta Felsenstein
Advocare Premier OB/GYN of South Jersey
"I feel lucky to be able to get to know my patients and their families, and have the chance to make a difference in their lives year after year. The toughest part of my job is that it is difficult for me to leave work at work, and not continue to worry about my patients while they are going through a rough time."
Dr. Jason Franasiak
Reproductive Medicine Associates of New Jersey
"I have been amazed to see how quickly science and technology has worked to change the way fertility care is practiced for the better. Using these technologies has enabled physicians and patients to make decisions which allow for things like single embryo transfer, which can result in healthy singleton births."
Dr. Rachel Levenbach
Regional Cancer Care Associates
"Oncology is not only about diagnosing and treating patients, but as I continue to grow as an oncologist, I realize that being an oncologist is about forming personal relationships with patients and their families and building a level of trust that is much greater in meaning than just spitting out facts about their diagnosis."
Dr. Renee Bullock-Palmer
Deborah Heart & Lung Center
"[The] advice that I would give my younger self is that today's practice of medicine requires you to not only truly enjoy doing your job but also requires a great deal of resilience and endurance for you to survive in this field. However, at the end of the day I could not see myself being in any other profession but medicine."
Dr. Stuart Diamond
Center for Advanced Urology
"My patients see me every time they visit my office. They don't call a call center to make an appointment, they call my office with the same familiar staff answering their questions and helping them any way they can. My patients don't need to wait three months for an appointment or wait 30 minutes on the phone to make an appointment."
Dr. Danielle Brenza
Ageless Skin Center
"The most fulfilling aspect [of the job] is helping patients feel good about themselves and more confident; helping them to see their inner beauty and strength. It's amazing how much this can help them in their daily lives and I feel honored to play a role. The toughest part is trying to help them understand that looking younger is not one procedure. It requires a custom plan, consistency and dedication."
Dr. Robert Skaf
South Jersey Fertility Center
"One of the special things that stands out to me is the first time they hear their baby's heartbeat and see them on the ultrasound. One of the toughest aspects of my job is knowing that I have the ability to help patients, but I am not able to due to insurance not always providing infertility coverage."
Dr. Demetri Karanzalis
A Medical Spa
"The best part of my job is watching people leave the office feeling like a new person. Aesthetics is very cool that way. You are able to witness an increase in self-confidence, positive energy and overall happiness with simple, non-invasive treatments."
AESTHETIC MEDICINE & DERMATOLOGY
Aesthetic Dermatology
Marlton
(856) 596-3393
Ageless Skin and Laser Center
Sewell
(856) 218-4848
A Medical Spa
Moorestown
(856) 985-8500
Anu Medical Spa
Voorhees
(856) 809-0909
Appearance Dermatology
Marlton
(856) 751-9560
Daniels Vein and Cosmetic Center
Bordentown
(609) 298-0033
Harkaway Center for Dermatology and Aesthetics
Delran
(856) 461-1400
Heymann, Manders and Green
Marlton
(856) 596-0111
Malik Medical Aesthetics
Mullica Hill
(856) 478-4700
Warmuth Institute of Dermatology
Elmer
(856) 358-1500
BREAST CANCER TREATMENT
21st Century Oncology
Voorhees
(856) 424-0003
Abramson Cancer Center
Cherry Hill
(800) 789-7366
Inspira Women's Imaging Center
Mullica Hill
(856) 641-8670
Kennedy Cancer Center
Sewell
(856) 218-5777
Larchmont Imaging
Multiple locations
(609) 261-4500
LourdesCare at Cherry Hill
Cherry Hill
(856) 470-9300
MD Anderson Cancer Center at Cooper
Multiple locations
(855) 632-2667
Regional Cancer Care Associates
Mount Holly
(609) 807-2693
South Jersey Radiology
Multiple locations
(888) 909-7572
Virtua Breast Care
Multiple locations
(888) 847-8823
CARDIOLOGY
Advanced Cardiology of South Jersey
Mullica Hill
(856) 241-3838
Associated Cardiovascular Consultants
Multiple locations
ACCNJ.com
Deborah Heart and Lung Center
Browns Mills
(609) 893-6611
The Heart House
Multiple locations
(856) 546-3003
Inspira Cardiovascular Services
Woodbury
(856) 845-6807
GENERAL HEALTH
Cooper University Hospital
Camden
(856) 342-2000
Inspira Health Network
Woodbury
(856) 845-0100
Kennedy University Hospital
Cherry Hill
(856) 488-6500
Stratford
(856) 346-6000
Washington Township
(856) 582-2500
Lourdes Medical Center of Burlington County
Willingboro
(609) 835-2900
Our Lady of Lourdes Medical Center
Camden
(856) 757-3500
Rowan University School of Osteopathic Medicine
Stratford
(856) 566-7050
Virtua Hospital
Marlton
Mount Holly
Voorhees
(888) 847-8823
INFERTILITY & REPRODUCTIVE MEDICINE
Center for Reproductive Medicine and Fertility
Voorhees
(856) 767-0009
Cooper Institute for Reproductive Hormonal Disorders
Mount Laurel
(856) 751-5575
Delaware Valley Institute of Fertility and Genetics
Marlton
(856) 988-0072
Reproductive Medicine Associates of New Jersey
Marlton
(856) 267-8100
S.M. Stemmer
Haddonfield
(856) 428-6355
South Jersey Fertility Center
Marlton
(856) 282-1231
OBSTETRICS & GYNECOLOGY
Advocare Premier OB/GYN of South Jersey
Voorhees
(856) 772-2300
Center for Specialized Gynecology
Cherry Hill
(856) 424-8091
Cherry Hill OB/GYN
Mount Laurel
(856) 778-4700
The OB/GYN Specialists
Voorhees
(856) 874-1114
Rancocas OB/GYN Associates
Moorestown
(856) 231-8500
Regional Women's Health Group
Voorhees
(856) 669-6050
Virtua Maternal/ Fetal Medicine Associates
Mount Holly
(609) 914-7914
Voorhees
(856) 247-3328
The Women's Group for OB/GYN
Voorhees
(856) 770-9300
PLASTIC SURGERY
Davis Cosmetic Plastic Surgery
Cherry Hill
(856) 424-1700
Delaware Valley Plastic Surgery
Cherry Hill
(856) 797-0202
Garber Plastic Surgery
Voorhees
(856) 872-2464
Dr. Ronald Warren
Mount Laurel
(856) 291-0533
South Shore Plastic Surgery
Voorhees
(856) 784-2639
UROLOGY/ UROGYNECOLOGY
Center for Advanced Urology
Turnersville
Willingboro
(856) 339-4466
Delaware Valley Urology
Multiple locations
DVUrology.com
South Jersey Urogynecology
Marlton
(856) 607-2273
Published (and copyrighted) in South Jersey Magazine, Volume 14, Issue 2 (May, 2017).
For more info on South Jersey Magazine, click here.
To subscribe to South Jersey Magazine, click here.
To advertise in South Jersey Magazine, click here.