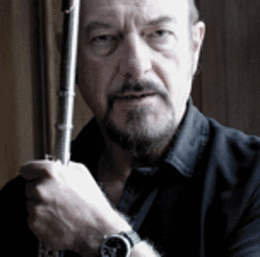 Rock Solid
For decades, Jethro Tull frontman Ian Anderson has proved the flute has a place in rock music—and he's not about to slow down.
He may have achieved fame playing the flute, but Ian Anderson's first love was the guitar. That lasted until he encountered fellow Brit Eric Clapton, in the face of whose "greatness" Anderson decided his own "limited technique" was no match. Anderson's unlikely fallback was a wise career move that paid dividends, giving his band, Jethro Tull, its distinct sound. Within months of picking up the flute, Anderson was playing the instrument for Jethro Tull's first album, 1968's This Was. Now, at age 63, Anderson is still going strong, touring with Jethro Tull and as a solo performer. A skilled songwriter, he does more than play the flute: he sings and plays acoustic guitar, saxophone, keyboard and other instruments, transcending genres to incorporate blues, folk, rock and jazz influences and whimsically subversive lyrics. On Saturday, Oct. 22, Anderson will take the stage for a solo performance at Collingswood's Scottish Rite Auditorium. He recently made time for South Jersey Magazine to shed some light on his musical inspirations, his retirement from fish farming and why he's so grumpy when he's not with his cats. SOUTH JERSEY MAGAZINE: You have described yourself as leaning toward the "grumpier" side. When you nearly died in 1996 due to thrombosis, did that make you more or less grumpy?
IAN ANDERSON: I think it made me very, very grumpy indeed. It happened in a stage accident in Peru. [He tripped onstage, tearing the ACL in his knee, precipitating a large blood clot in his leg that went undiagnosed for several weeks.] I was far away from home, and all the local medics I consulted helped to bring about the thrombosis through bad advice. I was very angry with myself that I didn't go get better medical advice sooner.
SJM: Do you think it affected your music?
IA: No, not really. But I do feel like a cat who's used eight of his nine lives. For that reason, helicopters or small aircraft, I simply will not do. Occasionally, you are reminded—long before your time—of things that make you question your purpose. You begin to assess the risks.
SJM: You've said Frank Zappa is one of your musical heroes. Why?
IA: Because he's different. He's not like the huge pantheon of British and American rock stars. And he's a very grumpy guy.
SJM: He's dead.
IA: So, he's probably doubly grumpy. But grumpy is a good thing; it suggests a good sense of humor. He was also angry, and anger can be very funny. Zappa was a funny guy, and he was different which puts him high on my agenda. Another angry American musician I like is Don Van Vliet—you know, Captain Beefheart. He was a loose cannon. He was an aggressive musician with no musical skills, but he had a tremendous force and could get the best from his musicians. Zappa's musicians respected him because they knew he would never ask them to play anything he couldn't play himself. But both wrote wonderful lyrics and stuck to their guns about what they saw that made them angry in the world.
SJM: You're a real cat person, too—how many do you have?
IA: Five and a half.
SJM: What does half a cat look like?
IA: The half a cat is my daughter's.
SJM: That's a lot of cats. How do you get them all to stay nice to each other?
IA: They all start off getting along, but as they grow older, they get grumpier, like me. So, you have to take them out for a walk. You see who's first at the door and then you close the door on the rest of them. But while you're out spending time with the one, usually what happens is another one will find [a way] out through the window, and then there's a fight.
SJM: You used to be a fish farmer, but you quit. What happened with that?
IA: I got into farming for practical reasons. It was to offset the cost of a home we'd bought in the west of Scotland. I started with farming venison, but ended up farming salmon. It was challenging. I did it for over 20 years, but I got out of it because of the environmental impact. You can't really feel happy about animal husbandry—it's such large economies of scale and the cost was too high for an individual like me when compared to a much larger outfit. If I were to do it over again, I would put my efforts into shellfish farming. There is zero impact on the environment with doing that.
SJM: Do you have an iPod? And, if so, what's on it?
IA: Yes, I have had one since they first came out. I was given one. I still have a Walkman, too—it's somewhere. As for what's on my iPod, it's a lot of Jethro Tull and a lot of Ian Anderson. Lots of live stuff; the iPod is a tool of the trade. I use it to record [gigs] from the front of the [venue]. It's a very functional tool. I'm not a person who listens to music recreationally since I am working on my music three hours a day. A certain amount of music in a day is great, but I want to give it a rest, hear other things, like the dulcet tones of distant conversation.
SJM: Why do you think your fans are so loyal?
IA: I have no idea. I have no presumption to know why they come back. What we musicians do is an ill-understood black magic. Try to remember that the reason anyone is there is a complete mystery to the performer. We should be amazed they want to hear us at all.
SJM: You've been playing music since 1968. When the music fades, what do you want to be remembered for?
IA: I'm a bit like John Wayne: I want to die with my boots on. I don't relish the idea of retiring. I do see a time when I slow it down, to continue to perform as long as I can. I do want a graceful exit, though; I don't want to overstay my welcome. Audiences will turn up to be kind to you—I suppose that has a charm to it.
SJM: So, are you saying you want to play for love and not for pity?
IA: Money, love and vanity, in that order. I'm kidding.
Published (and copyrighted) in South Jersey Magazine, Volume 7, Issue 7 (October, 2010).
For more info on South Jersey Magazine, click here.
To subscribe to South Jersey Magazine, click here.
To advertise in South Jersey Magazine, click here.