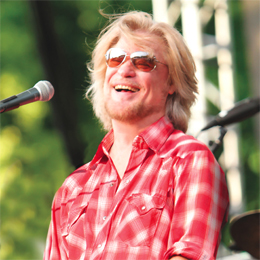 Hometown Flavor
Hall & Oates are legends in the music industry, widely regarded around the world for their soulful pop sound that has captivated multiple generations. In addition to a string of chart-topping hits throughout their career like "Man eater" and "Private Eyes," the group has seven platinum albums to their credit. In 2011, they were proudly elected as members of the Rock and Roll Hall of Fame. They have a star on the Hollywood Walk of Fame and the Recording Industry Association of America once named them the most successful duo in rock history.
But in Philly? The duo are larger-than-life icons, favorite sons of the city that helped launch their career in the late '60s. And while they have performed in the area countless times over the past five decades—including a show last July at the BB&T Pavilion in Camden—their stop on May 27 at Festival Pier will be something totally new for the group that has seemingly seen and done it all. That's when they will take the stage to headline HoagieNation, Philadelphia's newest music festival and one they helped make a reality While fellow Philadelphia natives The Roots have their annual festival every summer along Penn's Landing and Jay-Z brought Made in America to the Parkway five years ago, this festival is decidedly catered to the city, featuring a one-day gathering of some of the area's favorite acts as well as those that Daryl Hall says needed to fit the mold of what Philadelphia music should sound like. Some of the local flavor will come by way of G. Love & Special Sauce, Marah and Vivian Green, while others like Allen Stone and British duo Tears for Fears— on tour with Hall & Oates—round out the bill.
We caught up with Daryl Hall ahead of the big show to find out more about the upcoming event and he also shared his thoughts on the group's longevity, his battle with Lyme disease and some of his favorite Philadelphia moments from a lifetime of memories.
Q&A
SOUTH JERSEY MAGAZINE: So you recently kicked off your latest tour, is that something you always look forward to?
DARYL HALL: Yeah it is actually, I've been off for a few months and [I was] anxious to get out there. It's a pretty extensive tour, but you know I miss the stage to tell you the truth.
SJM: After all these years, what motivates you guys to still hit the road as much as you do?
DH: It's compulsion, it is what I do. I was made to sing; born to sing. You can't ask a bird to stop singing.
SJM: And to kick off and curate the inaugural HoagieNation Festival in your hometown has to be exciting, how did it all come about?
DH: It was actually suggested by Live Nation, a guy named Geoff Gordon [the regional vice president] had this idea for us to do it. We talked to the town and everyone was really into the idea and wanted to have a festival and we were the logical choice to build it around. I came up with the name. I guess I could have called it Cheesesteak Nation, but hoagies are what seems to be the thing that binds us together.
SJM: Was it important for you to have Philly so well represented on the bill?
DH: Yeah, I wanted to have Philly musicians or people who played music in the regional sound. That determined for the most part the artists we chose. We are going to do this every year. That is the plan and [also] expanding it to more than one day.
SJM: After all these years, is there still a different energy when you guys play in front of the hometown crowd? Do you feed off it at all?
DH: It's different; it's like playing in front of your cousins. I feel like everyone is related to me in the audience. It's a comfortable and unusual feeling.
SJM: Of course you have some experience with festivals in Philly, having played at Live Aid. How special of a moment was that for you guys, especially with the city being in a global spotlight?
DH: Well it was really one of those moments, one of those rare moments in any musician's life where you realize what is happening while it's happening. Most things you don't realize until after it happened. Something like Live Aid, we knew what was happening, history was upon us. I think all of the musicians there realized that.
SJM: With such a vast catalog, you know you have to play the hits, but how do you work in some deeper tracks, things that you guys like as much as the singles?
DH: You definitely have to work a balance. There are certain songs that are actually required, you [have to perform] them. This tour we are adding some songs we maybe never played or haven't played in decades so that keeps it interesting for everyone and we've changed up some of the arrangements; it's definitely a different show.
SJM: What was it like being around the heyday of The Sound of Philadelphia and being a part of such an iconic moment in music history? Did that help push you in a certain direction in your career?
DH: Yes. I'm first and foremost a Philly musician; my whole style is about growing up in the Philly area. I started with all the people that created [The Sound of Philadelphia], from Chubby Checker to Gamble and Huff. These are the people I began with. I'm part of that, that's what I do.
SJM: Your mother was a vocal teacher. What kind of influence did she have on you musically?
DH: She was a choir director. She didn't influence my singing style; I got all that from the music I listened to. She was into her generation of music, a lot of musicals. I did have some training in classical music. She is such a great singer—93 years old and can still sing and she definitely influenced me in the way I approach my voice.
SJM: Did you guys ever play the Latin Casino or anywhere else in South Jersey when you were coming up?
DH: Never played the Latin Casino, but I played bars over there in the late '60s for sure.
SJM: Having grown up around here, I'm sure you also were a fixture at the Shore?
DH: Of course, how can you not be? My grandparents had a place in Barnegat, but I was everywhere, Atlantic City, Ocean City …
SJM: What about Live From Daryl's House, can we expect some new episodes anytime soon?
DH: Working on it, I think I'm going to make some changes. The TV business is in flux; we are deciding where we want to go with the show.
SJM: I love the vibe of the show because I feel like it peels back the curtain on how musicians interact in a creative space. As the show has evolved over the years, what has been the most rewarding aspect of it for you personally?
DH: Just the constant surprises of the show, you never know what's going to happen. Most of the show is first dates. Most of the time it's people I don't know so it really makes you stay on your toes. The food isn't bad either.
SJM: You're on the new Todd Rundgren album, another local guy with whom you have a history. What can you share about the collaboration?
DH: He emailed me and said he's doing a collaboration album and [asked if I felt] like participating and I said sure. He sent me a track and I wrote the melody and music and gave it back to him and he altered it and sent it back to me. Then I made some changes and sent it back to him and it went like that over a period of time. I think it turned out great.
SJM: Recording in a studio these days is so different from when you started, do you embrace the new technology and way of doing it?
DH: I could do it any way. My new solo record, I put the whole band in a room and we just banged it out, but I haven't done that in years.
SJM: You've been very vocal in helping create awareness about Lyme disease. As a person who has lived with the disease, what do you wish more people knew about it?
DH: I can't stress enough that if you've been bit by a tick, any doctor that tells you there's no such thing as chronic Lyme disease, walk away and find a doctor who will accept that reality. You can find them. That's the most important thing, if you don't treat it, it will change your life in bad ways. You have to find someone to help you address it. It's not curable but it's easily maintained. I don't really even have it any longer. Every once in a while it flares up, but it's not a big deal for me anymore.
SJM: You and John have been playing since the early '70s. You've had No. 1 records, platinum albums, are inductees into the Rock and Roll Hall of Fame and so on. What speaks more to you, the level of success achieved or the fact that you have had this amazing longevity?
DH: I think we are both individually blessed with this will to survive and work within situations. We get along, we are brothers, we don't get in each other's way. And we have our own individual worlds we exist in. We have a diversity in our music, we like a lot of things and we can do a lot of things in music that has this timeless quality to it.
Published (and copyrighted) in South Jersey Magazine, Volume 14, Issue 2 (May, 2017).
For more info on South Jersey Magazine, click here.
To subscribe to South Jersey Magazine, click here.
To advertise in South Jersey Magazine, click here.