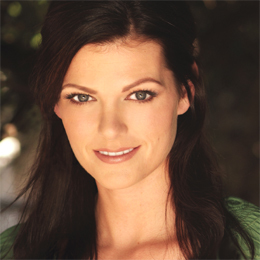 The Big Stage
Kate Shindle has one thing on her mind when she arrives back in her hometown in June. "I'm going to go to Wawa every day," she quips. The Broadway actress is the current star of the national tour of
Fun Home
, a musical adapted from Alison Bechdel's memoir of the same name. The play centers around Bechdel's struggles with sexual orientation as a child growing up in rural Pennsylvania and her relationship with her father, a closeted homosexual. The show comes to Philadelphia's Forrest Theatre from June 13-18.
Speaking from Los Angeles, where the show was enjoying a six-week run, Shindle can't believe how far she's come from her time as a self-described nerd in the drama club at Bishop Eustace Preparatory School.
"We would do our musicals at the middle school in Merchantville, but it was an early?lesson on how to make theater without having much," she says. "We didn't have the?resources of Cherry Hill East or Camden Catholic; people's moms made the costumes.?There was no drama class, but there was a drama club. It was a little intimidating when I?got to Northwestern where people came from high schools that have more resources than most colleges."
?Today, Shindle is getting rave reviews for her work portraying Bechdel as the show itself has been decorated with accolades including winning the Tony for Best Musical in 2015 and a Grammy nomination in 2016.
A onetime Miss America who was a fierce activist for AIDS education, Shindle knows how to fill up the hours in her day. When she's not performing, she serves as the president of the Actors' Equity Association, the labor union that represents more than 50,000 actors and stage managers. And to help liven up her downtime in between shows, she bought a Nissan Rogue in Egg Harbor Township and has been driving from city to city, soaking in the experience of traveling across country.
We caught up with Shindle on a rare off day to talk about the tour, her preparation for the role and why she's considering leaving her phone at home and going on vacation when it's all said and done.
On the road…
It's amazing, I wish I had more qualifiers, but it's basically a dream job. I get to do a show that I think is not only well-written, but important at this cultural moment be- cause it's about recognizing and owning your identity.We've had an astounding good reception everywhere. There are not many things that are more gratifying for an actor than being in a great piece of theater that means things to people.
This is my second big national tour; I've traveled a lot for work and did concert tours here and there. The big tours are bookends in my career, my first tour was [my first show] Cabaret and then this one now.
How to survive on tour…
I customized my road experience this time around. Last time I was so new to touring and as much as I loved it, I felt I had less control over it. The thing I noticed with traveling for work, no matter what kind of work it is, you are not in control. I bought a car this time, one that would hold my bike and everything from rain boots to mixing bowls and I've been driving everywhere. If I'm staying somewhere for more than a week in a hotel, I need to have a kitchen, it's those little things.
Getting familiar with her surroundings…
I'm the president of our union and we represent actors all across the country and so I spend some time with them in each city that the show visits, finding out what life is like in their communities for local actors. One of the things I started to ask is can we go to some place that I wouldn't get to go otherwise, somewhere that only exists here. That is a cool and easy way to have interesting places to have meetings. I went to a restaurant with Alison in downtown L.A. that is a converted 1912 fire engine house and it was great. It doesn't take that long to get a vibe of a place, so getting to spend a week or two in a place is pretty great.
On preparing for the role…
I didn't spend a ton of time with Alison while rehearsing, but she is involved in that she is supportive of it and surprised that Lisa Kron wanted to turn her book into a musical. She doesn't want to micromanage it. I did things like watched videos of her on YouTube, but it always struck me that I would feel uneasy if someone was taking me to lunch and studying how I hold a fork.
Coming home…?
I don't even know what I'm going to do. Not only will my family want to come to the show, and my friends, but that's probably where everyone [I know] from New York is going to come too because we only have two stops near New York, one in Hartford and one in Philly and Philly is so much easier to get to and the city is great. I can't wait to get to Philly, I only performed there once and it was a workshop. One of the things that Philly does so well is hire local actors. For a lot of actors across the country, one of the big frustrations is they hire local actors for the supporting roles and then hire the lead actors from New York. But Philly searches for and celebrates local talent and there's a massive amount of talent there.
Being Miss America…
It was unique and pretty interesting and I wrote a whole book about it called Being Miss America: Behind the Rhinestone Curtain. Miss America for me was the cultural highlight of the year from the time I was 4 years old when my parents lived in Brigantine. We moved to Moorestown when I was 6 until high school and as I got older, I understood what it was other than being dazzled by it. By the time I got the gig, it involved a ton of activism which is exactly what I needed at that age. If it had been a job where you sign autographs the whole time I would have been bored.
Getting involved with Actors' Equity…
Most of us get involved because some- thing went wrong with a show and I didn't think to call the union. I ran for a seat on the national council, basically a board of directors, and the following year, the eastern regional vice presidency came up. I took a break and tried producing, but it was not something I was good at it. It doesn't scratch my itch, trying to raise money is best suited for other people. I had to step down from my elected office, so I was away from it for three years. I took a hard look and thought I'm going to run for president and I won. It was a huge honor to be elected by my peers and I feel like it suits my skill set, there's never a dull moment, it really engages leadership muscles that I haven't totally used since my Miss America days.
On decompressing after a long tour…
It's an odd thing in our business but having a job for a year is so much more relaxing than looking for work. If you are doing a show on Broadway [and doing well], you aren't really free because people want you to come in for auditions. I feel like this whole year is a more relaxing year than if I was in New York. That said, doing the show, promoting the show, running the union to the extent I do and trying to find time to write about this experience has led me to put in for a vacation in St. Maarten and I may just leave my phone at home. I think about if I could live without my computer or phone for a whole week; and the answer is yes. It's a startling revelation.
Published (and copyrighted) in South Jersey Magazine, Volume 13, Issue 12 (March, 2017).
For more info on South Jersey Magazine, click here.
To subscribe to South Jersey Magazine, click here.
To advertise in South Jersey Magazine, click here.