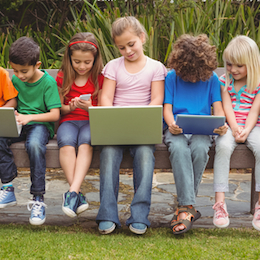 On the Right Path
Once upon a time kids were programmed to want to become doctors, lawyers or firefighters when they grew up. In today's world, those are still viable career paths for young children, and remain popular. However, thanks to expanded options and growing fields, today's youth are just as likely to say they want to become fashion designers, sports agents or cyber security experts.
With the guidance of professional counselors, parents and even local colleges expanding what they have to offer as interests spike, high school students in South Jersey have a huge support system to show them their career choices are on a much broader spectrum than those of their parents, or even older siblings for that matter.?
The question, "What do you want to be when you grow up?" holds the most weight when children reach high school. At this point, students are only four years away from either entering college or the workforce, and it's helpful to know how to optimize their education to best prepare them for their first steps on a career path.
Over at Washington Township High School they are offering a varied curriculum of different levels to give students exposure and a better feel for particular career options. "We offer hands-on electives taught by experts in the areas of business, career-technical education, visual and performing arts and family and con- sumer sciences," says Jennifer Grimaldi, director of counseling. "We are here to nurture students' interests so perhaps they may want to explore Advanced Placement college-level courses or world languages to be global learners.
"Also, our counselors are well-versed in New Jersey career trends along with U.S. economy and global changes. For instance, we just took a group of female high school students on a STEM trip to Exxon Mobil," says Grimaldi. "It's opportunities like this that can allow an eye-open- ing experience to define a student's future plans."
While interests play an obvious role in the career choices our kids make, another big factor is parents and family members.
"Whether the students want to admit it or not, parents play a major role in career choices," says William Slocum, school counselor at Lenape High School. "Adolescents don't always let on that they are listening to verbal and nonverbal cues from their parents, but most often they are listening."
As parents discuss their jobs around the dinner table or with peers, kids are taking inventory, making a running list of pros and cons based off of what they hear. This can be especially true for kids who may want to follow in a family member's footsteps and choose the same career or continue a family business.
In addition to parental influence, Slocum believes money is a top factor when students choose a major. "Students and parents want to be sure their investment is going to produce a return," says Slocum. "Future marketability goes hand-in-hand with salary. What jobs will be in demand five years from now? This is certainly one of the reasons I sometimes hear parents lament major choices like music, art or theater or even philosophy and psychology. Many students and parents struggle with the concept of a strong liberal arts education enhancing future marketability."
Steve McGair has been a counselor at Moorestown High School for 28 years and taught social studies in the Collingswood district for 12 years prior to that and he's seen firsthand the shift of career aspirations.
"The biggest trend over the years has been toward more STEM-related majors/careers," he says. "We also see a greater increase in double majors." The idea of double majors is something Judy Nelson, a counselor at Washington Township High School for the past 25 years, has also witnessed with her students. "Many students are now double majoring to increase their future opportunities," she says. "Students are very concerned today with potential earnings and I believe that is due to the tremendous student debt they are incurring in obtaining their degrees."
Bobbi Hannmann, an educational consultant based out of Moorestown, says she will have clients come to her with strong convictions about the direction of their future. In her experience, that is not always the best approach. "When I start working with them, we always focus on what their strengths are. No matter what, you have to go with your strengths," says Hannmann. "Passion is great and hopefully that will come too, but you have to be strong in that area you want to work in."?
South Jersey colleges are taking into account the increased interest in trending career fields as well, seeing a heavy focus in health sciences and they have expanded their offerings as a result.
Stockton University implemented a new exercise science program in their Health Sciences School. With the new pro- gram, students can work toward becoming athletic trainers, aquatic directors, cardiac rehab specialists, massage therapists and even sports psychologists just to name a few. Stockton is also home to some of the most unique programs in our area like sustainability and marine sciences.
"I've seen sustainability [grow in popularity] in the past decade," says James Riordan, director of guidance for the Cherry Hill School District. "I'm not just talking about sustainability in regards to environmental [because] the whole sustainability movement is really social, cultural and environmental. We see more colleges offering sustainability degrees whether it's in social sciences or biological sciences. It's interesting to see how it's expanded."
While these areas have piqued interest with today's youth, they aren't always perfect fits to Hannmann's point about passion versus strengths. The admissions office at Stockton says on a national level, two out of every three students change their major one or more times before earning their baccalaureate degree.
Rutgers University-Camden has also seen growing enrollment in the health sciences as well as other newer majors like digital studies.
"[These majors] offer a unique, cross-disciplinary approach. Students majoring in digital studies also major in a traditional content field such as history, English, fine arts—especially graphic arts—or computer science, which gives them strong knowledge in a content area as well as in digital and computer skills," says Associate Chancellor for External Relations Michael Sepanic. "In health sciences, students learn broad con- tent in the sciences, psychology and ethics. They also learn about a wide- range of career options in health care and health-related professions."
So while many students may not ultimately stick to their initial career path, having the tools to make an educated decision about their future has only enhanced their opportunities. Surely, there are many that still want to become doctors or lawyers. There are also many others who are interested in following other avenues to evolving areas, showing the youth that you can truly do anything you want in this life.
Career Center
We asked 100 South Jersey high school students what they want to do with their life.
In an effort to find out more about how today's youth view their future, we polled 100 boys and girls from high schools across the tri-county region to see where their interests lay. Both engi- neer and teacher were the top choices, making up 25 percent of the responses. And while common career choices like doctor, nurse, police officer and attorney were chosen, responses like forensic scientist, screenwriter, tour manager and translator were also given. Here is a look at some of the more unique answers we received.
Economist?
Tour Manager?
Real Estate Investor ?
Actuary?
Forensic Scientist ?
Fashion Designer ?
Translator?
Sound Engineer ?
Sports Agent ?
Cosmetic Chemistry ?
Screenwriter V?
enture Capitalist ?
Music Therapist ?
Cinematographer
Published (and copyrighted) in South Jersey Magazine, Volume 13, Issue 12 (March, 2017).
For more info on South Jersey Magazine, click here.
To subscribe to South Jersey Magazine, click here.
To advertise in South Jersey Magazine, click here.