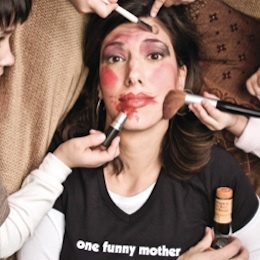 There's No Place Like Home
Hello South Jersey! My name is Dena Blizzard, also known as One Funny Mother. I thought I'd introduce myself since you'll be seeing my articles each month in South Jersey Magazine.
Some people may know me as the girl from Waterford that attended Assumption School and Camden Catholic High School. Some remember me as a Rowan graduate or Cedarbrook Ambulance volunteer when I was Dena Querubin and competed in the Miss America Pageant as Miss New Jersey 1995. Most people know me now as former NJ 101.5 radio show host or comedian and One Funny Mother, Dena Blizzard.
I prefer to remember myself as the kid who grew up picking blueberries for 10 cents a pint and riding my bike to Wawa, spending my pay on Fun Dip and Smarties. I remember drowning my sorrows in milkshakes at Palace and Olga's Diner whenever a boy broke up with me (which, sadly, was more often than I would have liked).
We spent summers in Tuckerton, Ocean City and Long Beach Island. We swam at Lake Atsion, rode roller coasters at Clementon Park and I shoved more funnel cakes into my mouth at carnivals and boardwalks than I care to remember.
Now that I've sufficiently proven my "Jerseyness," let's talk about these articles. I don't want you to look forward to this article each month thinking some great bits of wisdom are coming; they aren't. I'm a comedian ... and a mom, which means most of what I write is a joke or a lie. I'll try to come up with one fluid thought for you a month, but that's only because they are paying me.
This month: Raising "Jersey kids" means raising "worldly kids."
I've traveled a fair amount of time lately, whether due to comedy or hosting corporate events. My travels have taken me from the "boiled peanut" regions of Georgia to the wine drinking areas of Walla Walla, Washington. I've seen the beauty of San Francisco's Bay, the mountains of Loveland, Colorado, and soon I'll be visiting Brussels, Belgium, (which I'm sure is just like Jersey City).
During these visits, I've met moms and dads from all over the world. When I've had the pleasure of speaking with them through my comedy or casual conversation, it's dawned on me that raising kids in Jersey is the best, because Jersey is no joke. I don't know a parent in Jersey who hasn't screamed, "Are you kiddin' me right now with this?" or "Don't even think about doing 'X'" or I'm gonna ...," (followed by manically chasing them down a Target aisle).
Parents in Jersey not only teach their kids how to act at home, but prepare them for the world around them. Sure, there are great cities in Jersey that make you feel safe and warm inside, but just outside of those towns, there is a 7-Eleven parking lot that can teach your kid about a whole other side of life while they're trying to buy a Cherry Cola Slurpee. There's not a kid in Jersey that hasn't learned the fine art of giving directions based on Dunkin Donuts locations or how to properly order at a Wawa by the tender age of 10. There isn't a single child who hasn't learned to cross to the other side of the street when "someone shady" is nearby or the subtle art of giving the "let's get outta here" side eye when some- thing's about to go down.
Of course, I don't want my kids to be cursing like truck drivers or throwing up the finger on the bus, but I think the diversity of Jersey is what I love so much and I'm not just talking about cultural diversity. I'm talking about the "So what I wheel a mattress and box spring all over town?" diversity or "I sometimes walk around with a Komodo dragon under my shirt" diversity (true stories). I'm not sure why but people in Jersey seem to be too busy to hide their idiosyncrasies from the world and I love it! I want my kids to be around people who are who they are!?
I've always lived in South Jersey, but a few years ago my family and I decided to move from Exit 3 to Exit 4—this was a big decision. Every so often I'd drive through my old town reminiscing about pulling my kids' wagon to t-ball games and the park. One day, as I was driving through town, I saw a man, drunk with an eye patch on, stumbling down the street, mumbling something incoherent and I thought, "Gosh, I miss this town." It was quirky. It was REAL, and I loved it.
No town in Jersey is perfect. Every town has its big mahoffs and families struggling to get by; it's got its quilting grandmas and conspiracy theorists, but at its core raising kids in Jersey means raising kids who get it. Sometimes you win, sometimes you lose. So what if you've screamed, "Are any of youse guys listening to me?" or "I'm about to punch a b*tch!" (That's probably just my mom), but who hasn't?
Parents: Know that raising your kids "Jersey" is a gift that will help them in the long run. They will be kids who can "read" people. They will be the kids who accept people who are different, even when they have a Komodo dragon under their shirt (I swear this is true). And they will be the kids who get it. You can't tell me there's a kid in Wisconsin who is getting this kind of education on a daily basis. I mean, for real, they probably don't even know what a Wawa is ... weirdos.
Comedian Dena Blizzard is a married mother of three, a former Miss New Jersey and the writer, producer and star of the Off Broadway hit show "One Funny Mother." In her free time she folds laundry, is a carpool mom and has created a dirty board game called "Chardonnay Go, For Wine Lovers, Moms and Other Shameless People." Find Dena at Facebook.com/DenaBlizzard or at the Cheesecake Factory.
Published (and copyrighted) in South Jersey Magazine, Volume 13, Issue 12 (March, 2017).
For more info on South Jersey Magazine, click here.
To subscribe to South Jersey Magazine, click here.
To advertise in South Jersey Magazine, click here.