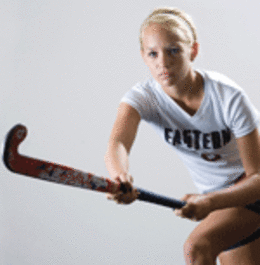 Power Players
These high school athletes stand out on the field and in the community.
These high school athletes stand out on the field and in the community.
From fall's football players to spring's track stars, the athletic talent in South Jersey is impressive regardless of the season. This year, there are scores of athletes in a variety of sports whose heart, dedication, skill and character allow them to perform at an extremely high level. Once again South Jersey Magazine has identified some of the region's athletes to watch. These fall sports stars have distinguished themselves with their performance and sportsmanship, both on and off the field. There are different things that make an athlete successful, but this year's power players all share two traits in common:
hard work and an unending desire to compete.
Q&A Corrine Allen, Eastern High School Field Hockey (pictured)
Considered among the top field hockey players in South Jersey, Allen was a first-team all-Olympic Conference American Division performer for an Eastern team that won its 11th straight state Group 4 field hockey championship and was New Jersey's No. 1 team after claiming the Tournament of Champions title in 2009.
A vital contributor as a midfielder to Eastern's offense and defense, Allen has already accepted a field hockey scholarship to the University of Iowa.
Why Iowa?
It's a Big 10 school and had what I was looking for, and I knew a lot of girls like [former Eastern stars] Kelsey Mitchell and Geena Lesiak. It's a great field hockey program, and my mom [Hope] went to the University of Iowa and played field hockey there.
Your current teammate Brittany Evangelisti will also be attending Iowa. Did that factor in your decision?
She committed first before I did, and that was more of a reason, another pro on my list.
What has it been like to play for an Eastern program that, under coach Danyle Heilig, has earned the reputation as being one of the best in the country?
It's been an honor, and I feel lucky I got to go to Eastern. Coach Heilig has started such a great tradition, and it's been an unbelievable experience to be part of it.
How much pressure is there to keep up the tradition at Eastern?
There is some pressure there. You always have to keep up the tradition that has been set in place. We've all been playing together awhile and feel confident.
Are you relieved to have made your college decision before your senior year started?
Yes, definitely. The whole college recruiting process is such a long ordeal, and I'm glad it's over and think I made a good decision.
How long have you been playing field hockey?
I had a stick in my hand since I was little, with my mom playing. She got me and my sister started. I began organized field hockey in fifth grade.
Do you have any game-day superstitions?
I always have to have the same under-socks under my shin guards, and always have to wear my hair the same way.
What are you looking to study in college?
I am interested in physical therapy and think I will study physiology and kinesiology in college.
Any hobbies?
I love shopping and hanging out with my friends.
Is there somebody you look up to as an athlete.
My sister Jessica will be a junior field hockey player at the University of Michigan. As the older sister she got to make all the mistakes, and I got to learn from them. She is a great athlete and I have always looked up to her, and now I am following in her footsteps.
Where do you see yourself in 10 years?
If I pursue physical therapy, being a physical therapist for a professional team, continuing to better myself and playing field hockey pickup.
Q&A Bill Belton, Winslow Township Football
One of the most electrifying football players in recent South Jersey history, this 5-foot-10, 180-pound quarterback accounted for more than 3,000 yards last season as Winslow Township earned a South Jersey Group 3 playoff berth. Belton ran for 1,192 yards and 15 touchdowns, and threw for 2,305 yards and another 15 scores. Considered one of the top prospects in the state, Belton has accepted a football scholarship to the University of Pittsburgh, where he was recruited as an athlete.
What impressed you most about Pitt?
When I went on my visit they gave me an academic presentation and that pretty much sold me on the school. It wasn't just about football, but preparing for life after football, and that sold me.
Do you ever see yourself on tape and ask, "How the heck did I do that move?"
[Laughing] Sometimes I amaze myself. God has blessed me with a lot of talent, and I thank Him every day for that.
You've played different positions growing up. Could you chronicle that?
I grew up playing running back. In the eighth grade I started playing quarterback and also did freshman year. As a sophomore I moved to wide receiver and moved back to quarterback last year.
Do you ever think of playing football beyond college?
I think everybody thinks of the NFL, but the important thing is to keep working hard.
Any hobbies?
I love playing Madden NFL. I'm pretty good at that.
What has been your best moment on the athletic field?
Sophomore year we were playing Timber Creek and were down by six points, and they threw the fade route to me and I made the catch as time expired. It was a big play for me and boosted my confidence sophomore year.
Favorite subject?
I tend to do well in science.
Has it hit you yet that you have earned a scholarship to play Division I football?
It's all pretty exciting. Growing up, watching Division I school play in general, I am a big college football fan. This is a dream come true.
What do you like most about football?
Just going out there and competing. I love the hitting, the atmosphere and going out there and trying to be the best player I can.
Is there any athlete you look up to?
Last year I watched [University of] Florida a lot and I liked the way [quarterback] Tim Tebow led his team. I would say he would be like a role model.
Is there a team you root for?
I am a big [Denver] Broncos fan. I was 6 or 7 years old when John Elway and Terrell Davis were there. At that time I was still trying to find my team, and ever since then it's been the Broncos.
What is the key for continued improvement and success in football?
My parents tell me to keep a level head and don't let the attention get to me too much, and just keep working.
Q&A Ally Curtis, Moorestown High School Girls' Tennis
A fourth-year varsity performer for one of South Jersey's top programs, Curtis has become one of the most accomplished doubles players in the region. She has a career 75-14 record, all at doubles. As a freshman she was 26-4 playing No. 2 doubles. She went 21-7 as a sophomore and 28-3 last year when she was a New Jersey Interscholastic Athletic Association quarter-finalist. Curtis will attend Curry College in Milton, Mass., where she plans to play tennis.
What was your reason for choosing Curry College, and do you know what you will study?
I loved the campus and it wasn't too big. Education and sports management are my two main interests right now.
How old were you when you started playing tennis?
Three-years-old—so I have been going awhile.
Three years old?
There was a clinic for young kids, and my parents signed me up and thought it was a good way for me to spend my energy.
What do you like most about doubles?
One of the most fun aspects of tennis is you have to be able to know where your partner is all the time and work together. I have been very fortunate because [my coach], Mr. [Bill] Kingston has gotten me great partners each year.
Is winning 100 matches a goal?
I never thought of goals for wins. My biggest goal is that I want to keep improving and win that next match.
You worked as a tennis instructor this summer. How did you like that?
I love teaching kids tennis at Dream Valley Tennis Club in Haddonfield. I worked there as part of a summer camp that my coaches run, and I love the kids and know most of their families.
Would you like to be a tennis coach later on?
That is what I hope to be.
What do you enjoy doing outside of tennis?
I am learning French right now, and I hope to one day take a few courses in France.
What is the hardest part about tennis?
The mental game, definitely. Most people say you are not playing against your opponents as much as playing against yourself, and you have to be mentally tough to play and be good at it.
Have you ever been to a professional tennis match?
I've been to the U.S. Open a couple times, and it's amazing to watch such talented players. I love watching them play.
What is the best aspect of playing for Moorestown?
The teammates. It's a great team. Going into high school and having something like this to be part of, this is awesome and it's like a family.
Q&A Natalia Ocasio, Lenape High School Girls' Cross Country
As a freshman last year, Ocasio burst onto the scene by winning the South Jersey Group 4 cross-country championship with a time of 18:24. She then placed ninth in the state Group 4 meet and 20th in the Tournament of Champions. In addition, she helped Lenape win the Olympic Conference American Division title. During the spring, Ocasio emerged as one of South Jersey's top 1,600-meter runners, placing fourth in the state Group 4 meet in the 1,600.
Were you surprised to win the South Jersey Group 4 cross-country title as a freshman?
Yes. I couldn't even speak I was so excited and surprised, and didn't know what to say. I was so thankful to my coaches, and even though I trained hard, I didn't think I would end up that high.
How long have you been running?
I started running competitively in seventh grade, but I always ran with my parents when I was younger.
Were they runners?
My mom was a track star and held records in her high school in Puerto Rico. My dad never did track in high school, but he was always a good runner.
Do you still run with your parents?
Of course. Sometimes it's hard for them to keep up, but they are great. My mom rides a bike with me when I run.
What is the best part of competing for Lenape?
The support everybody gives me. Even the people who are hurt always are supportive and so nice. Sometimes there are teams that have a lot of drama, but our team is really a loving group and nobody fights, and it is really nice to be part of a team like this.
Was there anybody in particular who helped you last year?
Our captain Caitlin Orr [now competing for the University of Maryland] helped me so much. She was amazing and taught me everything I know.
It's still a long way off, but do you hope to compete in college in cross country and track?
Yes, I'm hoping to compete in college.
Any hobbies?
Music. I love all kinds of music and I love dancing, and I play the guitar. I took lessons for one year and started playing on my own. When you are all stressed out because of school and track, and your mind is boggled and crazy, you want to relax—and playing the guitar makes me relax.
Q&A Cameron Scotese, Washington Township Boys' Soccer
Known for having a motor that never stops, Scotese was named to the first-team all-Olympic Conference American Division squad as a junior midfielder. A relentless defender, he also showed the ability to jump-start the Washington Township attack. Scotese also plays at a high level of club soccer for the Pittsgrove Premier Titans. A top student, he is a member of the National Honor Society and the German National Honor Society, and is looking to play college soccer.
How long have you been playing soccer?
Ever since I could, for about 13 to 14 years.
What is your college strategy?
I want to play [in] college, and I want to go to a school where I can be an accounting major and German minor.
Why accounting and German?
My grandfather was an accountant, my uncle, cousin and dad are accountants. I took accounting last year and it came easy. I credit my teacher Mr. [Raymond] Anderson for my interest in German. He makes it easy to speak the language in class.
How about hobbies?
My whole room is full of soccer stuff. I watch it all the time. My parents bought me 20 hours of World Cup video and I watched it right away. I also enjoy going to school every day, and the teachers make it so enjoyable.
Any pre-game rituals?
I always put my right shin guard and sock on first, and always tie my right shoe first. If I do well, then at halftime I will re-tie them.
How long do you want to keep playing soccer?
If I don't make it in pro soccer, I want to be playing somewhere. I will probably play until I can't. I always hear people say they wish they could be out there competing, so I will enjoy the moment.
How would you characterize yourself as a player?
I am a hard tackler and hard-nosed defensive player. I take a lot of pride in my tackles, and that ignites the team. I like to think I do the silent things that help a team.
Q&A Ben Potts, Haddonfield Boys' Cross Country
When did you first start distance running?
My dad would try to get in shape for road races, so I would go with him. I think the first [time] I did it was in third grade?
When did you start beating your dad in running?
[Laughing] I think I beat him in that first time in third grade.
What do you enjoy most about running?
The whole team aspect, and having somebody to share your victories and not so great times with—and being able to train and talk to them.
What would you like to study in college?
Computer science or physics—both things I really find interesting. Both of my parents have come from a computer background, and I have built a couple of computers. It's not as hard as people make it sound.
It's not hard to build a computer?
Most of the parts are interchangeable. You take an old case and old hard drive and put a couple of different components together. Growing up around it, it becomes part of your logic and something you like to do.
Any hobbies?
I like playing the guitar and piano. I took lessons when I was younger, on the guitar, and the piano I picked up playing by ear.
Any moment that truly stands out in your athletic career.
Either this winter, when we won the [four-by-one mile] indoors and we missed the indoor national record by a half a second [at the National Scholastic Indoor Championships at the Armory in New York]. In the national championships this summer we won the [four-by-one mile relay] in Greensboro. Both were kind of cool.
How many miles per week do you train?
It varies depending on the time of the year. It can be anywhere from 45 miles per week to 80.
How hard is all that training on your body?
It's very tiring. Toward the middle of cross country season you really feel how many miles you have done and try to follow what your coaches say and make sure you sleep and eat well so you don't feel the mileage.
Where is the best place to run?
We go to Wissahickon Park in Philadelphia every weekend and that is a pretty good place to run.
I take it that you don't miss too many days training?
Once you are a junior or senior, you rarely have days off.
What is the best thing about being associated with Haddonfield track and cross country?
Just the connection to the guys on the team and to the coaches. Since we have a small school, everybody is behind you trying to make you do better, and that is probably the best thing.
Q&A Shannon Dennehey, Shawnee Girls' Soccer
How long have you been playing soccer?
Since I was 6. My mom put me in a munchkin league and I loved it.
You have had two surgeries, one on your right ACL and meniscus, and another on your left knee since eighth grade. How are you feeling?
I feel great. Sometimes after fitness [training] and running long distance I will feel sore. My right knee doesn't bother me anymore, but sometimes my left does.
Were you surprised how dominant you were last year considering it was your first full high school season due to the injuries?
I felt I had so much to prove and show, especially since nobody really heard of me.
What do you like most about playing soccer?
I like all the girls on my high school and club teams. As for the soccer part, I am pretty fast, and I like racing people and challenging defenders one on one.
While nobody heard much about you heading into your junior season, now you are a marked player. What is that like dealing with defenses geared up to stop you?
That started happening toward the end of last season where I was getting double-teamed. It's a little frustrating, but then you realize when a team does that it leaves your teammates open.
Favorite subject?
Chemistry. I'm not much of a math person.
What would you like to study in college?
I really want to do physical therapy. I have been to therapy a lot, and it's something that really interests me.
How much perseverance did it take to come back not once, but twice from knee injuries?
It was a lot of work. You have to deal with sitting for a couple of months, watching and not playing and getting your muscle back. I still don't have as much muscle as I used to. It takes time, and the key is you can't rush it. But it is all worth it: I don't know what I would do if I couldn't play soccer.
You seem to be a true soccer enthusiast.
I love it, playing and watching it. I was really into the World Cup this summer and watched every game.
Q&A Mike Zeuli, Cherokee High School Football
A key two-way performer for Cherokee's 11-1 team, which was the consensus No. 1 squad in South Jersey, Zeuli rushed for 424 yards (8.2 average per game) and five touchdowns. He is also a first-team all-conference and second-team all-South Jersey linebacker and strong safety for the SJ Group 4 champs. Zeuli, who has a 3.7 grade point average, entered the year with six varsity letters; he was 23-5 at 189-pounds in wrestling and also a first-team all-conference selection in lacrosse. He hopes to play college football.
Star Watch
A look at some of the other players to watch this season in the tri-county area.
BURLINGTON COUNTY
Dillon Lucas, senior, Shawnee football. Lucas was a consensus first-team all-South Jersey linebacker after recording a staggering 172 tackles.
Alyssa Findlay, senior, Rancocas Valley soccer. Among the best returning midfielders in South Jersey, Findlay was a first-team all-Burlington County Liberty Division selection and named first-team all-South Jersey by the South Jersey Coaches Association.
Nicole Curry, senior, Lenape soccer. A second-team all-Olympic American Division defender and one of the leaders for the three-time defending South Jersey Group 4 state champions.
Kyle George, senior, Willingboro football. Considered one of the top pass rushers in the area, the 6-foot-4, 230-pound George has already accepted a football scholarship to Rutgers.
Aubrey Fisher, senior, Cherokee field hockey. Among the top returning defenders, she was a first-team all-Olympic Conference American Division defender.
Kevin Miller, senior, Holy Cross football. This tight end has already made a verbal commitment to attend Central Florida after catching 21 passes for 396 yards and four touchdowns as a junior.
Reggie Paris, senior, Pemberton football. A defensive end and tight end, Paris has already accepted a football scholarship to Villanova.
CAMDEN COUNTY
Taylor Ng, sophomore, Haddonfield tennis. As a freshman she was the best player on the best team in the state, leading Haddonfield to a 32-0 record and the Tournament of Champions title. Ng was also the consensus South Jersey Player of the Year after going 40-5 at No. 1 singles.
Tyler Miller, senior, Bishop Eustace soccer. A Division I prospect, Miller was named first-team all-South Jersey by one publication as a goalie. He might have the strongest foot in South Jersey.
Megan Venables, senior, Highland cross country. Among the top runners in the state and an All-South Jersey selection as a junior, Venables finished second in the state Meet of Champions to Kingsway's Chelsea Ley (who was featured here last year).
Matt Nussbaum, senior, Haddonfield cross country. A consensus all-South Jersey selection as a junior, Nussbaum was second in the Group 2 state championships and 29th in the Meet of Champions.
Kwasi Acheampong, senior, Eastern soccer. A first-team all-Olympic Conference American Division choice, Acheampong returns as one of the top defenders for one of South Jersey's top teams.
Damiere Byrd, senior, Timber Creek football. A dual threat as a receiver and running back, he caught 38 passes for 605 yards and four touchdowns, and rushed for 685 yards and eight touchdowns on 78 carries last season.
Jamie Silverberg, junior, Cherry Hill East tennis. Last season Silverberg went 33-3 and was the only South Jersey player to defeat Haddonfield's Taylor Ng, winning in three sets in the final of the Camden County Tournament.
GLOUCESTER COUNTY
Rondell Gilmore, senior, Kingsway football. He is one of the top defensive backs in South Jersey and also a dangerous quarterback. Gilmore is a Division I football prospect and has been a starting guard for consecutive South Jersey Group 3 basketball champions.
Jamie Robinson, senior, West Deptford field hockey. As a junior, Robinson set a West Deptford single-season record with 36 goals and added 10 assists.
Kevin Calloway, senior, Clearview soccer. The South Jersey Soccer Coaches Association chose Calloway, a midfielder, as a first-team all-South Jersey selection.
Paul Szulewski, senior, Williamstown cross country. Finished 10th in the state Meet of Champions, the highest place among returning South Jersey runners.
P.J. James, senior, Glassboro football. An explosive running back, James averaged more than 11 yards per carry in rushing for 1,730 yards and 21 touchdowns as a junior.
Vince Kowalski, senior, Williamstown football. This two-way lineman has already accepted a football scholarship to Villanova, where he was recruited as an offensive lineman.
Karon Gibson, senior, Woodbury football. One of South Jersey's top two-way players, Gibson was a dominant force on both sides of the ball for Woodbury's South Jersey Group 1 championship team in 2009. He is a fourth-year varsity starter.
Kelsey DiVirgilo, senior, Williamstown volleyball. Had a team-leading 215 digs and also recorded 27 aces and 153 kills for one of South Jersey's top programs.
Published (and copyrighted) in South Jersey Magazine, Volume 7, Issue 7 (October, 2010).
For more info on South Jersey Magazine, click here.
To subscribe to South Jersey Magazine, click here.
To advertise in South Jersey Magazine, click here.