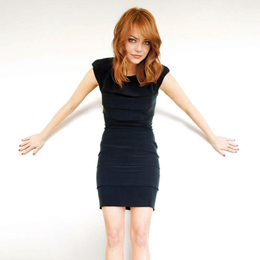 A Tough Act to Follow
Emma Stone still recalls the days when she was an aspiring actress and had to suffer through auditions that could often be humiliating. It's a process that can either destroy you or make you stronger, and in Stone's case it simply emboldened her to keep pursuing her dream. Up close and in person, Stone is even more radiant than her character in La La Land, a throwback to old-style Hollywood musicals that cleaned up on this year's award circuit, including Oscars for Best Director and Best Actress. Playing Mia, a struggling actress who refuses to give up in spite of repeated rejection, the lithe red-headed beauty identified with her character's spirit, up to a certain point.
"It's a story about the kind of madness you need to keep hoping in spite of everything and everyone, and the courage required to pursue your dreams even when they seem impossible," Stone says.
In contrast to her character's six-year quest for fame and fortune, Stone had a slightly easier time. "I kind of struggled for three years while getting the occasional small part. I don't know whether I would have been able to keep pushing for as long as she does."
Ryan Gosling co-stars as Sebastian, the jazz pianist who accompanies Mia along her journey, and he and Stone bring an irresistible chemistry to La La Land's otherwise magical atmosphere, singing and dancing their way through this glorious musical romance. Directed by Princeton's Damien Chazelle, whose Oscar-nominated Whiplash was a far darker musical journey, La La Land was a home run with critics and audiences alike who were particularly swept away by the film's abundant sense of optimism and insouciant spirit.
"What distinguishes La La Land is its hopefulness, joy and beauty," says Stone. "The film is about dreaming, and hoping and working to achieve something. The characters might be cynical about what they are going through, but the movie itself is in no way cynical—it's about dreaming and hoping and working to achieve something. I think young people have fallen into cynicism, and making fun of things and pointing out the flaws in everything. This movie is what I hope young people will do: work hard and achieve their dreams instead of being cynical."
The 28-year-old Emma Stone, who grew up in Arizona, is cur- rently one of Hollywood's hottest actresses and no doubt her phone is buzzing with offers. She has already signed on to star in Love May Fail, the film adaptation of the book written by Oaklyn native Matthew Quick, the author behind Silver Linings Playbook.
Last February, and long before the La La Land wave of publicity, Quick told South Jersey Magazine how excited he was to have Stone attached to the project. "First off, I'm extremely grateful any time people of that caliber—you're talking about A-list, one of the top five actresses in demand in Holly- wood—takes interest in my characters. You know, the kid from Oaklyn who grew up in South Jersey, his mind is blown," he said.
THE INTERVIEW
SOUTH JERSEY MAGAZINE: Emma, this is the third time you've co-starred with Ryan Gosling having previously appeared in Crazy Stupid Love and Gangster Squad together. How do you find working with Ryan?
EMMA STONE: We've become good friends over the years. He's a very warm and funny guy to be around, and we have really good chemistry together. We knew we had that from our first few scenes working on Crazy Stupid Love together and that makes it so much fun for us to be on a set together.
We know each other so well now that it's hard for us not to burst out laughing while we're doing some of our scenes. Ryan is very sweet, kind and nice and he's also a really devoted dad. (Gosling has two children with actress Eva Mendes.)
SJM: How did Damien Chazelle wind up casting the two of you together in this film?
ES: Damien was a fan of our work in Crazy Stupid Love. He liked the idea of casting two actors who had already starred together before, like in the golden era of musicals where Ginger Rogers and Fred Astaire became a famous film couple—not that I would compare myself to Ginger Rogers—but that's the kind of chemistry Damien was looking for between us.
SJM: What was it like preparing for all the dance numbers you and Ryan get to perform in the film?
ES: I was lucky that they didn't need you to be technically perfect in dancing and singing for this kind of story. I was also fortunate to have had some experience in musical theater productions like Cabaret (which she performed on Broadway over a year ago) but it still took two months of hard work to learn the choreography.
I had a lot of fun learning the dance numbers with Ryan, though, because we've been good friends for so long and it's much more pleasant and fun to spend all that time learning the dance numbers when you're doing it with a close friend.
SJM: Your character suffers through some tough auditions. Did you also go through those kinds of traumatic experiences when you were starting out in your career?
ES: I came to Hollywood when I was 15 and unfortunately, I have many bad experiences from auditioning which I was able to use to be able to use to play Mia.
Almost every actor I know has terrible audition stories and my worst memory was when I wasn't allowed to have my lines before the actual audition took place. I was 16 at the time and I was having trouble getting the lines right and this [casting director] started screaming at me and telling me how unprofessional I was. It was insane.
But I never had to suffer the kind of humiliating experiences that Mia has which is why I think she's so brave and keeps going no matter what.
SJM: Did appearing in Cabaret prior to shooting La La Land give you more confidence when it came to all the song and dance numbers in the film?
ES: Oh, I was looking forward to it. I just have to take care of my voice because sometimes if I sing too loud I have problems with my vocal chords. I had to take medication while I was doing Cabaret because of that. But getting to play Sally Bowles (the char- acter made famous by Liza Minnelli in the 1972 film) on Broadway was a dream come true for me.
When I was 9 years old, my mother, who loved the theater, would take me from Scottsdale, Arizona where I was born to see Cabaret performed on Broadway in New York. I remember we were able to buy the rush tickets and we got to sit in the front row. I'll never forget that!
SJM: When you were trying to establish yourself in Hollywood, how determined were you to succeed?
ES: Acting was something that helped me overcome a lot of my anxiety and doubts in life. Your teenage years can often be very difficult, but I was very lucky that I knew that as soon as I started doing it that this was what I wanted to do with my life. So that gave me a lot of drive and ambition.
But even after you start getting bigger parts and you're getting more and more recognition you never really feel secure. You're always worried about getting the next good role or how your last film did. I think that acting is the kind of profession where you're always a bit worried about the future. You can be playing in one great film after another and still feel anxious about being able to find the same kinds of good roles. That's the nature of the business.
SJM: Is Hollywood a hard place to succeed in because there is so much competition especially for actors looking for that first big break?
ES: It's an exciting place to be, and in some ways, disturbing. It's not easy to live in a city where almost everyone has the same dream.
Today, there are so many tools that can help aspiring actors get started compared to the past. It's so much easier to make a short film and put it on social media. My advice to young actors is to just go ahead and do it! You don't have to wait for someone to offer you a small part, you can write and make your short film and see where that takes you.
SJM: What does acting mean to you?
ES: I try to do my job and hope that it helps bring a smile and maybe some hope to people.
Published (and copyrighted) in South Jersey Magazine, Volume 13, Issue 12 (March, 2017).
For more info on South Jersey Magazine, click here.
To subscribe to South Jersey Magazine, click here.
To advertise in South Jersey Magazine, click here.