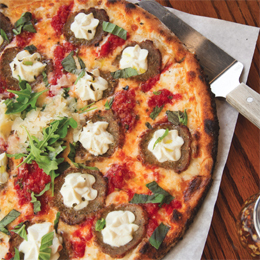 Quick Bite: Pizzeria Mannino's
Walking into this corner eatery on Pitman's main drag during a recent visit, there was tremendous energy. The cozy dining room was buzzing thanks to a packed house of folks from the neighborhood and beyond. Some, like myself, were visiting for the first time. Others had become somewhat regulars, including the gentleman seated next to me while waiting for a table to open up.
"Have you ever been here before?" he inquired.
?"No, this is my first time," I replied.
?"Well, you're going to love it," he assured me.
?I admit, I was eager to sample the wood-fired pies after having some delectable meals at the restaurant's sister location down the block, but I am not one of these folks who foolishly believes that there is no such thing as bad pizza. Trust me; there is plenty of bad pizza. It's everywhere you look. So I was left to wonder whether this glowing endorsement would meet my standards. About a half hour later I realized the man knew what he was talking about.
Of course, the Mannino name is no stranger to Pitman. In late 2014, Mannino's Cucina Italiana opened on South Broadway, bringing well-executed Italian fare to the once-again bustling heart of town. Since then, new eateries and two breweries have opened up shop, boosting Pitman's culinary profile, including this space which was formerly a flower shop. Fitting, because every meal I've had here has come up roses.
The perfectly blistered Neapolitan-inspired pies coming out of the gorgeous brick oven are created using high-end ingredients that any gourmand can appreciate. Items like sausage and mozzarella are made on the premises while other ingredients come by way of Italy.
The Polpette features thinly sliced meatballs, fresh mozzarella and ricotta cheeses and a rich San Marzano tomato sauce. The dough—aged for 72 hours—is slightly chewy with enough of a char from the oven without being burnt, a skillful feat given that the pies are cooked at upward of 900 degrees.
The Short Rib pie marvelously blended the shredded meat with caramelized onions, mozzarella, sharp provolone and arugula. The tender beef worked in concert with the sweetness of onions and the bitterness of the arugula, with the cheese serving as a harmonious background accompaniment.
During another visit, I couldn't help but devour the Cremini pie with my fellow diners. Earthy mush- rooms and roasted garlic stole the show on this red pizza, though we all wondered aloud if a white version would be even better.
There are other menu items worth your attention, too. If you're having lunch, you'll also want to order a panini. The Rustico—parma prosciutto and fresh mozzarella with roasted peppers, basil and arugula—is a fine choice, as is the Giardino, which features roasted vegetables, fresh mozzarella and pesto.
A few salads and smaller items like bruschetta and wings (also cooked in the wood oven) round out the selections, but the pizza is certainly the main attraction. If you've been here before, you know what I'm talking about. And if you are considering visiting for the first time, take my advice; you're going to love it.
PIZZERIA MANNINO'S
170 S. Broadway?
Pitman ?
(856) 716-6366
Published (and copyrighted) in South Jersey Magazine, Volume 13, Issue 11 (February, 2017).
For more info on South Jersey Magazine, click here.
To subscribe to South Jersey Magazine, click here.
To advertise in South Jersey Magazine, click here.