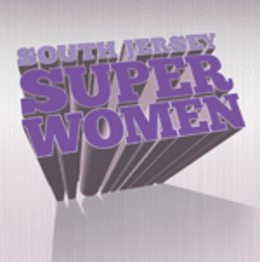 South Jersey Super Women
Meet 40 leaders, innovators and philanthropists who are changing South Jersey for the better. They may not wear capes or boast X-ray vision, but there are superwomen all around us in South Jersey. These fearless leaders have the inspiration and endurance to leap over any obstacle in a single bound: launching businesses, creating nonprofit organizations, caring for community members, innovating in science and the arts, and making our region a better place to live. We'll introduce you to 40 of the many superwomen who walk among us, and find out what drives them to use their powers for good.
Assemblywoman Pamela Lampitt
The four-year assemblywoman for the Sixth Legislative District is known for battling for green initiatives and advocating for a broad range of students' issues. In addition to her day job at University of Pennsylvania, Cherry Hill's Lampitt has served in several municipal government roles and is active on behalf of the cancer research group City of Hope.
Gisele DiNatale
After Gisele and Mario DiNatale lost their daughter to cancer, they chose to fight back, launching the Alicia Rose "Victorious" Foundation to improve quality of life for teenagers battling cancer. Gisele has put countless hours into the organization and is now working to build a teen lounge at the new Virtua Voorhees hospital.
Kathryn Donley
The stroke program coordinator for Kennedy Health System, Donley's primary concern is raising awareness of strokes, since immediate treatment is vital. She's gone to great lengths—26.2 miles, to be exact—to make that point, running the New York City Marathon last November to raise funds and awareness for the National Stroke Assocation.
Mayor Tish Colombi
Colombi has been a commissioner in Haddonfield for 25 years—the first woman in the borough to be elected to that role—and the mayor for nine years. During that time, she's strived for transparency and accessibility, with an open door policy that enabled borough residents to wander in on any given Wednesday and share their comments, complaints and ideas. As commissioner of public works, Colombi's the one who sees that the trash is collected and the streets are cleaned. She also co-chairs the state committee for women in government. And, as a two-time heart attack survivor, she's active with the Go Red for Women campaign and eager to help other women learn from her experience.
Cindy Chan-Sze
For more than a decade, Cindy Chan-Sze's Yokohama has been a fixture in Maple Shade. But it wasn't without hard work that the award-winning sushi restaurant gained such success. Without a college education, Sze came to America with plenty of ambition. After gaining citizenship, Sze worked as a chef and eventually manager in multiple restaurants, giving her the experience and expertise needed to open up Yokohama and help other new immigrants find their place in South Jersey.
Janice Myers
The owner of Ed's Tailor Shop in Mount Holly does far more than mend hems. The 29-year business owner is active in civic work and supporting community events—she even sewed the Easter Bunny costume for the town's annual egg hunt.
April Hale
A registered nurse, Hale worked her way up from candy striper to clinical director at Kennedy Hospital in Stratford. Impressive enough, but she's also getting her master's degree, caring for an elderly neighbor free of charge and acting as a second grandmother to the neighborhood children, who call her "Mama Hale." She spearheaded a volunteer effort to transform a wastewater treatment plant in Voorhees into the John T. Hale Sr. Memorial Park, which was dedicated last year, and is an active volunteer for her neighborhood civic group, the Ashland Residential Coalition.
Kristi Howell-Ikeda
The president and chief executive of the Burlington County Chamber of Commerce, Howell-Ikeda was also appointed by the Burlington County Board of Freeholders to the Burlington County Work Force Investment Board and the River Route Advisory Committee. She serves on the Advocacy Committee for the YMCA of Burlington County, and is on the board of directors for Burlington Township Food Pantry and Moorestown Theater Company, among many others.
Rabbi Gerri Newburge
The associate rabbi at Temple Emanuel in Cherry Hill has worked to make civic engagement a cornerstone of her congregation's practice. She organizes an annual alternative break program, to bring high school students to various cities for community service projects. And, she works with the synagogue's social action committee to organize food drives, blood drives and other community events. "I think it's important to teach the next generation that there are people in need," she says.
Lynn Lemyre
A talented artist and community arts advocate, Lemyre has been a force in making Mount Holly a more beautiful place for the past 20 years. She was previously the director of Main Street Mount Holly, and she launched the Mount Holly mural arts project with her husband, Jim Lemyre. The former visual arts director for Burlington County also runs the Home Fine Art gallery in Mill Race Village. Thanks to the Lemyres, more and more murals are sprouting up around town—through the Main Street program and independently. "It's kind of inspired other people to do projects themselves, too," Lemyre says.
Dr. Catherine Piccoli
One of the best in the country at what she does, the head of Women's Imaging at South Jersey Radiology was a pioneer in breast MRI and currently is involved with research on tomosynthesis, a cutting-edge breast imaging technology. The former head of breast imaging at Thomas Jefferson University Hospital, Piccoli helped South Jersey Radiology attain American College of Radiology Breast Imaging Center of Excellence designation.
Mary Ann Boccolini
Trained as a registered nurse, Boccolini made her way through a who's who of medicine—UPenn, National Institutes of Health, Memorial Sloan-Kettering Cancer Center and Philly's Veterans Hospital—before joining Samaritan Hospice as director of clinical operations. Today, she's chief executive of the nonprofit, which was at the forefront of hospice care when it launched 30 years ago. Under Boccolini's leadership, Samaritan is still at the cutting edge with palliative care, grief support and customized hospice programs designed to make patients' end-of-life experience as comfortable as possible.
Erica Rothkoff
This Cherry Hill mother of five (including two sets of twins!) organizes coat drives, volunteers with her synagogue and also runs her own business, Silly Pickles, making clothes for children and toddlers.
Barb Boroweic
When Barb Boroweic began selling Harley-Davidson motorcycles in 1987, she had a modest operation with only five employees. Today, she is the 17th-largest dealer in the country. No stranger to giving back, Boroweic also works with the local military, police and various children's organizations. Thanks to her "Armed Forces Freedom Ride," more than $100,000 has been raised to help area groups. For four years, Boroweic served as an honorary commander at McGuire Air Force Base. In recent years, she has helped organizations from Cooper Hospital to the Voorhees Animal Shelter, and inspired the Girl Scouts of Camden County to give her the Woman of Outstanding Achievement Award.
Carol Piermatti
Carol Piermatti personifies multitasking. The 56-year-old Voorhees resident wouldn't have it any other way. For the past two decades, Piermatti has worked as an entrepreneurial real estate investor. She even built her Camden County home from the ground up. Piermatti, a mother of three, also serves as director of marketing and advertising at Dental Arts of South Jersey, a practice owned by her husband, Dr. Jack Piermatti.
Candice Carlin
Moorestown's Candice Carlin isn't your typical entrepreneur. At only 25, Carlin is responsible for turning her lifelong passion of playing tennis into a growing hometown business. Carlin started Cruise Control—a line of men's and women's sportswear—when she was 22 and had just finished her tennis career at Villanova University. When she's not busy promoting her "Live For It" mantra, the Moorestown High School graduate volunteers as a singer at her parish.
MaryAnn Ragone
For the past 14 years, MaryAnn Ragone has been making things a whole lot brighter—and clearer—for thousands of underprivileged people in Camden and throughout South Jersey. Ragone followed her father, South Jersey Eye Center founder Dr. Lawrence A. Ragone Sr., into nonprofit work and is now chief operating officer of the eye center. She organizes fundraisers for the Sight First for Kids program, which provides free eye care for Camden City youth. She also is a leader with the Lions Clubs and Sons of Italy, working to combat Alzheimer's through philanthropic efforts.
Gail Clegg
Since the tragic death of her teenage son in 2008, Tabernacle's Gail Clegg has worked tirelessly to advocate for organ donation. When her son was on life support after being struck by a car while riding his bicycle, Clegg and her husband, Andy, decided to donate his organs. The couple has met with all the recipients of their son's organs, including one woman who, after receiving his heart, went on to give birth to twins. "Something good came out of something terrible," she says. "[Organ donation] helps so many people, and we feel it's helped us a lot." Today, Clegg gives talks on organ donation and works with several area nonprofits.
Loretta Mikulski
After a 1997 trip to a breast cancer rally in Washington, D.C., Loretta Mikulski was taken aback by the fact that there was no group representing her home state of New Jersey. On the ride home, the idea for the South Jersey Breast Cancer Coalition was born. Mikulski, a survivor, created the advocacy group to serve both patients and survivors, even assisting in paying some of their bills. While she is thankful for the increased awareness, you won't catch her wearing pink anytime soon. "The pink everywhere has watered down the message. Breast cancer is not pink because it's not pretty," she says.
Eleanor McKenna
For close to three decades, Marlton's Eleanor McKenna has been a prominent business leader in South Jersey. Working for Pat McKenna Realtors, a real estate firm she established with her late husband in the 1970s, McKenna has thrived in an industry that has seen its ups and downs and at times can seem male dominated. Despite the economic climate and the large real estate corporations around her, McKenna and her employees have continued this family-owned business with great success.
Erin Taylor
In truly inspiring fashion, Lumberton's Erin Taylor turned a tragedy into something positive for the community. After her new-born daughter died due to a heart defect in 2001, Taylor and her husband started the Sydney Mae Taylor Foundation to raise scholarship money for children affected by similar health problems. In the seven years since the group's inception, they have awarded 31 scholarships. The group also supports Camp BraveHearts, a volunteer-run summer camp for younger kids with heart defects. Recently, Taylor teamed up with Virtua's Cardiac Rehabilitation Department to bring heart-healthy education into area schools.
Dr. Generosa Grana
The director of the Cooper Cancer Institute and head of the Hematology/Medical Oncology at Cooper University Hospital in Camden, Grana also teaches at Robert Wood Johnson Medical School and the Coriell Institute for Medical Research. The 2009 Susan G. Komen for the Cure "Light of Life Award" winner has been a leader in breast cancer research and treatment, receiving top honors from Johnson & Johnson and the American Cancer Society.
Joan Rolsky
When a family receives the worst news of their lives—that their child has cancer—Joan Rolsky is the one who steps in. This 43-year social worker, who works at Children's Hospital of Philadelphia in Voorhees, has been working in pediatric oncology for four decades, helping children, families, classmates and others to understand and cope with tough diagnoses. Rolsky's book, Your Child Has Cancer: A Guide to Coping, is used in hospitals across the country; she's currently working with a group of teens on a booklet to give to other teenagers facing cancer diagnoses.
Marilyn Kelinberg
Marilyn Kleinberg is no stranger to networking. So in 2008, she built upon her background, as a former vice president at Chamber of Commerce Southern New Jersey, to launch the Southern New Jersey chapter of eWomenNetwork, a place for local businesswomen to connect for personal and professional growth via the Internet. Most recently, Kleinberg was selected to participate in the launch of a new AOL Jobs initiative to help people in life and career transitions.
Maria Patouhas
Maria Patouhas began working in local government, as a legislative aide for Senator Phil Haines, immediately after obtaining her degree in political science from Rutgers University. Now, she works as the manager of government relations for the South Jersey Chamber of Commerce, serving the community from behind the scenes. Last year, Patouhas served on Evesham Township's planning board, and she now sits on the zoning board.
Kathy McGuire
In Camden, they call McGuire "the skinny dog lady," as she walks the streets spotting, documenting and combating instances of animal cruelty. The founder of the five-year-old New Jersey Aid for Animals, Winslow Township's McGuire is a fulltime volunteer, orchestrating free shot clinics and spaying and neutering centers in Camden and elsewhere. Certified by the Ocean County Police Academy as an animal cruelty investigator, she tackles the cases that even the SPCA and the police won't touch, single-handedly bringing justice for abused animals and teaching others how to spot and report abuse.
Janet Papale
Thanks to Invincible, her husband Vince's story is Hollywood lore—but Janet Papale deserves her own spotlight. The mother of two is a full-time realtor with Long and Foster in Haddonfield, balancing real estate with managing her husband's packed schedule. The couple lend their time to several area charities, including Eagles Fly for Leukemia, and volunteer for the USO. The onetime head gymnastics coach at UPenn, Janet is currently working to launch Invincible Kids, an organization dedicated to recognizing children across the nation that have overcome obstacles with creativity.
Marita Barth
New Albany Elementary teacher Marita Barth has worked in special education at every school in the Cinnaminson School District at one time or another during her career. Working with kids is a passion that extends beyond the classroom. Barth is working to obtain her religious certification from the Trenton Diocese, in order to lead church youth groups and CCD classes. She also remains involved in the Cub Scouts and Boy Scouts, despite the fact that her sons have grown up. "I want to make sure these groups continue for other children," she says. "I love doing it, and I don't want to see it go away."
Karen Jennings
In 2004, Stratford's Karen Jennings had a busy year. That was the year she graduated Magna Cum Laude from Rowan University—and it was also the year she founded the Military Support Group of New Jersey Inc. The nonprofit ships care packages to troops overseas and shares support with relatives they left behind. When her son was deployed for his first of three tours in Iraq in 2003, Jennings felt compelled to link up with other military families. The first meeting netted seven attendees, but six years later, the monthly meetings have touched tens of thousands of people.
Iris Brown
The director of West Jersey Volunteers for Animals, a 12-year-old nonprofit animal rescue organization, Iris Brown has found loving homes for hundreds of animals across the Delaware Valley. When the animal shelter her group worked with in Pennsauken shut its doors in 2006, Brown and her volunteers picked up all the slack, fostering or finding kennels for animals until they could find permanent homes. Brown, who works at Clementon Animal Hospital, cut back her hours at her day job last year to devote more time to rescue work.
Liz Jaworski
The president of Ron Jaworski Golf Management, Medford's Jaworski oversees Valleybrook Country Club in Blackwood, Running Deer Golf Club in Pittsgrove, and RiverWinds Golf and Tennis Club in West Deptford—but she still finds time for charitable work. With her husband, ESPN football analyst and former pro quarterback Ron Jaworski, Liz runs The Jaws Youth Fund, which works with United Way of Camden County to help at-risk youth.
Melisa Skyrm
Cherry Hill native Melisa Skyrm was born the daughter of a horticulturist, and always loved flowers and nature. But it wasn't until she lived for 15 years in Seattle that she truly learned the importance of sustainability and health. When Skyrm moved back to South Jersey, she devoted herself to educating area residents about the benefits of going green. Working with Sustainable Cherry Hill, Skyrm has brought her message to local political, education and business leaders alike. She coordinates closely with groups like South Jersey Green Dining, gives talks on composting, and has helped develop community gardens throughout South Jersey.
Dr. Consuelo C. Cagande-Maestrado
A physician specializing in psychiatry, Dr. Consuelo C. Cagande-Maestrado is the medical director of Cooper University Hospital's inpatient psychiatric unit. She also directs the residency program, bringing future medical leaders up through the ranks. Beyond patient care Cagande-Maestrado works on several committees behind Cooper's new medical school and is the president of the Philippine American Medical Society of New Jersey. She credits her mother, an anesthesiologist who raised four children, with providing a strong female role model.
Sister Carmela Marie Cristiano
Sister Carmela Marie Cristiano arrived in South Jersey in 1983 and has been making a difference in our communities ever since. The former Pearl S. Buck Woman of the Year winner has established nonprofit childcare centers in the area and created My Mother's House Inc., a corporation dedicated to helping the homeless find jobs and housing. The Burlington County resident spent more than two decades as a teacher before getting involved in social work. Currently, you can find her making appearances in the community or working with the Mount Holly chapter of Deborah Hospital.
Nora de Cárdenas
After two decades as an attorney, Nora de Cárdenas switched gears and embarked on a new career path, seeking not only her own fulfillment but also the chance to help others. As managing director and co-owner of Visiting Angels of Central Burlington and Mercer counties, she focuses on giving elderly and critically ill people compassionate care in the comfort of their own homes. De Cárdenas has written extensively on senior care, and gives frequent seminars and workshops on aging, wellness and elder care.
Tony Pergolin
Bancroft provides schooling and support programs for hundreds of children and adults with developmental disabilities, brain injuries and autism-related disorders. The president and chief executive, Pergolin has used her accounting background to improve the organization's financial stability, while expanding its services. A board member for Our Lady of Lourdes Health Care Services and the Chamber of Commerce of Southern New Jersey, she's also a Eucharistic minister for her church.
Terry Ricca
If you've had a luxurious massage at Virtua's vir tú spa in Washington Township or expert perinatal support at Virtua Voorhees, you might have Terry Ricca to thank. The vice president of enterprise partnerships and retail programs has created partnerships with University of the Sciences in Philadelphia and Coriell Personalized Medicine Collaborative. She previously helmed the Women's and Children's Programs of Excellence, instituting standards like postpartum depression screenings within a day of delivery and extensive support programs.
Tammy Evans-Colquitt
When Tammy Evans-Colquitt was working on her college thesis on the welfare system, she was touched by the many challenges women in the system faced. Today as president and chief executive of Image and Attitude, she helps many women in that predicament by providing a "career closet" consisting of gently used business attire and job-readiness training. By instilling confidence in the women, she has been able to help many take the next step in gaining meaningful employment in South Jersey. Her organization also runs workshops and women-to-women support groups to help keep new employees on track and on the road to a better future.
Jill Ross
By day, she's relationship manager and assistant vice president at Beneficial Bank in Cherry Hill—coaching businesses as they grow and helping newly divorced women take control of their finances, among other duties. By night, she really is a super woman. Ross is on the board of Crossroads Program, a nonprofit that empowers at-risk youth; works with the United Way's Economic Development Council; volunteers for Hope Works counseling first-time home buyers; mentors youth on finances and careers; works with the Cherry Hill Chamber of Commerce; supports Sustainable Cherry Hill's Green Team; and participates in the National Association of Women Business Owners.
Fran Fox
Fran Fox spent 14 years working at Thomas Jefferson University as a registered nurse, making sure to give her patients the personal care they deserved. In addition to her professional career, Fran became involved with The Leukemia and Lymphoma Society after her son was diagnosed with the disease in 1991. Soon after, she became a national trustee for the society, working closely with other members to raise awareness. Then, in 2001, came one of her biggest challenges. Shortly after Sept. 11, Fox embarked on a new business venture to bring non-medical home care to area seniors. Together with her husband Jim, they opened a franchise of Home Instead Senior Care in Mount Laurel and in March 2007, opened another territory in Somers Point. Thanks to her efforts, countless seniors are getting everything from help around the house to respite care.
Published (and copyrighted) in South Jersey Magazine, Volume 7, Issue 7 (October, 2010).
For more info on South Jersey Magazine, click here.
To subscribe to South Jersey Magazine, click here.
To advertise in South Jersey Magazine, click here.