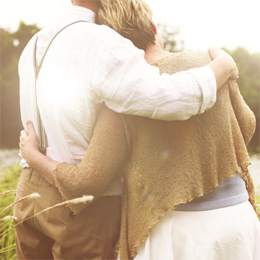 Lasting Love
Ask any married couple to define what makes their relationship successful and you'll surely get varied answers, but the one overriding theme will always be true love. And if love is the foundation, they'll tell you it takes lots of hard work to build something that can last. In the spirit of Valentine's Day, we spoke to several South Jersey couples who have been on this journey for decades to hear how they found happiness in each other and how they've been able to strengthen their bond over time. From persistent courtships to lasting memories, these remarkable stories are shining examples of the power of love.
Dominic & Grace Reitano
Married 53 years
You could say this Washington Town- ship couple found each other to help mend their broken hearts. "I was going with a boy all through school and he was going with a girl all through school," says Grace. "And after graduation, we both broke up."
Grace's aunt knew she was upset about the break-up and wanted to fix her up with a distant cousin from her husband's family who was in the Army and stationed at Fort Bragg in North Carolina. The couple began to correspond and when Dominic came home on leave from the Army, they had their first date.
Having only spoken about their previous relationships, they both told their mothers that the other person was still hung up on their ex and nothing would ever come of this. "But we continued to correspond and for the second date he came home on leave again and that was it," says Grace. "Two years later we were married."
Grace says Dominic is a gift from God. "I prayed and prayed that God would send me a good man and God sent me the best he had when he sent me my husband," says Grace.
After all these years, Grace says becoming each other's right hands is what has kept them together and happy this long. "We know each other after all this time and we give each other our space," says Grace. "It's mutual respect and seeing the good in each other and not the bad."
Donald & Simone Cochrane
Married 59 years
In a relationship, persistence is key— or so that is true for Mount Laurel couple Donald and Simone who were introduced through Donald's uncle. "I had just graduated high school and met [Donald]," says Simone. "He proposed within a couple of weeks and I refused him."
That's right—Simone turned down Donald's proposal. She had a scholarship to go to college and study liberal arts and wasn't going to give that up to get married. But that didn't stop Donald. "He wrote me letters every day [when he was overseas in the Navy]. He also wrote a letter to my parents asking to marry me, so they responded yes," says Simone. "He was very persistent."
Simone says the couple has gone through a lot with their families and children and has learned that there is a lot of compromise and marriage is a commitment and not everybody is alike. "You have to accept each other's differences and remember why you got married," she advises newlywed couples. "Love is something that is always a thread in a marriage."
Ted & Cheryl Urbanski
Married 44 years
The Urbanskis' story starts in English class at Colonia High School in North Jersey in 1968. "I could not help but notice Cheryl because she was always dressed exceptionally and was the prettiest girl in class," says Ted. "After weeks, I got up the nerve to ask her out."
Being recognized as "Senior Class Couple" in 1969, Ted asked Cheryl's par- ents for her hand in marriage. He took her out to a romantic dinner and pro- posed over chocolate pudding. They got married four years later and lived in Rahway up until 23 years ago, when they moved to Hainesport.
The couple says doing things together is what keeps their relationship strong. They golf, bowl, work out and belong to a Corvette club together. Their three grandchildren also keep them active and elated.
"The only advice we could give the younger generation is to be true to your- self and each other," says Ted. "Never go to bed or leave the house mad; you never know what might happen. Also, keep your finances in check. Money—or lack thereof—can put a wedge in any relationship."
Chuck & Joyce Elliot ?
Married 50 years ?
Having celebrated their 50th wedding anniversary with a party that took place during the Jan. 7 snow storm this year, the Elliots are no strangers to hard work. After meeting all those years ago through their church, the couple fell in love with each other's complementing differences and decided to get married six short years later.
After raising their four children in Deptford, the couple took on the role of caregiver for their own parents. There was even a span of three years where Chuck was battling bladder cancer, but he got a clean bill of health in 2016. Having with- stood the stress that comes with sickness, Chuck and Joyce made good on a life-long dream and sold their home and moved to Ocean City to be closer to the water. What is their secret to getting to the golden years, you ask? Forgive and never go to bed angry.
Ed & Ruth Mars
Married 52 years?
For the Mars', falling in love was like a chapter out of the '80s sit- com Happy Days. "We met in our neighborhood soda shop like the Fonz and Richie Cunningham. The girls danced and the boys played pinball," says Ruth. They got married four years later and moved from Cramer Hill in Camden to Pennsauken where they raised three children.
"We stay fresh by reminiscing a lot about the good old days, and all of our friends," says Ruth. "Some are here, and some are not." The couple is content with what they have and visit with their family as often as possible which keeps their hearts full. She says they are lucky to have similar interests which keep them on the same side of agreements more often than not.
"Of course we have had our ups and downs, but we always seem to bounce back. We only want what is best for each other," says Ruth. "I guess we seem a little boring but hey, we're pretty old and pray that we have a lot more time together."
Published (and copyrighted) in South Jersey Magazine, Volume 13, Issue 11 (February, 2017).
For more info on South Jersey Magazine, click here.
To subscribe to South Jersey Magazine, click here.
To advertise in South Jersey Magazine, click here.