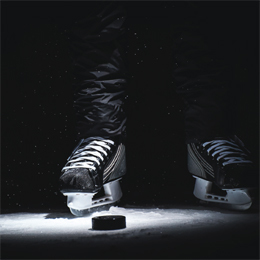 Ghost Story
The first major snowstorm of the winter is about to hit the DelawareValley in early January, and Shayne Gostisbehere isn't exactly thrilled about it.
Although the dynamic young defenseman for the Philadelphia Flyers spends most of his time on the ice, it turns out he actually can't stand the cold weather.
"I'm from Florida," says the man known affectionately as "Ghost." "I hate snow."
The Northeast winters aren't the only thing rattling the 23-year-old Gostisbehere in this, his second season in the National Hockey League. He's learning the hard way that amazing opening acts can be difficult to follow.
Last year at this time, "Ghost fever" was taking over the Philadelphia sports world, much in the same way that Joel Embiid of the 76ers is captivating the area's fans at the moment. In 64 games after getting called up to the team in November, Gostisbehere showed flashes of offensive brilliance from the blue line and sparked the Flyers to a surprising playoff appearance.
Among his many accomplishments were a 15-game point streak that was the longest ever by a rookie defenseman; five game-winning goals, 17 total goals and 46 points; and a second-place finish for the Calder Trophy, awarded to the NHL's top rookie.
This year Gostisbehere has endured somewhat of a sophomore slump during a frustrating season for both himself and the Flyers. He had just four goals as of late January, and none since Nov. 25.
Yet Gostisbehere remains confident in his abilities and his place in an exciting future for the Flyers. South Jersey Magazine caught up with him after a recent practice at the Flyers Skate Zone in Voorhees to discuss his season, his life away from the rink and the classic movie he's never seen.
SOUTH JERSEY MAGAZINE: The Flyers have been hot and cold this season, with a 10-game winning streak in November and December followed by a rough month. How do you get back to playing consistent hockey?
SHAYNE GOSTISBEHERE: I think it's just getting back to our game. We know we're good players and we know we have a great system. I think it comes back to our readiness before games, that's a big thing for us. We just have to keep going out there and playing our best.
SJM: Are the ups and downs to be expect- ed during an 82-game season??
SG: Yeah, it's going to happen. We won 10 in a row and we have to stop the bleeding here too. We're going to try to stay positive, I think that's the biggest thing for us right now. There's a lot of negatives being thrown our way and I think we have to take the positives out of everything and keep playing the game.
SJM: How is the league adjusting to you in your second season and what are you doing to combat that??
SG: It's definitely a little tougher going this year. Obviously, the puck's not going in as easily as it did last year. I think the biggest thing for me is to stay within myself and within my abilities. I'm not going to be a stay- at-home defenseman. I'm still going to play my game and keep making plays. The biggest thing is confidence right now and just going out there and playing. Negatives are going to happen—I see negatives every day—but I'm just going to stay positive and keep playing.
SJM: Did you have that confidence last year? Did you expect to have that kind of impact right away??
SG: Absolutely. The biggest thing is playing with confidence. It shows out there, you can see who's playing with it and who's playing without it. It's about the guys around you helping you out and the coaches as well. They prepare us for games and we just have to be ready.
SJM: What was it like capturing the attention of the city and being embraced by the fans last year??
SG: It was definitely cool. That's the Philly way, I guess. If you're doing good they're your best friend, but the moment you start going bad they flip the switch on you. But they're great people and it's a fun city to play in.
SJM: Are you still getting recognized a lot on the streets??
SG: For sure, but I get my fair share of people who don't like me too much because I'm not doing what I did last year. But I'm trying my best out there. I'm putting everything but the kitchen sink at the net.
SJM: Is it exciting for you to be part of the young core on the Flyers with players like Ivan Provorov and Travis Konecny?
SG: Yeah, it's pretty cool. People say I'm young but I'm four years older than them. It's pretty cool to see how well they're handling everything.
SJM: How did you get into hockey growing up in South Florida??
SG: When I was little my sister was a figure skater and I was always at the rink. My grandpa was a big hockey guy from Montreal, so I started playing and I loved it. I stuck with it.
SJM: You must really miss Florida at this time of year.
SG: Yeah, you just have to get through these months. I was just down in Florida for Christmas and I was wearing shorts and sandals. But that comes with [the territory].
SJM: Your two dogs are a frequent topic on your Twitter feed. Are they a big part of your life? ?
SG: Oh yeah, for sure. My one dog is a little sick right now, I think he hurt his back or something and we had to take him to the vet yesterday. But they're awesome. They're great to take a walk with and get away from [hockey] for a little while. They have their own personalities.
SJM: They're both French bulldogs. Is that because of your background? [Gostisbehere's father is from France.]?
SG: No, I was just always in love with the breed. I had Boston terriers growing up and I was a big fan of the smushed-in face. My girlfriend and I both love the breed.
SJM: You met your girlfriend at Union College, where you starred in hockey and helped the team win a national championship in 2014 at the Wells Fargo Center. Are you glad you got to enjoy the college experience before coming to the NHL?
SG: For sure. Winning [the national title] was one of the best memories of my life. Doing it at that school—which only has 2,000 kids and is not a hockey hotbed like Miami, [Ohio] or Michigan or Minnesota or [Boston College]—was amazing. To go up against those guys and win the title, you deserve it. Doing it in Philly was an added touch and it was a great experience.
SJM: What else do you like to do away from the rink? Have you been to the Jersey Shore at all??
SG: I haven't been down there too much. When I was younger we went down for a development camp and that was fun. But I haven't really been back.
SJM: Well, you were kind of busy last summer preparing for the World Cup of Hockey. Can you describe the experience of playing with some talented young American and Canadian players on Team North America?
SG: That was tremendous. It was an experience that we'll never have again, because I don't think we'll all be teammates like that. It was a lot of fun. If I get the opportunity to represent the United States again, that would be unreal. I won a world junior [championship] with some of the guys on that World Cup team and I'd love to play with them again in the future.
SJM: How did you get your nickname? ?
SG: I was in college and we were at a party. Josh Jooris, who plays for Arizona now, came up to me and called me "Ghostbusters." That led to the shorter nickname of "Ghost" and it stuck. I love it; I think it's a cool nickname.
SJM: Have you really never seen the movie Ghostbusters??
SG: No, I've never seen it. Not even the new one. I should probably check it out.
SJM: Do you mostly watch hockey at home? ?
SG: Yeah, I watch a lot of hockey. I'm a big golf guy—I love watching golf. It relaxes me and puts me to sleep. I like playing golf in my spare time too.
SJM: Have you played around here??
SG: Woodcrest is one of my favorite courses. I've been to Trump [National Golf Club] a couple times, too.
SJM: Hopefully your golf game will be delayed by a long playoff run this year.?
SG: Absolutely. I think our team has shown we can do it. Going on a 10-game run like that doesn't just happen. We're a special team and we're different; we can score in all aspects. We just have to right the ship right now.
Published (and copyrighted) in South Jersey Magazine, Volume 13, Issue 11 (February, 2017).
For more info on South Jersey Magazine, click here.
To subscribe to South Jersey Magazine, click here.
To advertise in South Jersey Magazine, click here.