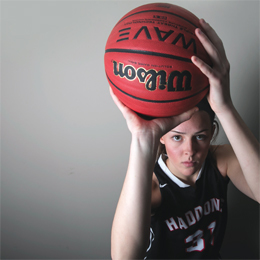 Elite Eight
CC MOONEY
HADDONFIELD GIRLS BASKETBALL
A senior forward/center, Mooney led Haddonfield in scoring as a junior and made the all-conference first team. The four-year varsity player will continue her career at Catholic University.
SJM: Has basketball always been your No. 1 sport?
Yes. I played lacrosse when I was younger and I played up until my sophomore year. But then I decided basketball was going to be it for me.
SJM: Did your mom or dad encourage you to play?
My dad played basketball, so it was always in the family. My grandpop played, too. I just felt like if I was going to play a sport in college, basketball was going to be the one.
SJM: How did you choose Catholic University?
I was looking at a few different schools and I had a few D-I looks. That kind of dropped off and I decided that D-III was probably the best decision for me in terms of where I was going to play the most and potentially score 1,000 points. I just felt like Catholic was the best home for me and I liked the coach and the team. It was the best fit.
SJM: It will definitely be interesting to be in Washington, D.C., for the next several years.
[Laughs] Yeah, I'm excited. We played in a few tournaments there and it's such a fun city to be in. It's lively and it's perfect for college kids. It sounds like it's going to be a lot of fun.
SJM: What do you think you're going to miss about home when you're there?
My family, my friends, anyone who's a big part of my life. I guess every high school senior is ready to get out of high school, but I'll miss some aspects of it. I'll miss my teachers and my town is pretty close-knit.
SJM: The gym at Haddonfield has an old-school feel. Do you like playing there?
Yeah, I love it. I hear that other teams really hate playing there, but I love that gym. It's like a pit. … We started getting better my junior year and the crowds kept getting bigger every single game.
SJM: Who would you say is your team's biggest rival?
Sterling. It's kind of a recent rival. It's not really a school rival, but it definitely is for girls basketball.
SJM: After losing a close game to Sterling in the sectional final last year, was it hard waiting for this season to arrive?
Yeah. It was such a tough loss and I think everyone wanted to get right back into it. We wanted to beat Sterling so badly and get what we think we should've had. When fall came, I was definitely so ready for the season to start. I just wanted to play and be around my team.
SJM: The main goal is getting back to that point and winning this time. What about your personal goals?
I want to develop a 3-point shot [for college]. I've always been a post player and recently I started playing more outside with my AAU team. Now I'm a three or four in the offense this year, so I'm playing more outside than I did in my freshman and sophomore years. I think I'm pretty good at taking it to the basket, but developing a 3-point shot is probably the biggest thing for me.
SJM: What does CC stand for?
It's Connor Catherine. Connor is my first name and Catherine is my middle name, but my parents wanted to call me CC.
SJM: What do you like to do when you're not playing basketball?
Hang out with my friends, hang out with my boyfriend, go to the beach in the summer, spend time with my family.
SJM: What Shore town do you like?
We have a house in Stone Harbor; my grandpop actually lives there year-round, so in the summer we get to use his house.
SJM: Do you watch a lot of basketball?
Yes. I don't really watch the NBA, I just don't like it that much. But I watch a lot of college. I probably watch more guys basketball than girls. I only have brothers, so we've always watched the guys. Men's basketball just gets more press.
SJM: How many brothers do you have?
Three. I'm the oldest. Siblings always fight and they're annoying sometimes, but it's fun. I wouldn't have it any other way.
SJM: Do they play basketball too?
Two of them do; the one who is a year younger than me, Jack, is a wrestler. I love watching wrestling. My boyfriend wrestles too, so I always go to their matches and they come to my games.
EVAN FISLER
WASHINGTON TOWNSHIP WRESTLING
One of the top 145-pounders in South Jersey, Fisler is a two-time district champion and is closing in on 100 wins for his career. The senior hopes to end his final season on the podium at the state championships in Atlantic City.
South Jersey Magazine: How long have you been wrestling?
I've been wrestling since I was 5 years old. I come from a wrestling family—my dad wrestled and my uncles wrestled, too.
SJM: Is wrestling your only sport?
I used to do different sports throughout the year. Baseball became lacrosse, and I also played football. But once I got to high school I made the decision to cut everything off and go into wrestling full-time, year-round.
SJM: Do you like the fact you're all alone on the mat and whatever happens falls on you?
Yeah I do, because it's up to me to put in the time in the room and go out and perform. I don't want the hard work to go to waste. I enjoy going out there and getting a win for my team.
SJM: Who are the guys who push you every day in the wrestling room?
I would definitely say my drill partner, JoJo Gaspari. I love wrestling [assistant coach Joe Esposito]; he wrestled at Kutztown and he gives me a really good challenge. I like to be challenged. I also wrestle Eric Ring, our assistant coach. He's another great wrestler from Township.
SJM: Do you know about the wrestling tradition at Washington Township?
Yes. You see their names on the board all the time and you want to be right under them and do the things they did: place at states, have 100 wins, win multiple district titles and multiple region titles.
SJM: Are you excited about closing in on 100 wins?
Yeah, I'm very excited. It's one thing I want to accomplish this year. All the hard work I've been putting in since I was a little kid will pay off.
SJM: You suffered an injury during the postseason last year. What happened?
Two days before regions I rotated a few vertebrae in my spine, so I had to sit out the rest of the postseason. I kept my head up high and I knew as soon as I recovered and went through physical therapy that I had to come back even stronger and work even harder.
SJM: You made it to Atlantic City for states as a sophomore. What is it like wrestling in that atmosphere?
It really opened up my eyes to see how truly special those 23 other kids are. Everybody has worked so hard to get to that point. Being one of the top 24 in the state, that's good in itself. But it was really eye-opening during warmups to see everybody warming up and to look around the huge arena. It's a special moment and you want to go back every year.
SJM: Is getting on the podium at states your No. 1 goal?
This is my last year, so I don't want to leave Atlantic City without a medal hanging around my neck.
SJM: Are you going to wrestle in college?
Yes, I'm trying to wrestle in college. I really enjoyed my visit to Gannon University in Erie, Pa. It's a Division II school and they are showing a lot of interest in me. The coaches always text me and their scout always comes to watch me. It seems like I could be a part of their family there, because they care so much about every choice I make.
SJM: What do you want to study in college?
I'm undecided, but I'm leaning toward majoring in engineering or going into physical therapy.
SJM: You don't want to follow in your dad's footsteps?
No, I don't want to be a police officer. Hearing the stories he has and the crime that goes on in our town, it's pretty wild because you don't see it—they take care of it right away. But it's pretty scary because you always want to see him walk through the door and be able to hug him and tell him you love him. It's hard to hear his stories sometimes, but that's what he loves to do.
SJM: What do you like to do when you're not wrestling?
Of course I like to hang out with my friends. I like to go fishing. I live on a lake, so I like to play ice hockey. I like going to the movies, going to amusement parks, going to the mall—anything to hang out with friends.
SJM: What do you fish for?
Since I have a lake in my backyard, I like to fish for bass, pickerel, sunfish. I like to fish saltwater, too. I never went deep, deep saltwater fishing, but I like fishing for flounder the most. You have to have patience in fishing, especially if you don't catch anything all day.
DARREN GIBSON
EASTERN BOYS BASKETBALL
A four-year varsity player, Gibson is not only the Vikings' leading scorer but one of the best defensive players in South Jersey. A senior forward, he helped Eastern reach the sectional semifinals last year.
South Jersey Magazine: After four years in the program, what's it like being a senior now?
It's great. Four years went by super fast, like the blink of an eye. I was thinking about it a couple days ago, how crazy it is that it's senior year. It could be my last year playing and it hurts thinking about that, but I'm still here playing with my brothers and it's been fun.
SJM: Are you more of a leader than in years past?
I would say throughout all three years that I've played for coach [Kevin] Crawford that my leadership has shown. My freshman year I played for coach [Joe Murphy] and I was still young, but at the same time every coach wants a leader out of all of their players. I feel this year my leadership has been very important and it's showing. We have a lot of young guys and I feel like my leadership is needed, so I'm just going to keep doing what I'm doing.
SJM: How old were you when you started playing ball?
Maybe 3. I was talking to my dad about it and he said as soon as I started walking I had a ball in my hands. My dad was a wrestler at Camden High, but my older brother Lamarr played at Medford Tech. Seeing him out there at a young age, it was a little intimidating but I wanted to be out on the court, too. I think that's where my passion comes from, trying to be better than him.
SJM: Did your brother help you with your game?
All the time. He's 10 years older and he gave me a lot of advice and helped with my skills. He's what you want in a brother; I couldn't ask for anything more.
SJM: You're known for taking charges on the defensive end—last year you had 34 and you're leading the team again this year. What kind of mindset does that take?
To be honest, I don't even know. Coach always asks me to teach the guys, but it just comes naturally. I remember the game we had against [Cherry Hill] East last year in the playoffs. I took a charge at the end to get us the ball back and win the game. Everybody said, 'That was such a huge play.' Sometimes the charge is good, but to me I don't really like it. I know it's weird, but I don't like charges in the game of basketball because I feel like it's an easy way to get out of playing defense. I feel like you're not working hard for it. But if I see the guy coming, I just get in position and take the contact.
SJM: Is defense a part of the game you take seriously?
You realize defense is very important when you get to the high school level. In seventh and eighth grade the coaches always emphasize defense, but it doesn't click that you need to focus on defense more than offense. I feel like I've always had the heart and passion to play hard on defense. I try to be a leader and get my guys to play the same way, and they always do.
SJM: What is the potential for your team this year?
We're going to be a good team. We're right around the midpoint of the season, and I feel like we're going to keep getting better. Defensively, we have to keep improving, and the offense will come. I've been playing with these guys since I moved to Voorhees [in second grade] and they're all brothers to me. Our chemistry is great and our confidence is high.
SJM: Do you have a favorite player?
I always get asked that, but I just like watching basketball in general. If I had to pick one I would probably say Dennis Rodman. His defensive intensity was just out of this world. I watch old classic games and he's diving all over the floor. I remember thinking one time, 'Why can't I do that?' So I started incorporating that into my game. I understand why he does it, because it works.
SJM: So you appreciate the history of the game.
Yeah, basketball has been my sport since the beginning. I appreciate everything it's done for me.
SJM: Is basketball your only sport?
When I was younger I played baseball and soccer, but right now it's my main sport.
SJM: You have a part-time job at the Carmike Ritz Center movie theater in Voorhees. What are the perks of that job?
Yeah, I've been working there for about a year. You get free popcorn, free soda and free movies—that's huge.
SJM: What's your favorite basketball movie?
I've got to go with a classic: Like Mike.
SJM: What do you like to do away from basketball?
I'm really big when it comes to school, I always have to get my schoolwork in. Hobby-wise, some people say I'm a gamer. I like to build; I have a younger brother who's into that Lego stuff, so I'll build with him. I love music too. I wasn't a good drummer but I used to play the drums a couple of years ago, and I think that's where my passion for music came from.
SJM: What's your favorite kind of music?
Frank Sinatra—he's a classic. I don't know what it is, but he just has a great voice. I was watching the movie with Leonardo DiCaprio and Tom Hanks, Catch Me If You Can, and one of his songs came on. That's when I was like, 'Frank Sinatra is the man.' Then I was watching Space Cowboys and "Fly Me To the Moon" came on, and I knew he was the real deal. Frank Sinatra is one of the people who inspired me to listen to music and listen to the chords and everything.
SJM: Do you know what kind of career you want to go into?
Physical therapy. If basketball doesn't work out, I'll still be close to my sport. Not only will I get to watch it, but at the same time help people who are hurt. I've always had the passion to help people. I've volunteered and I've seen things people have gone through and heard stories, and it hits me when I see people struggle. That's where physical therapy comes in; I can help people regain their strength and confidence to get back out there and do what they love. My mom is a nurse too, so that inspires me.
BRENDAN MEAGHER
SHAWNEE BOYS SWIMMING
A junior, Meagher has been a key contributor for the Renegades since his freshman year and competed at the state championships in each of his first two seasons. Also a member of the X-Cel club team based in Princeton, he specializes in the breaststroke and individual medley.
South Jersey Magazine: How long have you been swimming?
I started swimming when I was 4, and when I was 6 I started competitive swimming for a club team, the Medford Wave. They're really close to my neighborhood and my mom brought me there. I also had some private lessons when I was young and that's how I got into it.
SJM: And now it's a year-long activity?
Yes, year-round, every day.
SJM: Being a competitive swimming requires so many sacrifices. Do you kind of have a love-hate relationship with the sport?
I really do. I'm trying so hard to get to these goals I have for myself, and sometimes I have to sacrifice social things. A lot of my times goes to swimming and school.
SJM: What are some of the goals you have in swimming?
I haven't really performed that well at states the last couple of years. I don't think I've been that focused for those meets. This year, I plan to come to states and be really focused. I'm very excited for it.
SJM: Have you started thinking about swimming in college?
Yes, definitely. I have some pretty high goals and I'm not sure I can reach them, but there are a few schools I really want to go to. Penn is one of them.
SJM: Is the breaststroke your favorite stroke?
It's my best, so I guess you can say it's my favorite. I also do the IM, and recently I've been enjoying swimming the 500 free. Most people don't like it, but I've been swimming it the last couple of weeks and racing some of my good friends in it. I've dropped some time and I've had a lot of fun swimming that.
SJM: Is it true that Moorestown graduate Alex Martin, who's now at Michigan, was a role model for you?
Yes. Earlier in the school year I was kind of panicking and I wasn't sure whether to continue with my classes or switch some around. I also wasn't sure whether to continue with X-Cel because of the drive. I texted Alex one night and told him I was freaking out and didn't know what to do. He got back to me in a minute and sent the most powerful text I've ever seen in my life. He had a great influence on the way I proceeded for the next couple of weeks, and even now I'm keeping what he said in the back of my head.
SJM: Did you enjoy the Olympics this past summer?
I did watch it and it was great swimming. It's always fun to see those people go out there and swim for our country, and watch the other countries compete. It's fun to see world records get broken and everything.
SJM: Do you think Michael Phelps will stay retired?
I guess he will, because now his family is his main focus. But after 2012 when he said he was going to quit and never set foot in the pool again, I always knew he wasn't actually done. I just had a feeling he couldn't stop there. It would be cool to see him again. I don't know how many events he could do at the next Olympics, but I think he can definitely come back and do some damage in Tokyo.
SJM: Does every swimmer start thinking about the Olympics when they get to a certain level?
For me, ever since I saw my first Olympics and comprehended what was happening—I think it was 2008—I thought it was pretty cool. It's always been a very, very high goal, and I've always kept it there. First you have to do something in high school and get to the college you want to go to. I've really wanted to get to that level, and I don't know if I can, but I've always thought about it that way.
SJM: Have you known anyone who had that experience?
I know someone who raced at the [Olympic] trials recently. I've raced against him many times, and I talked to him a few weeks before we left after we raced at GCIT. He said he was going to go and try to have fun and experience it all.
SJM: When you have some free time away from the pool, what do you like to do?
Pretty much just relax and hang out with my friends. Usually that time is also spent studying, but when I do have time it's spent chilling with my friends.
SJM: Who would you say is the guy on the team who makes everyone else laugh during tough times?
There's actually a lot of people who can do that; our team is pretty awesome. Tyler Early is a great guy and really funny, and Nick Zeltt is funny, too. Tyler stands out; when I first came in freshman year, I met him and he introduced me to the rest of the team. He was one of my first friends on the team besides people I already knew.
SJM: What do you like about Shawnee?
I think Shawnee is such a great school the way it's run. We can bring in new programs, and our teachers and principal and staff are all on board with trying new stuff. I think the teachers at Shawnee are great people and it's a great experience going to school there.
SJM: Do you know what you want to study in college?
I've been really looking at neuroscience and research for that, so I might major in neuroscience and minor in psychology. My psych teacher, who is also our coach at Shawnee, Mr. [Eric] O'Neill, is a great guy and an amazing coach.
ISABELLA THERIEN
CHEROKEE GIRLS BASKETBALL
Therien, a senior forward, has been a four-year varsity starter and scored her 1,000th career point last season, when she helped the Chiefs reach the sectional final. She has established herself as one of the top players in South Jersey and will play Division I basketball at Loyola University.
South Jersey Magazine: What was it like coming back this season as the only starter who didn't graduate from last year's team?
It was a big adjustment. At first it worried me a little bit, because I depended on those girls so much since I was a freshman. But a lot of the girls are developing into good players and we have a great coaching staff. We're all developing day by day and practice is where we work the hardest. I knew we were going to be good, I just didn't know how good. So far it's been great. I think we made a statement to everyone.
SJM: What's it like playing with your sister Ava, who has taken on a bigger role this season?
I expect a lot from her. She was hurt last year and she didn't get many varsity minutes. This year I could tell she was a little scared at first, but she's done big things for us. She has those long arms and she's our top rebounder, offensively and defensively. She's been scoring for us too, which is a huge help. She has to keep doing her thing and it will help us tremendously in the long run.
SJM: Is it just you two?
I have a youngest sister who is going to be a freshman next year and I have a little brother who is going to be in fifth grade.
SJM: Does everybody get along?
Yes. Me and Ava are definitely the closest. I always say we're too close. We do everything together, I drive her everywhere, I let her hang out with my friends. But it's fun. She's my best friend.
SJM: Do you push each other in basketball?
Oh yeah. In the summers we usually have one-on-one battles and my dad is the ref. He's a little biased on my end. I consider myself the favorite. We're a competitive family. We push each other and my parents have high standards for all of us. They know we have talent, but the thing that I think really makes us unique is our effort. Nothing is handed to us; we like to earn it.
SJM: In basketball and soccer you seem to enjoy physical play. Have you always been like that?
Always. My dad says I'm a hockey player on the court and the field. I just love the feeling of physical contact.
SJM: Do you remember when your dad [Chris] was playing for the Flyers?
Yes, I remember. I used to go to the games all the time with my mom. I was little; I think I was 6 when he retired. But I definitely remember. He's still around the hockey atmosphere [as a Flyers broadcaster], so we still go to games. It's hard with basketball and hockey being in the same season, but we try.
SJM: What did you like about Loyola?
I had some options, but it was the perfect fit for me. I stepped on the campus and everyone was so nice. It just felt like I was home. The area is wonderful and it's a good college atmosphere. … I'm so excited and I'm thrilled to be playing there. Hopefully I'll do well there.
SJM: Do you know what you want to study?
I was talking to my mom about this the other day. I think it would be cool to go into sports law and minor in communications. I love to talk, I love to negotiate and argue sometimes. I'm not completely decided yet, but hopefully I'll know soon.
SJM: What are you going to miss about this area when you go away?
There's just something about Marlton. The part where we live is really woodsy, and the cool thing about that is that me and my siblings go quadding a lot in the woods. I'll miss my siblings the most. And going to Chick-Fil-A every day with my sister. It's not the best for me, but I have to admit I'll miss that a lot. But it's always good to go and experience different things and meet new people.
SJM: Do you often think about last year's loss to Lenape in the sectional final?
Yeah, it haunts me. It was tough going back into the Lenape gym earlier this year, because I was like the last man standing. But that's in the past and we have to look to the future.
SJM: Who is the person on the team to crack a joke during tough times?
I don't want to toot my own horn, but it's probably me. I'm definitely the instigator on the team, which is a good and a bad thing. I like to get on the girls, because I'm a senior and the one they look up to. If someone is down I like to encourage them and bring them back up. Coach [Ron] Powell is really good at that too. His motivational speeches are memorable. I won't forget them.
ANDREA FONG
MOORESTOWN GIRLS SWIMMING
An outstanding competitor in several events, Fong took seventh in the state in the 200 IM as a junior. She is focused on a strong senior season at Moorestown before continuing her swimming career at Villanova University.
South Jersey Magazine: Is it weird to be finishing up high school this year?
It hasn't really hit me yet. I guess after New Year's when it officially became 2017, I started to realize it was the year I'm graduating. It went by so fast.
SJM: Do you have any particular goals for your final season at Moorestown?
The last two years we've lost to Ocean City at sectionals, so obviously the goal this year is to beat them. We want to go as far as we can, hopefully states. Just to beat them is the goal for now. They lost two really good swimmers from last year: Amber Glenn, who's now at Penn State, and Aly Chain, who I think is at Iona College. So it's looking a little better, but they still have Amanda Nunan and Maggie Wallace and all of these club girls, so it will still be tough.
SJM: How about individual goals—you had a strong performance at states last year, so is that high on your list again?
Yeah, that's a really fun meet. You see a lot of the club swimmers there, people who train at Wahoos and all the other clubs in the area. I just want to go and have fun at that meet. Winning a state title would obviously be nice, but I just want to enjoy my last year.
SJM: Are the 200 IM and 500 free just your best events or also your favorites?
The 200 IM is my favorite event. I used to swim the 100 IM when I was a little kid, but you can't swim that anymore when you're older. It's similar to that, so that's why it's my favorite. The 500 free is the most you can do in high school swimming. I swim the mile and the 1,000 for my club team.
SJM: Those long-distance races must get very grueling.
On my club team, my coach John Carroll, part of his philosophy with swimming is just yardage, yardage and more yardage. I think that's part of the reason why I'm a distance swimmer, because he just pounds that into you when you get there. Whether you're a sprinter or a distance swimmer, an IMer or a stroke swimmer, you do the distance and you do the freestyle every single day at practice. That kind of stuck with me.
SJM: Is that mentally tough as well as physically tough?
A little bit, yeah. The biggest thing with distance swimming is finding your groove from the beginning so you can just sustain it. I swim the mile and the 1,000, which is 66 and 40 laps, so you have to stay mentally focused because you have a long race ahead of you. You just can't focus on how long it is, because then you kind of go crazy.
SJM: Why did you choose Villanova?
It came down to Villanova and South Carolina, which could not have been more different as far as location and the schools and teams themselves. I think the business school was a big thing for me, and also the fact that my dad went there—I just think being a legacy is a pretty cool thing. I liked the campus itself, the size, the team, the coaches—everything there was the perfect fit for me. … South Carolina was a school I loved from the beginning, when I first made a list of colleges. Big picture, Villanova just had more of what I was looking for and was a better overall fit for me.
SJM: Has your brother Zach, a swimmer at the University of Virginia, given you advice about being a college athlete?
Yes. He said the school part gets so much harder and it's a really big balancing act. It's a very different atmosphere as far as making sure every swimmer is swimming the things that work best for them. At Wahoos, everybody does distance whether you're a distance swimmer or not. In college swimming, they designate different lanes for each person and do specific things, so overall you get more for what you specifically need. He's done so well there and I'm so proud of him. He loves it and he thinks I'll have a lot of fun in college.
SJM: Did you follow the Olympics closely this past summer?
Yeah. I remember back in 2008 when Michael Phelps was winning all those medals. I was actually talking about it with my mom this morning, that when we're older and we have kids we can say we watched Phelps and all of the Olympians. This year was really cool to watch since it was his last year. We actually watched the Olympics when we were at a swim meet ourselves, so it was kind of inspiring.
SJM: Is Zach your only sibling?
I have a younger brother, too. His name is Josh, he's a sophomore and he also swims.
SJM: How did you and your brothers get into the sport?
My mom had all of us in the pool at 6 months old just for water safety. We learned to swim with Allison Brick at Medford Sports Club, and we just stuck with the sport. We all loved the water and we started competing around [age 5]. It was something I really liked. When you're little you do it for the love of the sport and racing just comes naturally.
SJM: Are you a beach person too?
Yes, I love the beach. We don't have a beach house so we go all over and visit friends. We go to Avalon, LBI. My grandparents have a house in Long Beach, which is in New York, so that's a little far. But we like Sea Isle and Ocean City, too.
SJM: What do you like about living in Moorestown?
We live right off Main Street, so we have access to everything. We're close to all the schools, there's a grocery store and a mall in either direction. It's a good central location and everyone there is friendly.
SJM: What you do for fun when you're not swimming?
Hang out with my friends and play with my dogs—we have two labs, yellow and black.
RYAN SWENSON
CHERRY HILL EAST WRESTLING
After posting a 36-4 record as a sophomore, taking second at districts and reaching the region semifinals, Swenson was injured for most of last wrestling season. Now he's back and has lofty goals for his senior season before focusing on football in college.
South Jersey Magazine: How is your senior year going?
It's going. I don't like being a senior. I don't like growing up. I just want to stay young and not have to grow up completely.
SJM: Wrestling wise, are you back at 100 percent after battling some injuries?
Yeah, I feel 100 percent. I've been wrestling on it for a few weeks and it feels fine. It's sore, but nothing too bad.
SJM: You've had some bad luck with injuries lately.
Yeah, last year I tore my ACL 10 matches into wrestling season. I tore it on Jan. 8 and had surgery on Jan. 25. Then in my last football game this season, I tore my meniscus in the same knee. So I was sidelined for the first three weeks of wrestling season. I missed the first tournament and a few dual meets.
SJM: What was the recovery like from ACL surgery?
I was going to rehab three times a week for six months. After that, I was doing a bunch of speed training to get back to normal. It took nine months for me to be able to play on it.
SJM: After having such a good sophomore wrestling season, was it tough to watch last year?
Yeah, it was real tough. Knowing that some of the kids I beat were doing some big things—I don't know how to put it into words, it was just real discouraging. I had high hopes for last season. My goal was to make it to Atlantic City and hopefully make it to the podium. Having that taken away from me was hard to swallow. I just had to go in the weight room and grind to get back.
SJM: Have you been to states as a spectator before?
Yeah, my sophomore season I went down to watch some of the heavyweights. And my freshman season, my brother made it so I went down to watch him.
SJM: Did your two older brothers get you interested in wrestling?
Yeah. Pat, my middle brother, wrestled in college at Wilkes and my oldest brother just wrestled through high school. I was pushed into the sport at a young age and I just kept doing it. It keeps me in shape in the winter and it's fun.
SJM: What do you prefer, football or wrestling?
I enjoy playing football more but I think I'm better at wrestling. I want to play football in college if possible. I've visited a couple schools and I have a couple visits coming up.
SJM: So is it weird that this is your final season of wrestling?
Yeah, I've been wrestling my entire life. I just want to go out with a bang.
SJM: What do you like about living in Cherry Hill?
You get to meet a lot of people. There are two high schools, so it's a good rivalry and you always have something big to look forward to. You know there's at least one big match or game. Cherry Hill is fun.
SJM: Who are some of the top heavyweights standing in your way in South Jersey?
The only kid to beat me in the last two years is Keith Swartley from Cinnaminson. But I only wrestled half a season last year, so it's hard to tell. I have to keep wrestling to see who can give me problems. I would only see [Swartley] at regions.
SJM: You wrestled Swartley earlier this season, right?
Yep, he beat me 2-1. It was my first tournament back from injury. I only had a week of conditioning.
SJM: Do you appreciate the challenge of being out on the mat by yourself?
Yeah, I like that it's one on one and you don't have to worry about what other people do. If you mess up, you know you messed up and it's on you. It's just you against the other kid and you have to do what you can to beat him.
SJM: Who is the kid on your team to make a joke when things are going bad?
Oh, that's me. I'm the kid who makes the jokes on the team and fools around. I'm the one who lightens the mood all the time. I was always the kid who did that growing up.
SJM: Where do you see yourself in 10 years?
Honestly, I have no idea. I wouldn't mind coaching wrestling, but I don't know what the future is going to bring me. I don't know what I want to go to school for, so I have to decide that soon.
DANTE OWENS-HILL
LENAPE BOYS BASKETBALL
In his first season at Lenape after transferring from Woodrow Wilson last year, Owens-Hill averaged 12.6 points per game and made the all-conference first team. The senior forward is once again the leading scorer this year for one of South Jersey's top teams.
South Jersey Magazine: With a large portion of last year's team returning, did you come into this season with high expectations?
I definitely had high hopes. I feel like this year should be a state championship year.
SJM: Did you learn a lot last year in your first season with Lenape?
I learned so much. Playing in that conference was crazy. You have to go hard every night. There are no easy games at all.
SJM: How did you fit in with your new teammates?
It wasn't a struggle fitting in with the guys, because they welcomed me in. But it was a little bit of a struggle fitting into a new system. Coach [Chuck] Guittar would get on me for defense and stuff like that. It's a lot more structured than I was used to.
SJM: What's it like playing for Coach Guittar?
I've learned a lot from him. He watches so much film and everything and he knows the game of basketball. Playing under him helps build my basketball IQ.
SJM: How old were you when you started playing basketball?
I started in sixth grade. Before that I was more of a football guy. My first game of basketball I was like, 'This is what I want to do. I don't want to play football anymore.'
SJM: What's your favorite part about the game?
Before I got to Lenape I would've said scoring. But now I've fallen in love with defense.
SJM: Do you want to play in college?
Definitely. A couple of colleges have started recruiting me so I'm looking into them. I want to stay close to home, but not too close. A good distance would be somewhere like Seton Hall. Somewhere I could drive home if I wanted to.
SJM: What do you have to work on to play at the next level?
I have to be more consistent and make sure I go hard on every play.
SJM: Do you watch a lot of basketball?
Yes. Every night I come home from practice, take a shower, do my homework and watch college basketball or the NBA. In college I've been following all the New Jersey recruits. Seton Hall has a guy who went to Trenton Catholic, Kentucky has some guys. In the NBA, I don't watch a certain team, but I like Damian Lillard, James Harden and guys like that. I like Russell Westbrook—he can fill up a stat sheet. He gets a triple-double every night.
SJM: What do you want to study in college?
Communications and film studies. My first goal is to play in the NBA or overseas. After that, I'd like to be a video editor or something like that.
SJM: What do you like to do when you're not playing or watching basketball?
I'm either working out or hanging out with my teammates. We go out to eat and just build team chemistry.
SJM: Who's the toughest player in the conference?
Me. Last year I could fill out the stat sheet with points and everything. This year, I feel like I've stepped into a role and everybody is sharing the ball. But teams have to work their game plans around me.
STAR WATCH
More topflight athletes to keep your eye on this season.
BOYS BASKETBALL
Mike DePersia, Haddonfield, sophomore guard: DePersia is once again running the offense for Haddonfield after starting as a fresh- man and hopes to lead the Bulldawgs to a sectional title in March.
Hakim Hart, Kingsway, sophomore guard: A tremendous 3-point shooter with a quick release, Hart is already receiving Division I college interest.
Justyn Mutts, St. Augustine, senior forward: An impact player at both ends of the floor, Mutts is looking to lead the Hermits to their second straight state championship.
Ja'Zere Noel, Woodbury, senior forward: Noel is an excellent scorer, ball handler and passer and has Woodbury looking like a serious contender for the South Jersey Group I title.
Dean Noll, Shawnee, junior guard: After leading the Renegades in scoring and making the all-conference first team as a sophomore, Noll and junior Dylan Deveney are two reasons why Shawnee is one of the top teams in South Jersey.
GIRLS BASKETBALL
Azana Baines, Gloucester Catholic, sophomore guard: Baines averaged 14.4 points and 9.6 rebounds as a freshman at Highland and has continued to shine since transferring to Gloucester Catholic.
Brittany Garner, Camden Catholic, junior center: Back at 100 percent after missing last season with a knee injury, Garner is an offensive force in the paint and a terrific rebounder for the Irish.
Jordan Harbaugh, Clearview, senior guard: An all-conference first-team selection as a junior, Harbaugh is averaging over 16 points per game this season.
Kendall Keyes, Lenape, junior guard: A key player on Lenape's state championship team last year, Keyes has emerged as the Indians' leading scorer this season.
Aliyah Stephens, Paul VI, senior guard: An explosive scorer since her freshman season, Stephens is also an excellent defender for one of the top teams in the area.
WRESTLING
Quinn Kinner, Kingsway, junior: Kinner has reached the podium at the state championships each of his first two seasons and has his sights set on a state title at 132 pounds.
Travis Layton, Woodstown, senior: After placing sixth in the state at 126 pounds last year, Layton is one of New Jersey's top 138-pounders this season.
Joe Manchio, Seneca, junior: Manchio claimed his school's first state championship at 106 pounds in an undefeated sophomore season. He has a chance to make it two straight as he moves up to 113.
Dante Mininno, Gateway, junior: Mininno, who placed seventh in the state at 106 pounds last year, gives Gateway a sensational one-two punch in the lower weights along with his twin brother Antonio.
Keith Swartley, Cinnaminson, senior: Swartley, a heavyweight, has two region championships and earned his 100th career win earlier this season.
BOYS SWIMMING
Kevin Gillooly, Cherry Hill East, senior: A member of the 400 free relay that placed third in the state last year, Gillooly and the rest of the Cougars are aiming for their ninth straight sectional title this season.
Dillon Hall, Cherry Hill West, junior: Hall, a diver, has placed in the top 10 at states each of his first two seasons, including a third-place finish in 2016.
Brian McGroarty, Mainland, senior: An LSU commit, McGroarty took second in the state in the 200 IM last year and is a leader for a team seeking its second straight state championship.
Luke Snyder, St. Augustine, senior: Snyder, a Penn recruit, was one of only two individuals in South Jersey to claim state titles last year. He won the 200 free and placed eighth in the 500 free.
Connor Shenk, GCIT, junior: A top competitor on the program's first- ever championship team, Shenk took fifth in the state in the back- stroke last season.
GIRLS SWIMMING
Jamie Bowne, Cherokee, senior: Bowne's standout career is sure to wind down with several more memorable moments. She placed eighth in the 200 free and 10th in the butterfly at states in 2016.
Kayla Gagnon, Eastern, senior: One of South Jersey's top swimmers in the 200 IM and butterfly, Gagnon hopes to be in contention in both events at states.
Abbey Neveling, Haddonfield, senior: A Michigan State recruit, Neveling took seventh in both the 100 free and 100 breaststroke last year and helped Haddonfield reach the state final.
Amanda Nunan, Ocean City, senior: Nunan was the New Jersey swimmer of the year in 2016 after winning two individual state titles, another state crown in the 200 free relay and leading Ocean City to its first team state championship. She will continue her career at Tennessee.
Mackenzie O'Connor, Bishop Eustace, junior: O'Connor placed third in the state in the backstroke in 2016 and helped the Crusaders reach the Non-Public A state final.
Sophia Peifer, Haddonfield, senior: Peifer will look to cap her outstanding diving career at Haddonfield with her fourth straight state championship this season.
Published (and copyrighted) in South Jersey Magazine, Volume 13, Issue 11 (February, 2017).
For more info on South Jersey Magazine, click here.
To subscribe to South Jersey Magazine, click here.
To advertise in South Jersey Magazine, click here.