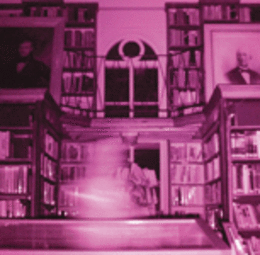 Who Ya Gonna Call?
Is that the sound of your house settling … or something more mysterious? South Jersey Ghost Research, the region's go-to ghost whisperers, track down the truth.
It's standing room only on a Friday night. Latecomers crowd the aisles and loiter behind rows of occupied chairs inside the Mount Holly Library and Lyceum. They're not here to shower an author with praises, to put a politician to the test or to sip espresso while listening to a local acoustic band. No, these folks await the unlikeliest of headliners: South Jersey Ghost Research. "This is my third time at one of their lectures, and I went on an overnight ghost hunt they sponsored at Fort Mifflin a few years ago," gushes Serena Martorano of West Deptford. "I'm really interested in ghosts, and I like hearing how they investigate them." It doesn't take a sixth sense to figure out that South Jersey Ghost Research's popularity is very real—and growing. The group, headed by director Dave Juliano, has become the region's premier organization for folks who want to hear things that go bump in the night … and, more frequently, for those who don't. Per its mission statement, South Jersey Ghost Research's foremost goal is to aid "any individuals having problems dealing with or understanding a [paranormal] situation in their home or business"—a free-of-charge service that involves an investigation of reportedly haunted sites, followed by an explanation of the report and advice for homeowners on how to handle any paranormal housemates. "Once we pinpoint activity and explain the findings, most people become much less anxious about co-existing with the paranormal," Juliano says. "For most of our clients, an investigation, report and discussion are enough to put them at ease. For others with greater needs, we check in regularly and provide a lifeline of support to them." Juliano's is a confidently empirical approach to a topic that many would describe as pseudoscience. A 2005 Gallup poll found that only 32 percent of Americans believe in ghosts, and not all of those would necessarily approve his methods for identifying and handling them. Juliano, aware of this, admits to the "trial and error" that factors into his process. "I've developed my own procedures. I look back at notes from some of my early investigations and think, 'I can't believe I did things that way.' My main goal is to figure out what works and use it to help out clients." Don't think for a second that Juliano shows up for house calls with a Ouija board tucked under his arm. South Jersey Ghost Research's tool kit includes video cameras, motion sensors, infrared and night-vision cameras, high-end audio recorders, and electromagnetic and temperature sensors. They also track the weather, geomagnetic field changes, solar flare activity and moon phases, which are all understood by hunters to impact haunting levels. In total, the group undertakes nearly 100 investigations each year. That popularity didn't happen overnight; Juliano's been building this practice for years. Ghost hunting isn't a career that rolls off the average high school guidance counselor's tongue, so Juliano had to make his own way. His formal involvement in the supernatural began in 1994 when he developed Shadowlands.com, a website and online support group for anyone dealing with supernatural activity. But his interest in the topic began much earlier than that: As a child, Juliano allegedly encountered apparitions, moving objects and other evidence of haunting in his Laurel Springs home. When several local paranormal-centric groups joined to form South Jersey Ghost Research in the late 1990s, Juliano was appointed director. He has since authored three books on the topic. Last year, he opened The GhostHunter Store—a brick-and-mortar storefront in Mount Holly that sells the equipment, such as electromagnetic field detectors and temperature sensors, necessary for finding ghosts on your own time. Maureen Carroll, one of South Jersey Ghost Research's three-dozen investigators, never imagined her calendar would be full of regularly scheduled appointments with the supernatural. "My sister and I always had a deep interest in the paranormal," she says. So when Maureen's sister Sharon came across South Jersey Ghost Research's website in 2006, she stayed in touch with the group until they began accepting applications for prospective investigators. Within the year, both women were part of the group. When not tending to paranormal pest control, Maureen, Sharon and the other investigators survey cemeteries and other reportedly haunted sites for sport. They also host public events that attract crowds in droves. On this particular Friday the 13th in August, South Jersey Ghost Research's investigators answer questions before leading a walking tour of Mount Holly's reportedly haunted homes and buildings. Display boards propped up around the library show off photographs they've taken on investigations, featuring what appears to be visual evidence of paranormal activity: Orbs (balls of transparent light); ectoplasms (fog- or smoke-like mists); vortexes (funnel-like images, typically white); and the occasional apparition, such as the semi-transparent outline of a person that appears in a photo taken at the nearby Burlington County Prison. This is Henrietta Bennett's first time attending a South Jersey Ghost Research event. She lives just a few blocks away from the Mount Holly Library. "My husband and I own an amazing old house," Bennett says, "It was built in 1876. It has its noises, and things go missing. I've always felt the presence of a little girl in the attic." She raises her hand and asks about orbs, those round balls of light that show up in some of her snapshots. Investigator Marti Haines explains that Bennett can differentiate orbs from floating dust by examining the image's perimeters: an orb is perfectly spherical, whereas a dust particle fades out at its edges. Orbs, she says, are signs of the energy that is being emitted by a spirit. A sea of hands raises as attendees clamor to ask follow-up questions. Juliano isn't surprised by the popularity of South Jersey Ghost Research's events. And, he's not fazed by common misconceptions of the paranormal world—however absurd. "I won't lie: Ten years ago, Ghost Busters references bothered me," he says. "People would always ask whether South Jersey Ghost Research operated out of fire hall, like they did in the Ghost Busters movies. But it doesn't bother me anymore."
Favorite Haunts
Peaches, tomatoes, cranberries and … ghosts? Due to its rich history and its abundance of paranormal enthusiasts, such as the creators of Weird New Jersey, the Garden State has also become the ghostly state. Here are some local places steeped in paranormal lore.
Burlington County Prison
Mount Holly
When the last prisoner was taken away in 1965, it was the oldest operating prison in the United States, and its brick walls had seen plenty. The looming building on Mount Holly's downtown High Street now operates as a museum, and workers have reported floating apparitions, voices and visions of uniformed guards. A disproportionate number of these occurred on the third floor, the old death row.
Ye Old Centerton Inn
Pittsgrove
A stage coach stop as far back as 1706, the inn offers up colonial dining rooms, a delicious namesake salad and reported visits by a surprise guest: The spirit of a little girl whose voice—and occasional screams—can sometimes be heard in the upstairs dining room, and whose presence creates cold spots throughout the upper floor.
Smithville Mansion
Easthampton
Sited in Burlington County Park, this Greek Revival mansion is among the most haunted sites South Jersey Ghost Research has encountered. Audio recorders pick up on the voices of unseen beings, including one clip in which a voice commanded "Don't sing" as an investigator began humming a Kenny Rogers tune.
Jefferson Hall at Camden County College
Blackwood
Security guards say they've heard footsteps in the third floor of this refurbished former monastery, where a monk reportedly hanged himself.
Roebling High School
Roebling
The ghost of a man who played basketball at the outdoor courts each night can still be found
shooting hoops there.
St. Mary's Hall at Doane Academy
Burlington
Staff and students have spotted floating balls of light in the hallways, seen doors open and close and lights turn on and off spontaneously. Near the chapel, there's a bathroom where faucets have been reported to turn on and off on their own.
Sketch Club Community Theater
Woodbury
This former schoolhouse is said to be haunted by voices of children and the figure of an older woman. Evidence has been found in the form of orbs of light seen in photographs. Published (and copyrighted) in
South Jersey Magazine
, Volume 7, Issue 7 (October, 2010).
For more info on South Jersey Magazine, click
here
.
To subscribe to South Jersey Magazine, click
here
.
To advertise in South Jersey Magazine, click
here
.