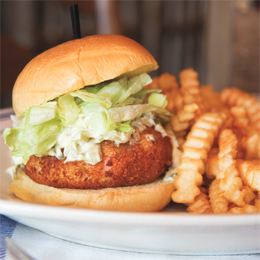 Quick Bite
BRICKWALL TAVERN
19 E. Union St.
Burlington
(609) 733-3562
Brickwall Tavern has been known as a destination for craft beer lovers to grab a bite and relax in Asbury Park for the last decade, earning a reputation for an impressive list of unique brews and food to match. So when the owners behind Brickwall announced plans to open a second location in Burlington, locals were more than excited.
Brickwall opened its doors this time last year in a renovated firehouse after over a year of construction and planning. The space is massive, with a full-service bar featuring more relaxed seating and space for live music, a 15-seat raw bar, dining room and another 25-seat bar. Both bars feature a draft list comprising 24 different craft beers from local and international breweries alike, as well as a specialty list from their beer cellar.
For a first-time visitor it's a lot to take in, but the space seemed thoughtfully designed. While crowds came in and out throughout a busy weekend evening, no room or space ever seemed really overwhelmed or busy. And the menu was just as considerate, serving up a selection of relatable, slightly Southern dishes that clearly aim to please. A sharing plate of pimento cheese dip was a true homage to the comfort food Brickwall prides itself on. Cheddar and cream cheeses are blended with spices and minced pimento peppers to form a thick spread. It was tradition down to the Triscuits it came plated with, a dish that wasn't necessarily unique but appealing enough to share easily with a crowd.
The same could be said about a plate of deviled eggs, though the serving size of four eggs would be more suited for a date night or smaller group. While I would have liked to see some slight variant on the deviled eggs we all grow up with, the ones presented—hard- boiled, filled with mayo and mustard and seasoned with pepper and a bit of paprika on top—were well-seasoned and well-cooked.
Creativity came through in a selection of sandwiches, platters and Brickwall's selection of specialty Mash Bowls, which top housemade Idaho mashed potatoes with a variety of proteins and sauces. The barbecue pulled pork bowl was particularly enticing, combining slow-cooked pulled pork with roasted Brussels sprouts, all of which was slathered in rich, tangy barbecue sauce. The Brussels sprouts brought a surprising amount of freshness to the heavy bowl, and when everything was combined in one heaping forkful it was the perfect, indulgent blend of flavors.
The Colossal Crab and Shrimp Cake Sandwich stole the spotlight on this particular evening, delivering—as promised—a massive, crispy patty packed with shrimp and jumbo lump crab meat. It was served on a soft potato roll, topped with tartar sauce and shredded lettuce and finished with a side of fries and cole slaw. The patty itself was bursting with flavor and the simple additions of lettuce and tartar sauce were all that was needed to craft a truly tasty sandwich.
Everything at Brickwall seemed well-calculated to appeal to the new, young masses flocking to areas like Burlington in search of community and connection. With an enticing beer list, over a dozen sandwiches to pick from, comfortable and understandable platters, vegetarian-friendly salads and the undeniable mash bowls all making up your choice for a meal, it's clear that this can easily become a place to keep on standby.
Published (and copyrighted) in South Jersey Magazine, Volume 13, Issue 9 (December, 2016).
For more info on South Jersey Magazine, click here.
To subscribe to South Jersey Magazine, click here.
To advertise in South Jersey Magazine, click here.