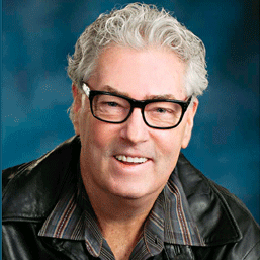 Show Me the Money
Famed film director turned wine mogul Francis Ford Coppola was once asked what his all-time favorite Christmas present was and he said, "A big plate of my wife's white cheese and chicken lasagna."
Coppola said that the kids were gathered around the tree and everyone was opening their gifts when his wife came in from the kitchen with the lasagna and said, "Merry Christmas." It was his favorite dish and here he was being served it for breakfast. It was exactly what he wanted at that moment. He never forgot it and it really didn't cost her a dime. (Years ago, when we were living in Sea Isle City year round, I pulled off a similar present with a Mack & Manco's pizza for my wife. The 9th Street Manco's is open all year and it's her favorite pizza in the world.)
I bring this up because I want you to realize I'm not all about the money. My wife and daughters have given me many inexpensive, creative presents over the years that have been in my office or hanging on a wall somewhere in the house for years.
One year my daughters Keely and Ava recreated a photo of the two of them sitting on the lap of the Cherry Hill Mall's Santa. Keely was 6 years old and Ava was 2 when the original photo was taken and both were in their 20s when they recreated it. That gift knocked me out and I think it cost them about $20.
Another December my wife took all her favorite Christmas photos and had a calendar made out of them. I treasure that calendar and again, she spent about 20 bucks on it.
My family has given me many much-appreciated gifts like this over the years. I bring this up to prove to you that there is a sentimental, sappy side to me. Indeed, I am not only concerned with money.
But I would also like to defend something that no one ever praises. In fact, the mere salute to it makes you come off as some materialistic creep. I'm talking about "the expensive gift."
There's a running gag of a question and answer that has been hovering around my family for years now. So much so that I am surprised that any of them still ask this question: "What do you want for Christmas this year?"
My answer is always the same. "Oh, something really expensive." They will laugh at the crassness of the answer. But, let's face it, we've been conditioned to accept that ridiculous, "Oh, it doesn't matter what you get me, it's the thought that counts." Baloney!
But think about the normal response to that question. "Something little is good enough for me." "Oh, you don't have to get me anything." "All I want for Christmas is you."
I remember and cherish the expensive gifts as much as the thoughtful, creative presents mentioned above. There's something about opening something costly where you think to yourself, "Wow, I didn't think they liked me this much."
Years ago, I was sick at Christmas time, and a friend of mine sent me a fruit basket. After the fruit had been picked off I was about to throw the basket out when I noticed it weighed more than it should. It turned out there was a $170 bottle of JohnnieWalker Blue that had been in the middle of the fruit that no one had noticed. And I was this close to throwing it away! That would have made for one happy trash picker.
My daughters once got my wife and me a two-night stay at the Waldorf-Astoria in New York. I still think about that gift and what it meant to me, especially since neither of them was making any money at the time. I'm not sure how they pulled it off. So you can't say the cost of this gift has no factor at all in the remembrance and specialness of it.
The same goes for a gift my wife gave me back in the '80s. We were not even married two years and she had just given birth to our first-born. Bruce Springsteen was coming to town. Now I never miss a Springsteen show. I saw him at the legendary 175-seat Main Point five times and am one of those knuckleheads who has seen him over a hundred times. (Just don't confuse me with Governor Christie. I wouldn't be caught dead in Dallas Cowboys owner Jerry Jones' stadium suite.)
Anyhow, we were stone cold broke and living in a tiny one-bedroom basement apartment. My comedy career was just beginning. Ever hear folks discuss how "happy they were before they had money?" That's because they didn't have tuition or car insurance or mortgage bills yet. And why? Because you didn't have kids, a car or a house yet. Now while we certainly wanted all those things, we forgot—or didn't realize—the years of bills that were going to accompany them.
But now I was a first-time father and I just didn't feel right scraping up the money anymore for something like a concert. I had bigger responsibilities.
Well, somehow my first-time mother of a wife came up with two primo Bruce tickets and put them in a giant gift-wrapped box. She'll never forget the look on my face when I discovered what was inside and all these years later I'm still talking about that gift. I have no idea where she came up with the dough.
Right at the deadline for this article, my daughters pulled off something amazingly thoughtful. My wife's father, a real prince of a man named Phil, passed away at the age of 83. He lived in Rehoboth Beach with my mother-in-law Elvira. My wife spent the week in Rehoboth aiding her mother who had just gotten out of the hospital herself. Now, no one likes decorating the house for the holidays more than my wife. But it's a major undertaking when you have to put up more lights and garland than the Moorestown Mall.
So what did my daughters do? They decorated the entire house while my wife was out of town. When she finally got back home after six days and saw what they had done, she burst into tears.
To tell you the truth, I think I had to wipe my eyes myself. See what I did there? I closed with a present that didn't cost any money at all.
Happy Holidays!
Big Daddy Graham is a renowned stand- up comedian and overnight personality on SportsRadio 94WIP. Check out Big Daddy live at 8 p.m. on New Year's Eve, Upstairs at the Lobster Loft in Sea Isle City with guest Spins Nitely. Visit BigDaddyGraham.com for more information and tickets.
Published (and copyrighted) in South Jersey Magazine, Volume 13, Issue 9 (December, 2016).
For more info on South Jersey Magazine, click here.
To subscribe to South Jersey Magazine, click here.
To advertise in South Jersey Magazine, click here.