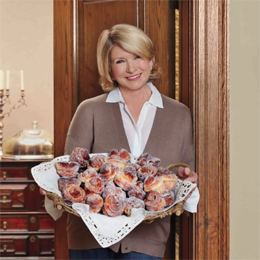 Hosting for the Holidays
What are a few unique side dishes that are perfect for the holidays?
For sides this holiday season, I've embraced a number of one-skillet recipes. Using just one burner means you can cook multiple sides on the stove while the main dish is roasting in the oven. Each one spotlights a single ingredient dressed up in bold flavors, and can complement any protein. Braised green beans with tomatoes, sautéed spinach with pepitas and sesame seeds, and pan-seared mushrooms with cream and dill are some of my favorites from the December holiday issue of Martha Stewart Living.
I also think my latest book Vegetables is a great resource for holiday side dishes this year. It has a variety of festive, seasonal options, from twice-cooked potato and leek casserole to roasted rutabaga and Brussels sprouts— they're all delicious and easy to replicate.
What are your favorite beverages to serve with dinner?
Food should be the focus of the meal, so don't over-think the beverages. At seated events, I like to give guests the option of either red or white wine—you can just leave a bottle of each on the table.
I also recommend trying a "bar" table, set aside while guests mingle before the meal, that way they can help themselves while you're busy with last-minute preparations and general hosting duties. Offer several spirit options and make a non-alcoholic punch, that way guests can mix in their vodka, tequila or choice liquor to their own taste— it's an easy way to please a crowd.
What are some ways you can dress up the table for guests?
Even though candles are pretty commonplace this time of year, it's still a favorite of mine when tablescaping. Play with height by using a variety of different-sized candles—votives, various pillars, tapers in candlesticks, etc. If you're worried about the fire hazard, there are so many fake flame options these days that can make great replacements.
I also adore miniature trees and consider them a go-to with holiday decorating. You can find great, colorful, vintage evergreens everywhere this time of year and the bottle brush variety at craft stores and online. I also like to create mini wooden dowel trees that can be decorated with ornaments of your choice.
When you place these throughout the table, be sure they are not too strong-smelling (if scented) or tall, that way all of your guests can see each other and interact.
How much advance prep work should you do and when should you start?
I like to start prepping for holiday get-togethers at least two weeks before by tackling the essentials: the guest list and the menu. Knowing your guest list and having a head count two weeks before allows for accurate menu prep. Are there any vegetarians, vegans? Are certain guests bringing dishes or wine? Accounting for these factors a few weeks prior will help decrease stress and allow you to be properly prepared and organized.
How much of a variety of desserts should you have?
Realistically, having multiple carefully crafted dessert options can be challenging when you're creating a full dinner menu. For the holidays, I like to end the meal with one impressive dessert—a creative, wintry sweet that ideally can be prepped the day before so there's no scramble at the end of the meal.
How can you get creative with the leftovers?
Day-after leftovers have become a staple in many homes during the holidays, but I like to think you can do more than just a sandwich. Utilizing leftover turkey or ham in soups, stews and casseroles is comforting during the cold weather months. I also love the idea of taking the fixings and sides and putting them into individual snack foods, such as mashed potato and gravy pocket pies, and turkey and cranberry quesadillas with brie.
Even the turkey bones can have a second life: Use them as the basis of a delicious turkey stock, which can be frozen for up to four months and used in any recipe calling for chicken stock. And remember leftover breads and rolls can be frozen and saved for up to three months and used for croutons, breadcrumbs, etc.
Published (and copyrighted) in South Jersey Magazine, Volume 13, Issue 9 (December, 2016).
For more info on South Jersey Magazine, click here.
To subscribe to South Jersey Magazine, click here.
To advertise in South Jersey Magazine, click here.