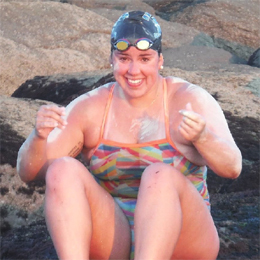 Out for a Swim
Katie Scott can't tell you what the view looks like from the top of the Eiffel Tower, how beautiful the Mona Lisa is in person or the best restaurants to check out in Paris.
Yet her first visit to France was unforgettable all the same.
This past August, the Cherry Hill native accomplished a feat that's only been done by just over 1,600 swimmers total and about 500 women in history—she made a solo swim across the English Channel. Scott crossed from Dover, England, to Cap Nez-Gris, France, covering the 21- mile trek in 13 hours, 39 minutes and swimming a total of 34 miles due to the heavy currents.
Since then, the 25-year-old swim coach has done numerous interviews and been bombarded with congratulatory messages from friends and family members. At first she didn't feel deserving of all the attention, but three months later the magnitude of her accomplishment is starting to hit her.
"They say more people have climbed Mount Everest than successfully crossed the English Channel on their first attempt," Scott says. "So that's kind of cool when you let that sink in, because I don't ever want to climb Mount Everest.
"I've had a lot of self-esteem issues and stuff like that, but something like this really helps. …It was a character-building experience and it totally changed my life."
Scott, who got her start in swimming at age 6 with the Jersey Wahoos in Mount Laurel, was a standout distance swimmer at Cherry Hill East and Marymount University in Virginia. After graduating from college in 2013, she remained in Virginia as an assistant coach at Marymount under Mike Clark and also works with youth swimmers. She is engaged to another former Marymount swimmer, Matt Ward.
South Jersey Magazine caught up with Scott to discuss her historic swim and what's next on her bucket list.
On setting the goal to swim the English Channel…
My junior year at college, a friend and I heard about this swim around Key West and that's a 13-mile swim. We kind of went down there for fun, and looking back we had no idea what we were doing. But I actually ended up winning the whole women's division and my friend won our age group. So it was like, 'OK, maybe we're decent at this.' From there I did Cape May, which is 15 miles. ... Then I learned there's a triple crown of open-water swimming, which includes swimming around Manhattan, the Catalina Channel in California and the English Channel. I thought it would be awesome if I could do it, so I put myself on a wait list, because people plan their swims more than two years out. I got an email in February saying that two spots had opened up, and I jumped at the chance and never looked back.
Funding her trip…
I was at a family wedding and I was talking to my uncle [Mike Sheerin]. He's the vice president at the Rothman Institute; he never swam, but he was a big soccer player at Cherry Hill East. He asked me when I was swimming the Channel, and I said, 'I would love to do it, but it's all a money thing and these swims cost thousands of dollars.' He said he would pay for the flights for me and Matt, my fiancé. ... I checked in with him a month later when I found out I was able to do it, and he said, 'The offer still stands.'
Then my boss said, 'If you want to keep doing these swims, we'll be happy to help you out; it looks good for our club and the kids think it's cool.' There's no way I would've been able to do it on my own without the support of the kids I give swim lessons to, the college team and my club team. They all made it happen and I was in the right place at the right time.
Waiting for her shot…
My first real concern was hoping that I would get to swim, because sometimes you go and you don't get to swim because the weather doesn't cooperate. ... You usually find out the day before or the night before that you're getting to swim, and I found out at 5:30 p.m. on the 29th [of Au- gust]. I got a text from my captain and he told me we were going at 5 the next morn- ing. It was a little nerve-wracking, but I thought the time was perfect. I was really worried I was going to have to swim at night, which I didn't want to do. It was awesome that I got to swim at 5.
There's a whole federation that you book your swim through. They have all the medical forms, they have the insurance forms, they have the pilots. It's very much an organized event. You can't just go over and swim, because it's still the busiest shipping lane in the world. You have to have everything set up with people who know the water and everything. Looking at the Channel on a map, it's kind of annoying how small it looks. But because it's so narrow, the current in and out is so drastic. It's not necessarily rough all the time, but because of the water coming in and out, you have to time it right.
Her supporters…
We had a 40-foot fishing boat. Matt was on the boat, and this woman who lives in England [who I found] on a Facebook group, she volunteered to come and be a part of my crew. I had never met her before and I later found out it was her birthday. So she spent her birthday sitting on this boat for 13 hours just watching me swim. So it was us three and the pilot and his crew. There was also a woman from the federation who just watched and made sure I didn't touch the boat, I didn't wear a suit that's not regulation and I didn't get on the boat. She monitored everything and took notes, and I actually just got her notes in the mail. It was cool reading through all of that.
The water temperature…
It was 63 degrees, which is about the warmest it gets, so I really lucked out big time. ... But jumping in the water at 5 in the morning when the sun wasn't out was the worst thing ever. My captain said that somebody else attempting the swim, a full-grown man, had to be pulled out of the water because of hypothermia just two days earlier, and it was the same exact temperature. So I had to make sure I was feeling fine. All I was worried about was not finishing; I didn't care how long it took and I didn't want anything to go wrong health-wise.
Getting stung—twice—by jellyfish…
I thought the water was going to be like Jersey Shore water, brown and dark. But it was actually really clear and all I saw were jellyfish. ... I had never been stung before, but I was telling myself, 'If I get stung, it's fine, I just hope it's not in the face.' Then I got stung in the face. I wasn't really upset about it, it was more comic relief for the next five or six hours. Then it went away and I was fine.
Getting closer to France…
If you were to ask Matt or anybody else, every other swim I've done I usually throw a temper tantrum for three hours because I just want it to be done. Going into this, I decided I was going to enjoy every second of it, and that made all the difference. ... I could see France for about five hours because it was a clear day. ... They say once you see it, don't look at it, because it's never going to get any closer. When they told me I had .2 miles left, that was when I got really excited.
Landing on the jetty…
If you land on the beach, there's a restaurant there and they'll come out and give you champagne. But I was to the right of the beach and the jetty was straight ahead. I would've had to swim against the current for like two more hours to reach the beach. So I didn't get to do that, but I'm never going to forget standing on the rocks. I don't think that memory will ever go away.
Her next challenges…
I'm glad that I got this one over first, because the other two (legs of the triple crown) are in the country. I'm not really sure when I'll attempt those, but I will. I'm getting married in June, so that's up there on the to-do list right now. Matt and I are both waiting on graduate school and we have a bunch of stuff going on. I'd love to be able to do those two, but I'm just enjoying this one for a while.
The impact of swimming…
Our pool is right in the middle of Arlington, Va., like three miles from D.C. ... My boss, Mike Clark, who funded 90 percent of my swim, just started a foundation for low-income kids. [In Arlington] we have areas where the kids don't have lunch money. He started a program that gives free swim lessons to low-income kids every Saturday for two hours. It started last year and it has really blown up this year.
Published (and copyrighted) in South Jersey Magazine, Volume 13, Issue 9 (December, 2016).
For more info on South Jersey Magazine, click here.
To subscribe to South Jersey Magazine, click here.
To advertise in South Jersey Magazine, click here.