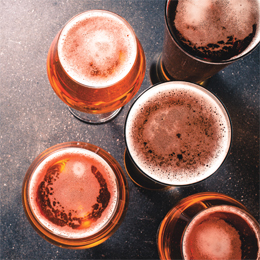 Something's Brewing
It's universally known that too much of a good thing can go sour. But in the case of South Jersey's microbreweries, no one seems to be complaining—yet. Currently, there are more than 60 New Jersey-based breweries in the entire state, with more than 10 breweries open throughout Burlington, Camden and Gloucester counties.
This influx of small local breweries occurred in just four short years, thanks to a state bill signed into law by Gov. Chris Christie with the sponsorship of Sen. Donald Norcross of Camden. It modernized the state's craft beer industry, which allows limited license breweries to produce small batches of beer for both retailers and distributors, as well as to the consumer—but on premises in conjunction with a tour or off premises in a growler. The law also affected restricted license breweries, otherwise known as brewpubs, allowing a company to open as many as 10 locations in the state and sell their brews offsite.
In other words, breweries got the green light and since then, the local craft beer scene hasn't been the same. In fact, new legislation is in the works to permit certain breweries to sell beer at community farm markets. And new breweries are popping up seemingly every week—including in dry towns like Pitman and Collingswood.
While Christie's ruling has been met with much fanfare, it's no secret it ruffled the restaurant association's feathers. It has even drawn concern that it may open the floodgates to liquor license reform, which could cause an uproar from restaurant owners who have paid a pretty penny for their licenses—with some even costing over a million dollars in towns like Cherry Hill and Moorestown.
Brewing opposition
To better understand how breweries operate under state law, it's crucial to understand their restrictions. For starters, a limited brewery license is issued by the state's Alcohol Beverage Control, unlike a liquor license, which is issued by the town based on population. That means, one consumption license (a bar, tavern or restaurant) for every 3,000 residents per town.
Since a limited brewery license is not part of the population cap, there is no limit. Yet, a town's mayor and council are notified of every brewery application and have a say should they have any concerns about the license holder or the license itself.
For surrounding towns with operating consumption licenses, some opposition was initially met—mostly because it was feared these breweries would begin to act like a restaurant or a bar, given the price gap business owners pay for a limited brewing license versus a consumption one. While some restaurant owners fork out anywhere between $250,000 to a million dollars for a proper license, breweries are paying $7,500 in comparison. Their argument is, of course, it isn't fair to allow these breweries the same privileges a restaurant has, when they aren't paying the equal amount.
"[No one is] opposed to the breweries when they comply with the law and the law is that they're not allowed to serve food—and I'm not talking about pretzels. I'm talking about when they start acting like a restaurant to circumvent the law," explains New Jersey Restaurant & Hospitality Association President Marilou Halvorsen.
"These breweries are great at driving business. Craft beers are extremely popular and I encourage our restaurants to promote New Jersey beers and a lot of our restaurants are doing well serving local brews, but when [breweries] are acting like a restaurant and they don't have to pay a liquor license, it's a problem."
As far as liquor license reform goes, Assemblyman John Burzichelli of Gloucester County proposed a bill in 2015 that would create a whole new brand of licenses geared to smaller establishments. It would allow restaurants to serve alcohol to patrons at their tables—just as long as they do not operate a bar on the premises. The lowest initial fee, based on an establishment's square footage and type of alcohol served, would cost $1,500. Current liquor license holders opposed the bill arguing their licenses would lose value as a result.
Iron Hill Brewery & Restaurant— which operates 12 brewpubs throughout N.J. and Pa.—thinks differently. They hold a restricted brewery license meaning they are allowed to serve food, liquor, wine, beer and their own brews. In fact, they championed the 2012 legislation alongside the Garden State Brewers Guild.
"Unfortunately, in New Jersey, license holder associations cry foul on almost any piece of progressive legislation as something that will affect the value of member licenses. In Pa., for example, we hold license of value with our brewpubs, just like in N.J.," explains Mark Edelson, co-owner, co-founder and director of brewing operations.
"However, the law there also allows breweries to sell on premise in tasting rooms and requires them to sell food. There has been absolutely no reduction in license value because of this and limited breweries that follow the law are absolutely no threat to restaurants."
As for popular craft beer bars like P.J. Whelihan's and Haddon Township's Irish Mile, there isn't much concern as they haven't seen a dip in business. If fact, it's been for the better. "We celebrate new local offerings by partnering with them on many different levels. It's all part of being a part of the crucial fabric of the communities we serve," explains Jim Fris, chief operating officer of PJW Restaurant Group.
"We purposely have a varied and interesting rotation of local craft beer on tap in all of our restaurants and invite as many breweries to do tap takeovers for us at The Pour House as we can," he adds. "I think the landscape in the hospitality industry is ever- changing and we have always believed in embracing all changes as they come—good, bad or otherwise."
If you brew it, they will come
Despite the minimal oppositions, one thing is for certain: The brewery business is booming. In fact, breweries are tag-teaming with local restaurants by cross-promoting and fulfilling a give-and-take business model. If a brewery tour enters town, its participants stop at local breweries, dine at nearby eateries or order take-out. BYOBs are even advertising within their neighboring breweries and vice versa.
"It's been a great reciprocal relationship between the brewery and restaurants," says Pitman Mayor Russell C. Johnson III. "I personally, as mayor, have heard nothing but positive feedback about the breweries."
In Medford—whose Main Street experienced a resurgence of its own with the recent establishment of Harvest Coffee Roastery, ITA 101 and The Pop Shop—is now home to two breweries that are just several storefronts away from each other. Lower Forge Brewery and Nale House Brewing Company both opened in recent months and have established a camaraderie. "There is a great flow," says Nale House's head brewer and managing partner Eric Leiner. "There's been, more than four beer tours that have gone through the town, specifically just in Medford, to hit the breweries.
"We [are] just so excited to be able to provide a place for someone to come out and enjoy themselves and supporting local is just so big to us," he adds. "They want to support local instead of going over to Philly, where there are so many bars and restaurants on one street. It's great they want to spend time with us in Medford."
As for Braddock's Tavern, Medford's long-standing restaurant and bar, they welcome the two new businesses with open arms. "I'm happy for the competition and I'm happy to have more people on the street," says Brad- dock's managing partner Bob Wagner.
"I'm fortunate where I have good neighbors and good businesses and people who practice good practices," he adds. "They want to show people how good they are at making their product, where the product comes from and how it's done. They're good at what they do."
Out in Collingswood, Devil's Creek Brewery takes up residence at the Lumberyard complex right across Franco Lombardo's Sapori, a BYOB restaurant in the heart of downtown. There, the two have a very fruitful partnership. "We help each other," Lombardo says. "This will be the first winter with them being across the street and we look forward to sending people there while they wait for their table, maybe texting them when [their] table is ready."
The feeling is mutual, as Devil's Creek's director of sales and marketing, Kathy Ganser-Abate, vouches for Lombardo's support, as well as her neighboring businesses. "We want to cross-promote and do events together and certain restaurants have just been 100 percent supportive."
Stink Fisher and Connie Correia's Pop Shop has also been supportive, as Devil's Creek carries their take-out menus so patrons can order food. "The owners are very interested in everyone working together and have reached out to us about co-marketing," explains Correia. "I think all of the restaurants were slightly worried about the brewery taking customers away, but so far that has not been the case."
Cherry Hill's Forgotten Boardwalk takes things one step further by working with local restaurants, specifically The Farm and Fisherman Tavern and Market, which carries the brewery's beer. "They have been wonderful supporters since day one," states Jamie Queli, CEO and co-owner. "There's no brewery closer to them other than us, so they generally always have us on draft, because their idea is farm-to-table food, locally sourced and fresh ingredients."
The same goes for Mount Holly's Spellbound Brewing, a 20-barrel brew house whose beers can be found on tap at most restaurants across South Jersey. "It's a really great symbiotic relationship because all the places that have us on tap, if you take a look at the numbers, they're selling a lot of our beer," explains owner John Companick.
"We're not in competition with them, we're not selling food; we're trying to bring people into town and people to the restaurants that may have never gone to a Mount Holly restaurant before."
The risk of saturation
With all the fanfare and an influx of microbreweries across South Jersey, it's enough to wonder if saturation is imminent—but not so much.
"It is great for the economy," says Edelson, who rang in Iron Hill's 20th anniversary this past November. "It has probably spurred more industry growth than anything that has come out of Trenton in the last five years. ... New Jersey is still leaps and bounds behind most states in craft beer and craft breweries, so I don't think there is currently any oversaturation danger."
Yet, there is always concern. Queli of Forgotten Boardwalk finds the issue debatable, stating, "If all the breweries in New Jersey are making good quality beer, then there's not going to be a pop, but if bad beer starts coming out, people might lose their faith in local."
Part of the community
Whether you're pro or anti-suds, it looks like local breweries are here to stay and they're quickly becoming part of their community's fiber. Flying Fish's Gene Muller, who also acts as the Garden State Brewers Guild's Treasurer and a member of the executive board, vouches for microbreweries giving a good name to South Jersey.
"These breweries are part of the community and when you buy local beer that money stays in that community. People live near where they work, they get paid and then they [put] that money back into the community."
What's more, breweries are also tapping into fellow businesses with the likes of Flying Fish teaming with Revolution Coffee Roasters and Camden's Cooper River Distillers for special brews. "It's adding another level of interest to what's going on in South Jersey, drawing attention and attracting people that would want to come visit."
Pitman's mayor echoes Muller's sentiment—especially with a second brewery, Human Village Brewing Company, now open next door to the already thriving Kelly Green Brewing Co. "This seems to be fulfilling a vision that the town has had since 2004 when the [The Broadway Theatre] was going to reopen again. ... Pitman used to be a town that shut down at 5 p.m. and the restaurants, breweries and the theater have really started to make Pitman that evening destination location. ... It's really created the dynamic evening culture. It's exciting to watch."
The same destination aspect can be applied to almost every downtown area as it's the rejuvenation South Jersey has been waiting for. "To have more than [60] breweries—there's more breweries than wineries now in the state— in four years is pretty amazing," adds Muller. "It's great to know all these great local businesses and people can be proud of their neighborhood brewery. I think it's a great time to be a beer drinker in New Jersey."
BEST BREWERY PRACTICES
Notable practices issued by the Garden State Craft Brewers Guild
No paid food service allowed
No food trucks on brewery property, unless a private event is being held
No bar games like pool or ping-pong
No live TV entertainment
Tasting rooms must close by 10 p.m.—unless local municipality sets an earlier time
Published (and copyrighted) in South Jersey Magazine, Volume 13, Issue 9 (December, 2016).
For more info on South Jersey Magazine, click here.
To subscribe to South Jersey Magazine, click here.
To advertise in South Jersey Magazine, click here.