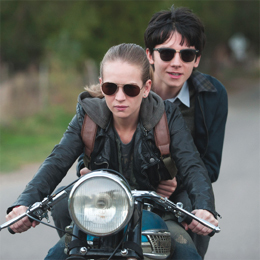 At the Movies
December may mark the end of the year on the calendar, but it's even more significant in the entertainment world because it brings the final portion of the yearlong movie calendar. December is when high-profile films starring A-list talents surface when Academy Award-sniffing titles launch Oscar season, and when even folks who rarely get out to theaters to see movies find themselves lining up at the multiplex.
What follows is the projected lineup, a gaggle of big-screen, come-hither titles headed our way this month and—on paper, at least—worthy of our attendance and our attention, and, if we and they are lucky, maybe even our affection.
Jackie (Dec. 2)
GENRE AND PLOTLINE: After the assassination of her husband, First Lady Jackie Kennedy deals with grief and trauma with regard to her children, her faith and President JFK's legacy.
MAJOR PLAYERS: Natalie Portman, Peter Sarsgaard, Greta Gerwig, John Hurt, Billy Crudup, Max Casella, Richard E. Grant
BEHIND THE CAMERA: Rising, award-winning Chilean director Pablo Larrain (Neruda, Post Mortem, No, Tony Manero, The Club) has attracted considerable international attention.
OSCAR PROSPECTS: Given that Portman was nominated as Best Supporting Actress in 2004 for Closer and won as Best Actress in 2010 for Black Swan, this one becomes an instant Oscar-candidate possibility.
COMMERCIAL PROSPECTS: Modest, but seeing Portman portray Kennedy—especially if the reviews are strong—could catch on
REASON TO SEE IT: An Oscar-caliber performer delivering an international icon always holds promise
Office Christmas Party (Dec. 9)
GENRE AND PLOTLINE: In this seasonal comedy, the CEO of a Chicago tech company plans to close down a branch, which changes the mood and agenda at the company's annual holiday gathering, which becomes, if it's possible, even wilder than usual.
MAJOR PLAYERS: Jason Bateman, Jennifer Aniston, Kate McKinnon, Olivia Munn, T.J. Miller, Courtney B. Vance, Rob Corddry, Jillian Bell, Vanessa Bayer, Randall Park
BEHIND THE CAMERA: Directors Josh Gordon and Will Speck have previously given us two comedies—Blades of Glory and The Switch—that, while not achieving classic status, were funny enough to raise expectations this time around.
OSCAR PROSPECTS: The guest list at this party and the one at that big Oscar party in February do not overlap.
COMMERCIAL PROSPECTS: Premises don't come more shallow; but they also don't come more seasonal, so look for brisk business to be done.
REASON TO SEE IT: The spirit of the season may tilt you in this direction, and Bateman and Aniston, together or apart, with their expert comic timing and agreeable personalities, are mighty easy to take.
Nocturnal Animals (Dec. 9)
GENRE AND PLOTLINE: In this suspense thriller, an art gallery owner reads her ex-husband's new novel, a thriller she believes threatens her with a violent act of revenge.
MAJOR PLAYERS: Amy Adams, Jake Gyllenhaal, Aaron Taylor-Johnson, Michael Shannon, Isla Fisher, Laura Linney, Armie Hammer, Michael Sheen, Jena Malone, Andrea Riseborough
BEHIND THE CAMERA: This is the second feature from co-writer and director Tom Ford, who previously gave us the Colin Firth vehicle, A Single Man.
OSCAR PROSPECTS: It certainly sounds like a genre item rather than Oscar bait, but keep in mind that Firth was Oscar-nominated as Best Actor for A Single Man.
COMMERCIAL PROSPECTS: Not especially strong, but the name cast should give it a decently high profile.
REASON TO SEE IT: That cast, and the strong previous effort from Ford.
Rogue One: A Star Wars Story (Dec. 16)
GENRE AND PLOTLINE: After the formation of the Galactic Empire, The Rebellion recruits a team to attempt to steal plans for the Death Star in this science-fiction action-adventure thriller.
MAJOR PLAYERS: Felicity Jones, Diego Luna, Ben Mendelsohn, Donnie Yen, Mads Mikkelsen, Forest Whitaker, Alan Tudyk, Jiang Wen
BEHIND THE CAMERA: Visual effects expert Gareth Edwards has directed two previous features, Monsters and Godzilla.
OSCAR PROSPECTS: This is the Star Wars universe, not the Academy Awards universe. There's little overlap.
COMMERCIAL PROSPECTS: To repeat, this is the Star Wars universe. They're already lining up at the multiplex.
REASON TO SEE IT: For completists, this is the eighth theatrical movie in the series—and the seventh was reasonably satisfying—but it has a lot to live up to. Expectations should probably be held in check.
La La Land (Dec. 16)
GENRE AND PLOTLINE: This musical-comedy-drama, set in modern-day Los Angeles, is a love letter both to the City of Angels and the old-fashioned, ever-so-lovable Hollywood musical, as it focuses on the romance of a jazz pianist and an aspiring actress.
MAJOR PLAYERS: Ryan Gosling, Emma Stone, J.K. Simmons, John Legend, Rosemarie DeWitt, Tom Everett Scott, Finn Wittrock
BEHIND THE CAMERA: This is the second feature from writer-director Damien Chazelle. All his first outing, 2014's Whiplash, did was receive five Oscar nominations and win three: for Best Supporting Actor (Simmons), Editing and Sound Mixing.
OSCAR PROSPECTS: Following the Oscar showing of the terrific Whiplash, which was also nominated for Best Picture, Academy voters will be paying very close attention.
COMMERCIAL PROSPECTS: With Gosling, Stone, and the throwback concept, how could this not do big business?
REASON TO SEE IT: Take your pick: the great title, the director's last (and first) movie, either of the two stars or the prospect of seeing them dance.
The Space Between Us (Dec. 16)
GENRE AND PLOTLINE: A romantic science-fiction adventure in which a teenager, raised by scientists on Mars, travels to Earth in search of his father and falls in love.
MAJOR PLAYERS: Asa Butterfield, Britt Robertson, Gary Oldman, Carla Gugino, B. D. Wong, Janet Montgomery
BEHIND THE CAMERA: British director Peter Chelsom's credits include Funny Bones, Hear My Song, The Mighty, Town & Country, Serendipity, and Shall We Dance.
OSCAR PROSPECTS: Movies aimed primarily at a teen audience tend not to be Academy Award bait unless they quickly establish themselves as something special enough to be considered for the Oscars between us.
COMMERCIAL PROSPECTS: This genre hybrid will remain an unknown in the marketplace until it opens against formidable seasonal competition. Which it will. But time will tell.
REASON TO SEE IT: If the marketing is aimed directly at teens, it's going to need a heck of a lot of them to turn out for it to make a showing up against higher-profile films.
Assassin's Creed (Dec. 21)
GENRE AND PLOTLINE: A series of video games provides the inspiration for this action-adventure-thriller about a loner who discovers that he's the present-day descendant of a 15th century Spanish assassin known as Aguilar, whose impressive martial arts skills he has inherited.
MAJOR PLAYERS: Michael Fass- bender, Marion Cotillard, Jeremy Irons, Brendan Gleeson, Michael K. Williams
BEHIND THE CAMERA: Australian director Justin Kurzel has been at the helm of The Snowtown Murders and the recent Macbeth starring Fassbender and Cotillard.
OSCAR PROSPECTS: Despite the presence of two terrific actors— Fassbender is a two-time nominee, Cotillard is a two-time nominee and an Oscar winner—let's not be silly.
COMMERCIAL PROSPECTS: The red flag, "inspired by a video game series," will scare many away, but probably attract even more from the film's presumable built-in audience.
REASON TO SEE IT: Quality notwithstanding, you're either definitely showing up (gamers) or definitely staying home (blamers). Choose your demographic.
Passengers (Dec. 21)
GENRE AND PLOTLINE: In this romantic science-fiction adventure, a spacecraft traveling to a distant colony planet transporting thousands of people develops a malfunction in its sleep chambers and prematurely awakens two sleeping passengers.
MAJOR PLAYERS: Jennifer Lawrence, Chris Pratt, Michael Sheen, Laurence Fishburne, Aurora Perrineau
BEHIND THE CAMERA: The Norwegian director, Morten Tyldum, was nominated for an Oscar as Best Director for 2014's The Imitation Game and also directed Buddy, Fallen Angels, and Headhunters.
OSCAR PROSPECTS: JenniferLawrence's track record—four nominations in six years and an Oscar as Best Actress for Silver Linings Playbook—assures this one of being taken seriously by voters.
COMMERCIAL PROSPECTS: Strong, given the recent ticket-selling success of blockbusters starring Lawrence (The Hunger Games and X-Men franchises) and newly crowned leading man Pratt (Guardians of the Galaxy, The LEGO Movie, Jurassic World, The Magnificent Seven).
REASON TO SEE IT: Two A-listers in a romantic sci-fi flick with an intriguing premise? What's not to like?
Sing (Dec. 21)
GENRE AND PLOTLINE: An animated musical comedy in which a theater owner sponsors a singing competition in the American Idol vein, hoping to spike interest in his struggling venue, and a disparate array of species shows up to compete.
MAJOR PLAYERS: Matthew McConaughey, Reese Witherspoon, Seth MacFarlane, Scarlett Johansson, John C. Reilly, Leslie Jones, Nick Offerman, Jennifer Saunders, Nick Kroll, Garth Jennings
BEHIND THE CAMERA: Writer-director Garth Jennings, who is also an actor and is among the voice cast, has The Hitch-hiker's Guide to the Galaxy and Son of Rambow under his belt. Both are distinctive, but neither is animated.
OSCAR PROSPECTS: Lots of competition in the animation category makes this a long shot, but stranger things have happened.
COMMERCIAL PROSPECTS: A name voice cast and a lively premise should add up to at least moderate traffic and perhaps something more.
REASON TO SEE IT: This may be the kind of animated musical (or is it musical animation?) that speaks to all generations at once, with parents using the kids as a rationale to attend.
Why Him? (Dec. 23)
GENRE AND PLOTLINE: The question every protective father asks when his beloved daughter brings home a prospective husband provides the title of this meet-the-parent comedy about the conflict between a dad and the techie billionaire boyfriend his daughter introduces him to.
MAJOR PLAYERS: Bryan Cranston, James Franco, Zoey Deutch, Megan Mul- lally, Keegan-Michael Key, Casey Wilson, Adam Devine
BEHIND THE CAMERA: Director and co-writer John Hamburg lists I Love You, Man, Along Came Polly and Safe Men on his résumé.
OSCAR PROSPECTS: On paper, let's call them modest. This is, after all, a comedy, most of which don't get to sit at the grown-ups' table at Oscar time.
COMMERCIAL PROSPECTS: This looks like the kind of audience-friendly romp that might pack them in during the year's final week.
REASON TO SEE IT: Bryan Cranston, always worth seeing and good in any genre, heads back to comedy-land following a couple of dramas (Trumbo and The Infiltrator) that established him as an A-list leading man.
Gold (Dec. 25)
GENRE AND PLOTLINE: A luckless prospector teams up with a geologist in an attempt to strike it rich during the mining scandals of the 1990s in this gilded adventure drama.
MAJOR PLAYERS: Matthew McConaughey, Edgar Ramirez, Bryce Dallas Howard, Corey Stoll, Bruce Greenwood, Stacy Keach, Joshua Harty, Timothy Simons
BEHIND THE CAMERA: Stephen Gaghan, who was Oscar-nominated as the screen- writer of Syriana and was an Oscar winner as the writer of Traffic, has also directed Syriana and Abandon.
OSCAR PROSPECTS: With Gaghan's Academy Award track record and leading man McConaughey's Oscar for 2013's Dallas Buyers Club, let's consider this a player but adopt a wait-and-see attitude.
COMMERCIAL PROSPECTS: McConaughey is certainly a draw, but the premise seems to fall short of striking you-know-what. McConaughey fans are legion, but the narrative may seem more like the Foreign Legion.
REASON TO SEE IT: In a word: McConaughey.
Fences (Dec. 25)
GENRE AND PLOTLINE: An African-American father and ex-baseball player, raising his family in Pittsburgh in the 1950s, struggles with race relations and the difficulty of providing for his loved ones.
MAJOR PLAYERS: Denzel Washington, Viola Davis, Mykelti Williamson, Stephen Henderson, Russell Hornsby, Saniyya Sidney
BEHIND THE CAMERA: Superstar Denzel Washington directs for a third time, following two stints in the director's chair for Antwone Fisher and The Great Debaters, both fine films. And the screen-play by playwright August Wilson is based on his play.
OSCAR PROSPECTS: Never count out Washington as an actor, with his six nominations and Oscars as Best Supporting Actor for Glory in 1989 and Best Actor for Training Day in 2001. In fact, let's not count him out as a director either.
COMMERCIAL PROSPECTS: With the two high-profile leads and Wilson's pedigree, this may be an arty film that still registers as wide-appeal mainstream entertainment.
REASON TO SEE IT: Here are three: Washington. Davis. Wilson. The trifecta.
Published (and copyrighted) in South Jersey Magazine, Volume 13, Issue 9 (December, 2016).
For more info on South Jersey Magazine, click here.
To subscribe to South Jersey Magazine, click here.
To advertise in South Jersey Magazine, click here.