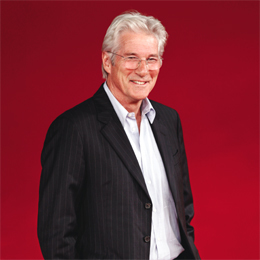 Close to Home
Considering his decades-long status as an A-list movie star—not to mention two-time recipient of People magazine's "Sexiest Man Alive" designation—Richard Gere doesn't usually "blend" well. In other words, the silver-haired Philadelphia native is accustomed to being noticed everywhere he goes, from Philly and Hollywood to India and Tibet.
All that changed a few years ago, when the 67-year-old Gere was preparing for the leading role in Time Out of Mind, a drama about the struggles of the homeless.
He wanted to do the film as a way to advocate for the downtrodden living on the streets of Camden, Philadelphia and other cities plagued by homelessness. In the course of preparing to play the role of George, a homeless man living on the streets of New York City, Gere got a bitter taste of the isolation and other hardships faced by those who have no safety net; there were times during filming when he went almost completely unnoticed, as if he were invisible.
"There were only three times when people actually talked to me on the street when I was playing the role of George," he recalls. "One was a French tourist who gave me some food and never looked at me, and two other times African-American men called out, 'Hey, Rich. How ya doin' man?', and they continued walking by me. But everyone else was very much in their capsules, their own little world. We know where we're going, and we see little going on between here and there.
"At first it was about feeling invisible, but then it felt deeper than that; it felt like a black hole," he continues. "They were actively not seeing me. People were avoiding me like the plague."
Gere felt compelled to shine a spotlight on the urgency of homelessness in America. He also wanted to remind people that they can make a difference in the lives of others in need.
"We didn't know when we started out if this was going to work on any level," he says. "But we just went with it, and quickly we could see how we all have a yearning to be known, and to be seen, and how much it hurts when we are ignored. I don't believe this is about seeing a homeless guy. We're seeing ourselves—our emotional, naked selves."
In Time Out of Mind, Gere's character finds himself in an increasingly desperate situation. Life seems to have passed him by. After exhausting all possible housing options and sleeping on public benches, he seeks refuge at Bellevue Hospital, which has become Manhattan's largest intake center for homeless men. He finds himself in a harsh and bewildering environment, teeming with marginalized souls. But when George befriends a seasoned shelter dweller played by veteran actor Ben Vereen, he begins to find some hope and the will to repair his relationship with his estranged daughter.
"I think in a greater sense, this is all about avoiding failure and not wanting to be sucked into the idea that this failure and suffering is out there lurking in all of us; that dread of failure is staring back at our faces," he says. "So it's about the illusion of security that we have, which is actually pretty thin."
Gere was intimately involved in every aspect of Time Out of Mind, which was written and directed by Oren Moverman. The film co-stars Vereen, as well as Steve Buscemi, Jena Malone and Kyra Sedgwick. The film is important to Gere because it relates to the global issue of human displacement (i.e., refugees)—a hotly debated matter in the 2016 presidential election that will likely continue to be a major political issue into 2017 and beyond.
"Whether we talk about homeless people on the streets of Philadelphia, New York or anywhere else, it's all the same issues," he says. "We have to ask ourselves: Are we in this together or not? Can we help?"
SEEKING BALANCE
Known as a longtime activist in a range of political and social issues, Gere has spent a great deal of time in homeless shelters, mostly in New York. He took several lessons away from his experiences, both as an activist and in the course of making Time Out of Mind.
"I think what I got out of this experience was a sense of yearning," he says. "I'm not seeing George as a homeless guy any- more; I'm seeing him as each of us. And we're all yearning—for love, for affection and to be seen; to be embraced; to be part of all those things. All of that is certainly highlighted and very clear in the story of a homeless person. We see all these things."
Sister Mary Scullion, executive director of the 25-year-old nonprofit Philadelphia- based advocacy group Project HOME, praises Gere's efforts. She's a good judge, considering her nonprofit's status as a leader in providing comprehensive services to persons who experience chronic homelessness. If Project HOME sounds familiar to South Jersey residents, it probably has something to do with one of the nonprofit's most prominent collaborators, Jersey's own Jon Bon Jovi. The group has done several projects in the area, including in Camden and helping one Merchantville man get back on his feet after years of struggle.
"Richard Gere did an extraordinary job of portraying the reality of homelessness and the disconnection that we can feel from our society," she says. "He also showed us the incredibly difficult challenges of getting back into the mainstream of society once you are homeless."
With so much success in films and advocacy work, Gere says everything began with a loving family. That same kind of love and support is what keeps him balanced today. The well-being of his 16-year-old son, Homer, is also foremost on his mind when selecting upcoming film roles, especially if they take the actor far from home.
"My film decisions are mostly mine," he explains, "but I'm very careful about not being away from my son for very long. So, if I have to be away for long I talk to him about it, and if there is a problem, I don't take the project. I have walked away. My family is clearly more important than anything else in my life."
He began acting in the 1970s, in a supporting role in Looking for Mr. Goodbar, and starring roles in Days of Heaven and American Gigolo. Although perhaps best known for leading roles in films such as An Officer and a Gentleman and Pretty Woman, more recent films of his that earned high praise include Primal Fear, Unfaithful and The Second Best Exotic Marigold Hotel.
Because every role is different, Gere says he often has to "sort of sneak up on aspects of the characters to make them look and feel organic. It's very difficult for me to just show up and work. Things come up that interest me, and if they fit my life at the time, then I plunge in.
"Believe me: I'm always busy, with either movies or something else," including widespread activism involving human rights, AIDS awareness and ecological causes. He's also a Buddhist who often meets with His Holiness, the Dalai Lama.
As for upcoming film projects, Gere has starring roles in The Benefactor, which was filmed in Philadelphia, and Norman: The Moderate Rise and Tragic Fall of a New York Fixer. Norman, which stars the likes of Buscemi, Charlotte Gainsbourg and Hank Azaria, is about Norman Oppenheimer, whose life dramatically changes after the young politician he befriended three years prior becomes the prime minister of Israel.
"I think everyone is going to empathize with Norman, because there's a little of him in all of us," Gere ex- plains. "This is not a glamorous movie, but I hope that people will find it enjoyable."
Joseph Cedar wrote and directed the film. He says he didn't initially envision Gere for the title role but came around after careful consideration. "I thought it was interesting to think, that even in someone who projects what Richard Gere projects as a movie star, there's a Norman within him—the thing that moves Norman and puts him into this very sad position in life has nothing to do with his physicality," Cedar says. "So, for an actor, that's a great challenge that I knew Richard could rise to."
Gere suggests Norman's story provides a good analogy for his life as a film actor: "Anyone who has been on film sets can see that it's not glamorous; it's hard work. It takes long hours, and it's intense and emotionally difficult. So that's how I see what I do."
Gere hopes, both through his films and through his advocacy for those in need, that he will make people take notice. Even more so, he hopes his work will inspire others to pause long enough to take a second glance at the world and try to make it a better place than when they found it.
Photo by Andrea Raffin / Shutterstock.com
Published (and copyrighted) in South Jersey Magazine, Volume 13, Issue 9 (December, 2016).
For more info on South Jersey Magazine, click here.
To subscribe to South Jersey Magazine, click here.
To advertise in South Jersey Magazine, click here.