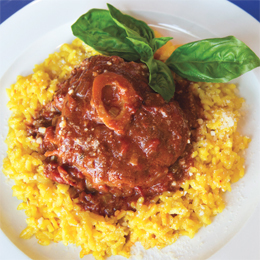 Palate: Chef's Table
Nunzio Patruno
Nunzio Ristorante Rustic
Chef and restaurateur Nunzio Patruno is known across the Delaware Valley for his commitment to Italian cuisine thanks to the mouthwatering dishes he creates nightly at his Collingswood restaurant Nunzio Ristorante Rustico. He draws on his Castellana Grotte roots to craft a seasonal and rotating menu that continuously leaves us wanting more.
Patruno's skill in the kitchen is also regularly on display during one of the many cooking classes he hosts at the restaurant, which draw large groups from across South Jersey. Here, the chef shares one of his favorite plates for home cooks, veal osso bucco.
Perfect Osso Bucco
INGREDIENTS:
6 veal shanks, sliced 2 inches thick
1⁄2 cup diced onions
1⁄2 cup diced celery
2 garlic cloves, finely chopped
1 sprig rosemary
2 bay leaves
2 glasses red wine
4 cups veal stock
4 cups plum tomatoes Salt and pepper
PROCEDURE:
Pre-heat oven to 400 degrees. Lightly dust [veal shanks] with flour and sauté for three minutes on each side and place them in a baking pan.
In the same sauté pan, cook the onions, celery and carrots for three minutes. Add the red wine, plum tomatoes and veal stock. Pour over the [veal shanks] until completely submerged. Insert the herbs in between the osso bucco and add salt and pepper. Cover with aluminum foil then bake for two-and-a-half hours.
Remove from the pan and serve.
TIPS:
Plan ahead: You can cook this is in advance, even the day before. Then you can warm it up at the last minute.
Choose your sides wisely:The dish is very versatile because you can serve with pasta like tagliatelle or pappardelle, something that will soak up the osso bucco. You can also serve it over risotto Milanese or even mashed potatoes.
Find the right shank: You want a back leg, those are nice and plump. The hind shank is the best.
Keep an eye on the cooking:When you make the shank you want to flour and sear them first—sear them in a very hot oil to create a crust so the meat stays juicy. That crust seals the meat. Also try to tie them with kitchen twine, so when you pick them up they don't fall apart.
Published (and copyrighted) in South Jersey Magazine, Volume 13, Issue 8 (November, 2016).
For more info on South Jersey Magazine, click here.
To subscribe to South Jersey Magazine, click here.
To advertise in South Jersey Magazine, click here.