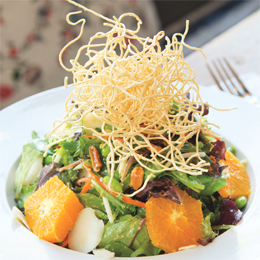 Palate: Quick Bite
Sabrina's Café
714 Haddon Ave.
Collingswood
(856) 214-0723
Sabrina's has only been in town for a year, but it has already become an ingrained part of the Collingswood dining scene. Its November 2015 opening was long awaited, as residents anxiously wondered what would fill the space of the former F.W. Woolworth building.
Hailing from Philadelphia, the Haddon Avenue spot was the fifth location—and first in New Jersey—for owners Robert and Raquel DeAbreu. The cozy and welcoming eatery has earned a reputation for eye-opening breakfast and brunch options, including mile-high French toast stacks that change with the seasons, a selection of rotating themed breakfast dishes and egg scrambles that are hard to forget.
The stuffed Challah French toast, a menu mainstay, loads super-thick cut bread with a cream cheese and honey spread and sliced bananas before finishing it with more bananas and a vanilla bean maple syrup. A more savory palate would be equally impressed with the Barking Chihuahua, a breakfast burrito of sorts, filled with scrambled eggs, black beans, roasted red peppers and spicy pepper jack cheese. It's one of a handful of Tex-Mex inspired dishes you'll find here and, like all menu options, is made from scratch and piled high with an array of quality ingredients.
There are also plenty of appealing vegetarian options available across the entire menu. The vegetarian Philly cheesesteak, in particular, is a dish that even full-blooded carnivores like myself can appreciate. Seitan is chopped and served on a roll with provolone cheese, long hots and sautéed onions. The seitan is texturally surprising, tasting and feeling like the real thing.
The Mediterranean wrap pairs roasted eggplant and cucumbers with crispy discs of falafel before adding a spread of garlic hummus, crumbled feta cheese, olives and crispy cucumber all on a whole wheat tortilla. You get your pick of potatoes—including their irresistible, all-day home fries—and a side of tzatziki for dipping.
The Asian salad is another vegetarian option, but it's taken to another level with the addition of grilled chicken breast. Available in two sizes—like the rest of their sprawling salad selection—this variety tops mixed greens and spinach with car- rots, snow peas, bean sprouts, shelled edamame, roasted peanuts, Mandarin oranges and water chestnuts. It's finished with a house-made orange- ginger soy vinaigrette.
Of course there are plenty of choices for meat lovers, too. One of the standout stars of the menu was the meatloaf, which appears as both a sandwich and an entrée. The thick-cut meatloaf gets sandwiched between a torpedo roll and topped with house-made marinara sauce, melted provolone and Parmesan for a melty, hearty option that's good until the last bite. Then there's the rotating entrée platter, which stuffs the meatloaf with the special selection of the day, be it a variety of cheeses, veggies or more. It comes loaded up with creamy garlic mashed potatoes and seasonal vegetables, part of their custom Collingswood dinner menu that gives us more than enough excuses to stop in at all hours of the day.
Published (and copyrighted) in South Jersey Magazine, Volume 13, Issue 8 (November, 2016).
For more info on South Jersey Magazine, click here.
To subscribe to South Jersey Magazine, click here.
To advertise in South Jersey Magazine, click here.