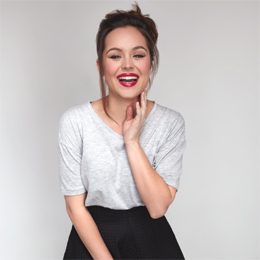 All-Around Performer
The multitalented 22-year-old Hayley Orrantia first discovered her love for music during the halcyon days of her youth. From an area called Highland Village, Texas—just outside of Dallas—Orrantia began delving into music even before her 10th birthday arrived.
"Music definitely came first," says Orrantia, who came to fame as part of the all-girl group Lakoda Rayne in Simon Cow- ell's The X Factor and now stars as Erica on the hit ABC sitcom TheGoldbergs. "Acting—it's kind of a long, crazy story—but acting kind of happened to continue in my pursuit of music."
While Orrantia has never actually been to the Philadelphia suburb of Jenkintown, where the family of her fictional Goldbergs character resides, she has spent some time across the river in New Jersey—namely, Wall Township and Belmar.
"One of the girls from my former girl group on X Factor is from there, as well as both of my roommates in Los Angeles; they're originally from there," she says. "I loved it. ... We'd go to the beach and hang out, and I actually really love that area."
With summer's end, Orrantia's days are getting full. Following up on her well-received debut single "Love Sick," Orrantia will soon release her new single, "Strong, Sweet and Southern." Also, the fourth season of The Goldbergs kicked off in September.
She took a few rare moments of downtime to offer her thoughts on her careers in music and TV, why Jenkintown feels like home and her best advice for aspiring artists.
Having that X Factor…
My mom was the one that really begged me to try out for X Factor because she knew that it was going to be a great opportunity, since it was the first season that it was going to be in the U.S., and I did an online audition tape. I sent it in— I think it was via YouTube that they had you submit—and I guess the producers saw my tape and they asked me to come to audition in front of the judges in Seattle. From there, you saw everything else if you watched the show.
Bringing music to The Goldbergs…
That's such a crazy story. After X Factor, I just went back into acting as if nothing has happened; I went on an audition and got very lucky to get the role [of Erica Goldberg]. My character was based upon the creator's oldest brother Eric, but they didn't have that many story- lines since they changed it to a girl, Erica, and so I told them, 'I know that you're kind of still developing this character, and if there's ever a chance that I could sing on the show, whether it's even me submitting a song on my own just to play in the background, I would love to do that.' And I guess they tried one episode where I sang in the talent show, and from there it just kind of became a big part of my character.
Home away from home…
You know, it's funny because the one thing about the show is I'll have a lot of people come up to me and say, like, 'Oh my gosh, is this TV show based in Maryland?' Or, 'Is this TV show based in Kansas or, like, Philadelphia?' I mean, they literally will name all these different places and I say, 'No, it's specifically Jenkintown, Pennsylvania,' but they all tell me that it feels and looks just like their neighborhood and what they went through growing up. So many people can relate to it, no matter where they're from, specifically in the U.S. I kind of feel the same way—the family dynamic and the way all the kids would go hang out in the neighborhood. Even though it is specifically Jenkintown that we're talking about, it definitely feels like the way I grew up in Dallas.
Pursuing an entertainment career…
The word 'no' is going to happen a lot, but that doesn't necessarily mean 'no' to everything that you're doing. It really has a lot to do with it being something that you want to do and putting in the hard work and time that needs to be put in, but there's also another part that you can't control, which is finding the right people around you that sup- port you in what you want to do. And timing has to be perfect.
It's really, as cheesy as it is, a little bit of a fate thing; all these different things kind of have to align in order for it to happen. So I guess my advice would be: Don't give up just because it seems difficult in the beginning.
Published (and copyrighted) in South Jersey Magazine, Volume 13, Issue 8 (November, 2016).
For more info on South Jersey Magazine, click here.
To subscribe to South Jersey Magazine, click here.
To advertise in South Jersey Magazine, click here.